Wavves Explain How to Get Kicked Out of the VMAs (and Lil Wayne's After-Party)
By Amos Barshad on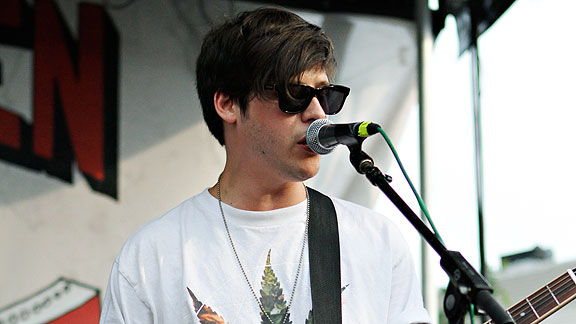 With Tyler the Creator on his best, most grateful behavior at Sunday's VMAs, the lane was wide open for someone to step in and wreak havoc. Nathan Williams and Steve Pope, of sunny San Diego punk act Wavves, were game. The two kept a running Twitter log of their drug-fueled mischief (example: "I guess I'm takin this acid #staytuned #vmasmeltdown"), which ended with Pope getting the boot from the Nokia Theatre. So how, exactly, do you get kicked out of the VMAs?
"Well, we walked in and we had beer, champagne, and lots of weed," Pope told us. "They took the beer away. We were carrying that as an accessory, and they said you can't have beer. Then they searched our backpacks, and they wanted to take all our bottles of champagne. We said, 'No, we'll drink the champagne.' We went back in the alley and we pounded about three bottles of champagne. I got so, so drunk on champagne. I felt like Donald Trump. And then it gets kind of hazy. I don't know, I guess I tried to bring in another bottle. Then they found a pipe, they found about thirteen joints, they found the grinder. The Wavves grinder. They confiscated the Wavves grinder."
So Williams sat through the show by himself, and the two reconnected later for Lil Wayne's after-party — from which they were both ejected. "We got in, but I guess what happened ... Ah, I gotta be honest, it's a little blurry at this point," Williams explains. (One thing he did notice before the mental fog set in: "Everyone's really short. I thought I was short, but I'm not. If I got famous for some reason, I'd be, like, a normal guy.") "Steve had a rough time," Williams continues. "I had a rough time, too. I think I spilled champagne on a couple of pretty famous people." Who? "I'm not going to say their names. [Pause.] But we had a good time. And we're hosting next year."