From Lil Wayne to Justin Bieber: Producer Bangladesh Explains His Biggest Hits
By Amos Barshad on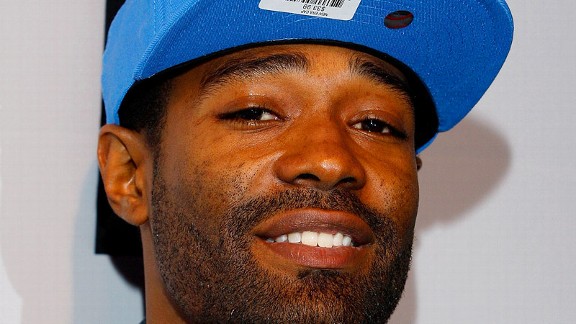 For over a decade now, hearing this sound — a modulated male voice saying the word "Bangladesh" — at the beginning of a track has meant one thing: You're in for a banger. It's the tag for Shondrae Crawford, a.k.a. Bangladesh, the Atlanta-based producer whose impeccable discography bounces between inescapable radio-rap monsters, blissed-out R&B jams, and miniature pop epics. (His client list: Rihanna, Beyoncé, Eminem, Lil Wayne, T-Pain, Usher, R. Kelly … ) Earlier this week, Grantland got Crawford to tell us the stories behind some of his biggest songs. And that includes the "urban club records" he just gave Justin Bieber.
Ludacris, "What's Your Fantasy" (2000)
"I [made that] in my aunt's basement. I moved with my aunt from Des Moines to Atlanta. I was cutting hair, that's how I made money while I was in high school. I saved up to buy an MPC. My whole objective was just to learn how to make a beat. All the other stuff it does, I still to this day don't know how to do 75 percent of what it can do.
"[That beat] came so easy, effortless. It wasn't even a beat at first, it was an intro to another beat I made. It would just come on like [sings] 'boop boop boop … boop boop boop boop BOOP boop boop boop … dum dum" then it went into another beat. I knew Ludacris from a mutual friend. He was Chris Lova Lova at the time. We meshed together. He was looking for a major deal and he wasn't getting the offers he wanted, so he decided to do his own album. I fell right in place, being that I had good beats that he didn't have to spend money on. So Ludacris told me, 'Man you should make a beat out of that.' So I just put a hi-hat on it, the [sings] 'tuduck tuduck keech tuduck tuduck tuduck.' It was his first hit record, his first song off the independent album that turned into his major album."
Beyoncé, "Video Phone" (2008)
"I made the beat probably a year before [it was used]. Honestly, it wasn't even a beat that I really liked. It wasn't a bad beat, but it wasn't influential, you know what I'm saying? I knew she [would do] "Diva"; that was a given because I really focused on her around that beat. "Video Phone" was surprising, but I like to be surprised like that. In my eyes, it was like, 'Damn, that's some extra money that I wasn't even knowing about.'
"[For the Lady Gaga remix], I was eager to hear how she swagged it. I liked it but if I could have my way, if I could have Beyoncé and Lady Gaga, it would have been ten times better. It would have just been what I wanted it to be. 'Video Phone' didn't do too well. If I'd had my way, it would have been a song that hit the charts."
That's one of your few productions that doesn't have your "Bangladesh" tag on it.
"I always put it on, but that's Beyoncé. Beyoncé didn't allow me to keep my tags on. She said it was more about the artist than the producer. That's my branding. Some artists want it on there. For the song I did for Eminem (Bad Meets Evil, "A Kiss"), it was on when he first heard the beat. But when I sent it to him, it wasn't in that session. He called like, 'Yo, where's the tag at?' It was cool."
How'd you get the name Bangladesh?
"Bangladesh was a word we used to just describe cool shit. 'That's Bangladesh!' When we was on the road, groupies and shit, take 'em in the room — 'bangladesh!' I don't know what we was talking about. I woke up one day, and was like, man I'm gonna name my shit Bangladesh. The tag came probably in 2002, I was doing ad-libs on a track, and I said 'Bangladesh!' I took it and put an effect on it, and started putting it on all my beats. It became who I was."
Lil Wayne, "A Milli" (2008)
"When I made that beat, I felt the same way I did when I was in my aunt's basement. It was, phewwww. I didn't know what the outcome was gonna be, but I knew it was something. Then, when I first heard the finished version, I felt like, damn, he just free-styled on the beat. I was kind of upset. He kind of depreciated the music. I felt like, this could be a big record, but he treated it like a mixtape track. People was like, 'It's Wayne, it's Wayne,' but I was like, 'Damn, man.' From my end, I'm making a hit record, and on his it's like, 'I'm just gonna rap on this.'"
But then it did become a huge record.
"Hey, I be wrong too. It was a bittersweet situation. It was good that it turned out how it did. Busta told me I brought hip-hop back, and I understood what he meant after I paid attention to it. When I analyzed it, it's the essence of hip-hop. Like, old-school hip-hop, that's the same blueprint. You just got a simple beat with hella bass in it, and just rap. No big hook, nothing. That's hip-hop."
Gucci Mane, "Lemonade" (2009)
"I was actually working hands-on with Gucci in Vegas. You know, he's not difficult. He kind of likes anything. He just starts rapping. He's like 'That's jamming, man!' and he just goes in. With Gucci, I do most of the production after I have the song. I can just have a skeleton beat with him, he'll do his thing, and Ill produce it once he's gone. That's kind of fun. The hook, it's an interpolation of the piano [on Flo & Eddie's 'Keep It Warm']. But they're saying something else, and I just changed the words to the same cadence, and made them relate to Gucci and 'Lemonade.' Then I put my nieces and my daughter on there for the vocals. I put them in the video. It was a good look for them."
Lil Wayne, "6 Foot, 7 Foot" (2010)
"I had that sample for a long time, probably for some months, and didn't really know what kind of bounce to put it to. I wasn't hearing it. I just knew the sample was good. It was chopped up [from Harry Belafonte's 'Day-O (Banana Boat Song)'] and I chopped it some more. It was just trial and error, messing with it, and I found that simplicity, that lane, and just killed it."
Between this beat and "A Milli," there were stories in the press about Cash Money missing payments to you. How did you end up working with Wayne again?
"All the issues were brought up because they needed to be addressed. A closed mouth don't get fed. I was just standing up for what I believed in, verbalizing my issues, and they got heard. We got past that. It was cool. I think after 'A Milli' did what it did, he understood. He treated '6 Foot, 7 Foot' like he should have treated 'A Milli.' Like, 'This is the first single! This is it!'"
This was Wayne's big post-prison comeback single. Was he appreciative for the beat?
"I don't know. You gonna have to ask him. Appreciation? You show that by shouting somebody out, but I don't really get no shout-outs like that. Me on the other hand, if I'm appreciative, I let that motherfucka know. Motherfucka produce the biggest hit I ever had in my life, I would be looking out for them! [laughs] 'Anything. What you need? Come through, video on this day. Yo, we going over here, yo come get this, come do this, I need more beats.' Know what I'm saying? That's how I be. But that's part of the reason why I want to break artists. As Cash Money, as the label, we're doing more. But as far as me and Wayne's relationship, it's no different."
Nicki Minaj, "Did It On 'Em" (2010)
"That's my favorite beat. There was like a plethora of songs out there that sounded like 'A Milli' that I did, so people just thought that's what I do, that's my niche. But 'Did It On Em' made 'em think otherwise. It was a hard beat, simple, but still eclectic. She had bigger [radio] songs than 'Did It On Em' [on Pink Friday], but the people that just ride to her shit, that's their favorite shit. That effect too, that's the reason why I wanna break artists, so I can have a whole album of 'Did It On 'Ems.' Where it ain't like, 'Oh, you got the hottest joint on there.' Why not ten of 'em? People might start buying albums again."
Justin Bieber, TBA (2012)
"It's a progressive move for me. It's Justin Bieber: He's the biggest pop artist in the world. It's great for me. For him, it's like, we're in a world now where everyone wants to do what they're not all the way good at, or what they're not looked upon for. So you have black artists wanting to be pop artists, you've got white dudes doing R&B, you have white girls rapping. I love it. It's unorthodox. I think Bieber, he's a young teenager — he wants to do the cool shit! He wants to hang in the club. He wants to be in the club while his shit play, like Lil Wayne, like Chris Brown, like everybody he look up to. He wants that same shit. He wants that same feeling."
Is he hands-on in the studio?
"He picked the beats I played him. And he liked good beats, too! He know what the fuck he picked. I was surprised. He's like, 'Damn, I like that.' 808 crazy in there! We did two joints for him. And the reason why he really fucks with me is because I gave him something that other producers are scared to do for him. They keep giving him pop records. I gave him urban club records. And he loved that shit."
Wait, is he rapping on your beats?
"He ain't rapping on these songs. I don't want him rapping on my beats. We gotta keep him singing. That's where the money at."
---
Previously: Benny Blanco's Six-Step Plan for Becoming Superproducer at 23