This Week's Top Ten in R&B and Hip-Hop as Movie Musicals
By Molly Lambert on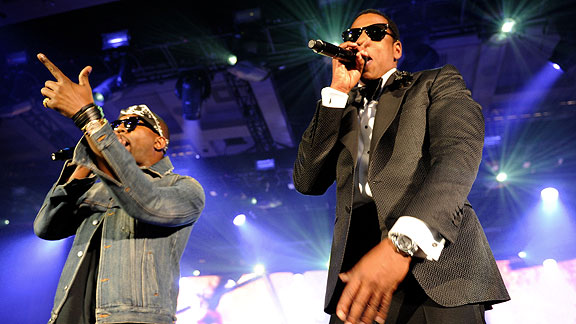 Every week we ask Molly Lambert to dive deep on one of the Billboard top ten songs of the week charts. This week's victim? The R&B and Hip Hop list, which Molly kindly transformed into film adaptations before grading.
1. Jay-Z & Kanye West, "Ni**as in Paris"
Wizards In Paris (G): A CGI-saturated family adventure about Apples (Jay-Z) and Grapes (Kanye West), two koalas on the loose in the City of Lights after stowing away on a luxury cruise (where they romance gold-digging squirrels, upend a millionaires' buffet and eat so many shrimp). Arriving in Paris on a chilly snowy night, the rascally marsupials face racist cabdrivers, a steep conversion rate, and evil time-traveling steampunk stage magicians. The movie climaxes with an exciting chase through the Chanel flagship store and an epic tumble into the catacombs to face off with both the metropolis's fabled wizards and their own fragile furry mortality.
Listen: Here
Grade: A
2. Beyonce ft. Andre 3000, "Party"
Study Party (R): Shy college sophomore Lisa Smith (Beyonce) has perfect grades, poor eyesight, and two giant secrets: 1) She's still a virgin and 2) She's actually Ava Boners (Sasha Fierce), author of the university newspaper's hyper-popular outrageously risqué sex and sports blog column "Balls To The Face." Will Ava's fans accept her when they find out she's been making it all up? And what about the girl on Facebook who's been taking credit for everything? Or the angry blogger threatening to expose the truth? And who keeps leaving winsome love notes for Lisa in her library carrel? Could it be handsome film student/lacrosse player/noted poet Thaddeus Britches (Andre 3000)? Campus message board bombshells, digital cameras, complicated silk underwear and a traditional hazing ritual gone terribly wrong turn Lisa's annual library all-nighter before the midterm into a night she'll never forget.
Listen: Here
Grade: B
3. Wale ft. Miguel, "Lotus Flower Bomb"
Lotus Flower Bomb 3D (R): When two lifelong friends; cynical fast-talking lawyer Manuel (Miguel) and mild-mannered middle manager Will A. (Wale), first encounter Lotus Flower Bomb (Sofía Vergara) wailing "Layla" under a red spotlight at a dark karaoke bar they can't foresee the wild goose chase through Detroit's clubland to come, or that it will end in a mess of betrayals and blood.
Listen: Here
Grade: C
4. Big Sean ft. Nicki Minaj, "Dance (A$$) Remix"
Dance (A$$) Bandits (PG-13): After juking is outlawed in the town of Small Head, Illinois the co-owners of the only dance studio, Joe (Big Sean) and Rachelle (Nicki Minaj) start a nightclub in the basement. What starts as a small pizza party with friends explodes into an underground sensation. When a blogger (Mila Kunis) writes a trend piece ("Small Head, Big Ba$$") for The FADER, the cops come calling with a teenager (Chloë Moretz) who claims she was served alcohol. But her mother Sheena (Jennifer Coolidge) is the head of the local church group that's been trying to shut Joe and Rachelle down. Coincidence or conspiracy?
Listen: Here
Grade: B+
5. Lil Wayne ft. Drake, "She Will"
Maybe She Will (PG-13): Reggie (Lil' Wayne) and Archie (Drake), the respective captains of the high school basketball and soccer teams, make a bet to see who can get a prom date with Sheelah Na Eee, (Zoë Kravitz) the glasses-wearing social outcast junior transfer student who runs a vernacular sculpture blog called Just Scultpin' and lives on the outskirts of town in an old lighthouse attic by the train-tracks.
Listen: Here
Grade: B
6. Wale ft. Jeremih & Rick Ross, "That Way"
Exit That Way (R): Plans to spend a bachelor party weekend in San Diego go awry when the groom, Sheldon (Rick Ross) overdoses on cocaine the first night and dies. This leaves Ferris (Wale) and Kroy (Jeremih) as the only suspects in a murder they swear was a suicide. As details about Sheldon's fianceé's affair with Kroy leak out, not to mention the shady non-details of Sheldon's supposed military tenure, it becomes less clear who exactly is telling the truth... and whether anyone even is at all.
Listen: Here
Grade: B-
7. Big Sean ft. Kanye West & Roscoe Dash, "Marvin & Chardonnay"
Marvin & Chardonnay Ver. 5.0 (PG-13): Marvin (Big Sean) needs a date to his ex-girlfriend's wedding. Chardonnay (Kanye West) is a customized 24k luxury robot from the SkyMall catalogue, thrown in a dumpster by a fussy baby millionaire (Roscoe Dash). With Chardonnay's help, Marvin learns how to smooth-talk and two-step as well as any cyborg. After Chardonnay drinks too much champagne at the wedding and short-circuits attempting to hump the mother of the bride, Marvin has to fend for himself on his big date with intimidating med student Lauren (Selena Gomez). It's man vs. machine in the ultimate love triangle, when Chardonnay reboots with his "morality" chip broken and wants to charm Lauren away from Marvin. Will Marvin destroy the robot that helped him find love? Or will love destroy them all?
Listen: Here
Grade: C+
8. Drake Ft. Nicki Minaj, "Make Me Proud"
Make Me Proud, Son (PG): Three years out of grad school, journalism student and aspiring street artist Benny Breadguts (Drake) can't quit his job at the cardboard factory because his mother Arnetta (Viola Davis) needs experimental "feelgood" brain surgery. When he's offered cash to take a fall in a local boxing match, he has no choice but to accept, despite moral qualms and serious objections from his old-fashioned rabbi father Schmul (Adam Sandler). Down on his luck retired trainer Randolph (Ice Cube) begrudgingly takes Benny on, teaching him how to fake competence in the ring. One night Breadguts goes into a "forbidden" shed on the property and discovers that Randolph is actually the legendary street artist "Sig Alert" and Benny's goth girlfriend Pandora (Nicki Minaj) wants him to believe in himself as an artist and drop out of the fight.
Listen: Here
Grade: D
9. T-Pain ft. Wiz Khalifa & Lily Allen, "5 O'Clock"
5 O'Clock Ride (G): Lonely chimney sweep C-Train (T-Pain) falls in love with Duchess Marianne (Lily Allen), whom he sees riding in an opulent lavender carriage every morning on her way to countryside Pilates. When he helps her fix a flat tire she invites him to the annual Christmas party at her Pilates studio, run by effervescent absent-minded Pilates instructor Abigail (Emma Thompson). There he finds out Marianne is engaged to Louie (Wiz Khalifa) the heir to a hazelnut-flavored lacquer fortune. Using his street smarts and a little bit of chimney soot, C-Train tries to climb up the rigid social ladder the only way he knows how.
Listen: Here
Grade: F
10. Rick Ross ft. Nicki Minaj, "You The Boss"
"You The Boss" (NC-17) Barbara (Nicki Minaj) works a tedious job at an office where her slobbish supervisor Tim (Rick Ross) routinely sexually harasseses her. When her complaints to management are ignored and she's denied the raise she'd been working towards all year, she goes rogue -- agreeing to meet Tim at a motel outside the city and making a series of decisions that will change her life forever.
Listen: Here
Grade: F-
---
Previously by Molly Lambert: Boardwalk Empire Recap: Death on the Jersey Shore
Lindsay Lohan's Secret Diary, and Other Horror Stories From This Week's Tabloids