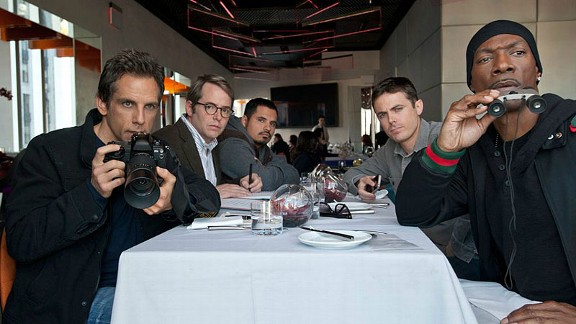 It wasn't just new releases Tower Heist and Harold & Kumar 3 that disappointed this weekend — it was everything: total box-office receipts were down 30 percent from the same three-day period a year ago. "The fear is that our total business is in the toilet," a studio exec tells Nikki Finke. Before we flush, though, a look at what happened. Here are your Top 5 movies.
1. Puss in Boots (weekend: $33 million; $75.5 million total)
In PiB's second weekend at No. 1, grosses for the Shrek spin-off fell just three percent, which is the smallest-ever box-office drop for a non-Holiday release. For which the industry credits last week's snow on the East Coast, which depressed Boots' opening, and the fact that parents were no less desperate this weekend to make their kids shut up for 90 minutes.
2. Tower Heist (weekend: $25.1 million)
Despite good reviews (for a Brett Ratner movie), the film in which Eddie Murphy gives his funniest performance since Bowfinger debuted below expectations, probably because most of the people who still remember Murphy's performance in Bowfinger took their grandchildren to see Puss in Boots (62 percent of Heist's audience was 30 or older).