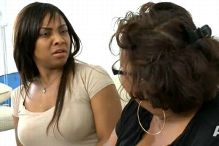 Every week, television documentaries present us with so many unusual people, with so many strange and/or disturbing problems, you might find it hard to keep up with all of them. That's where I come in! Here's an unflinching look back at TV's Week in Freak Shows.
Pregnant in Heels (Bravo)
Who Is This Now? Chris and Nia.
Why Are We Watching Them? They are at odds over whether to vaccinate their as-yet-unborn daughter: Chris wants to; Nia doesn't.
How Did They Get Here? I'll let Nia describe her core values: "Being green, non-toxic, environmentally conscious is very 'en vogue,' it's so 'très chic,' so hey, it's the way to go." So at least we know she's really given it some very serious thought. "I am being preventative by doing things naturally," she says in another scene. And, in her first consultation with maternity concierge Rosie Pope: "Polio is so … old." I'm going to go ahead and assume that when Nia was in high school, she didn't excel in science.