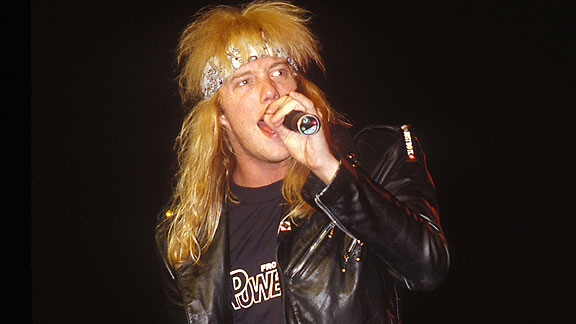 Jani Lane was the first person to speak from the stage at the first concert I ever paid money to see, a 1989 show at the West Fargo Fairgrounds featuring Warrant, Great White, and Ratt. In retrospect, that was a real triple-bill of tragedy — Ratt's Robbin Crosby was the first major '80s metal figure to contract HIV from heroin use, Great White was the accidental catalyst for the death of 100 people at a 2003 show in Rhode Island, and — today — the news broke that Lane was found dead at the age of 47 in Woodland Falls Hills, Calif. As I type this sentence, the cause of death has not been reported … but this was a 47-year-old musician who died in a hotel room. Do the math.
It's easy to compliment the dead, but that's often the only time we admit noncontextual truths: Lane was an incredible frontman, particularly in 1989. He was loquacious and funny and famous-looking, and Warrant tried so hard to be entertaining; they probably played for only 40 minutes, but they clearly did not want all the teenage girls wearing Ratt T-shirts in the mud to feel remotely ripped off. The only song most of the crowd knew was "Down Boys," which they may have played twice; I remember they played "Heaven" and everybody sort of instantly knew this would be a supersuccessful single that a lot of guys would pretend to hate during prom. Considering how emotionally invested Warrant seemed in playing for 8,000 people in a city they knew nothing about, it must have been a wonderful time to be the singer in a band that seemed engineered for joy and hugeness. Yet I wonder how often Jani Lane was happy during the 22 years that followed. He had success, but it was the kind of success that's hard to appreciate.