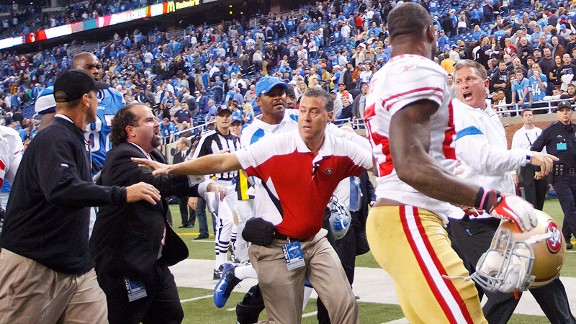 Things not to take lightly about Sunday's Lions-49ers matchup:
Neither team has been to the playoffs since 2002 (49ers)
Neither team has finished above .500 since 2002 (49ers)
Between 2003 and 2009, the Lions and 49ers had more seasons with five or fewer wins (8) than 6-plus wins (6)
Going into the game, the Lions were 5-0 and the 49ers were 4-1, proof that the rapture is en route.
For the purposes of this discussion, the details of this game are not important. Passes were thrown, balls were caught, whistles were blown, and Calvin Johnson was in attendance. Whatever. What transpired after the game ended, however, is another story. In case you haven't seen this 100 times yet, feast your eyes on this beauty.