It was a year that provided plenty of personalities, story lines, and moments, but the question is, which of those moments got their due and which did not? Could LeBron James actually be underrated? Could the Olympics? They just might be.

Underrated: LeBron James's Game 4 of the Eastern Conference semifinals at Indiana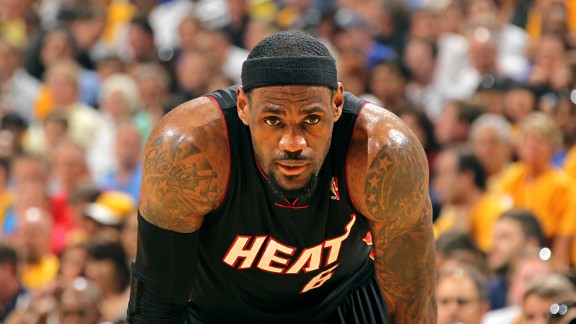 Everyone remembers the 45-point evisceration of Boston on the road in an elimination game, and the ultra-efficient inside-out torching of the Thunder in the Finals. But Game 4 against the Pacers has sort of gotten lost in the shuffle, which can happen, I guess, when a game kicks off one of the greatest 15-game stretches in the entire history of a sport. Miami felt like it was on the verge of a franchise-altering crisis going into Game 4, down 2-1 to a feisty Indiana team and missing Chris Bosh. Dwyane Wade had shot 2-of-13 and snapped at Erik Spoelstra during a Game 3 blowout loss. It wasn't an elimination game, but in that moment it was hard to imagine Miami coming back from a 3-1 deficit against a Pacers club that clearly didn't fear them.
And when Miami fell behind by 10 points in the first half of Game 4, looking a bit listless, it was tempting to start thinking about the consequences of a conference semifinals loss. Would they make a panic trade of one of the stars? Would they conclude James and Wade just couldn't coexist well enough to win a title? Would they fire Spoelstra before his extension — which was signed before the season — even kicked in?
Then LeBron and Wade went absolutely bananas, scoring 38 straight points for Miami in a second-half stretch for the ages. It wasn't just the production; it was the way it looked. Both were cutting actively off the ball and feeding each other for the sorts of semi-improv scores we all envisioned when they teamed up. Spoelstra began leaning on sets in which Miami cleared one side of the floor for LeBron and letting James go to work. He was dominant in those sets, which were rarely a major part of Miami's offense before, and they morphed into post-ups as the playoffs wore on — the post-ups for which Oklahoma City had no answer. It all just came together, at a startling speed. James finished with 40 points, 18 rebounds, and nine assists, numbers that no other player has ever put up in a postseason game since the mid-1980s. He hit post-up shots, jumpers, graceful floaters over Roy Hibbert in the lane — shots he just didn't quite have down even two or three seasons before. It was masterful, and the Heat needed every bit of it.
— Zach Lowe