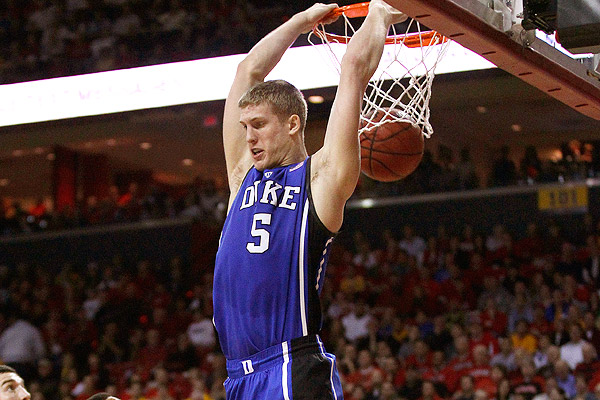 "Mason Plumlee is a man!" I shouted at my girlfriend. She rolled her eyes, but I felt like it was something that needed to be said.
A year, ago, I couldn't have conceived that I'd be complimenting the tow-headed giant. This was the second coming of the hated Miles, the middle of the Flying Plumblebee trio, the guy who was bound to let you down just when he'd fooled you into believing. It was normal to spend entire games thinking up derogatory nicknames for him. ("Plumblef*** the Younger" and "Mason Clumslee" are two that come to mind.)
But now? Now, Mason is having the best season of his life, a coming-out party of epic proportions. He's the best Duke player on the court game in and game out, and on Wednesday night, he refused to buckle in a hostile road contest against the hated Maryland Terrapins. The dark days are over. Mason Plumlee is a big manly son of a bitch, and shall henceforth be known only as "Plumdog Billionaire." Jai ho, you crazy Devil.