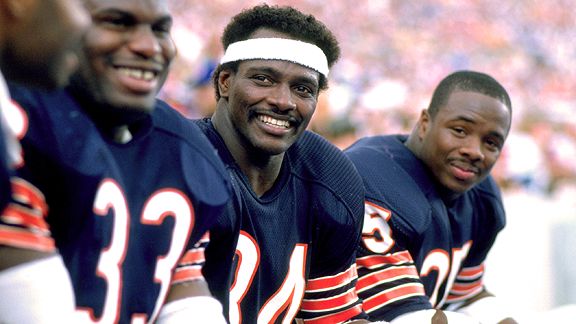 I grew up in a house that is about three miles from football's most famous hill. I was maybe 5 or 6 years old the first time my dad took me there. The area was a landfill then — mostly trash, brush, dirt, and rocks, with a few small paths carved into tall grass. "This is it," he said. "This is Walter Payton's hill." And he didn't need to say anything else.
Like any suburban Chicago kid born as Payton's career was ending, all I had were the stories — of running that hill, of end zone leaps, of refusing to duck out of bounds. That, and what seemed like 100 viewings of a VHS tape in my grandparents' basement called Super Bowl Champions: The Story of the 1985 Chicago Bears (I was the only kindergartener in greater Chicagoland who thought Wilber Marshall was the greatest pass-rusher ever). That team still rules Chicago. I was 12 when Payton died. The news came late in the afternoon, just before the drive to football practice. I cried the whole way there.
That sentiment toward Payton isn't unique among those raised in and around Chicago, and it's why the reaction to an excerpt from Jeff Pearlman's new Payton biography isn't the least bit surprising. The excerpt from Sweetness: The Enigmatic Life of Walter Payton in Sports Illustrated is filled with revelations about drug abuse, infidelity, and threats of suicide. The incredulity came quickly. On Chicago sports radio, Mike Ditka called Pearlman "gutless." Both Bears linebacker Brian Urlacher and former Payton teammate Ron Rivera dismissed the stories entirely.