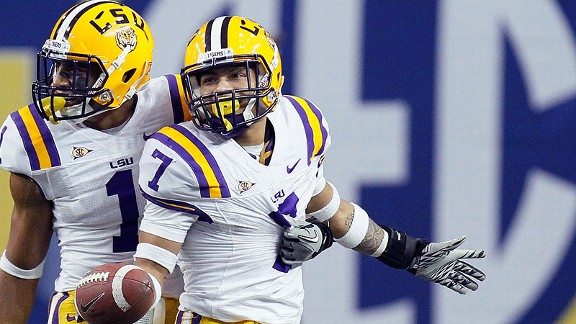 Well, the regular season is officially in the books. We have arrived at bowl season, and The Game of the Century (of January) between LSU and Alabama will determine this year's national champion. Ty Hildenbrandt and Dan Rubenstein remain lukewarm on the notion of a rematch and take a gander at other, more intriguing bowl matchups that will warm your holiday season.
Plus, The Solid Verbal guys take a closer look at Oklahoma State's throttling of Oklahoma, the Heisman credentials of Robert Griffin III and Montee Ball, and the latest installment in Dr Pepper's long tradition of halftime throwing contests.
And finally, don't forget to play against other Verballers and Grantlanders in the official bowl pool of The Solid Verbal. The winner may or may not receive a shirt featuring the face of a large jungle cat.
Listen to Monday's podcast here:
ESPN.com Podcenter
Previously on the Grantland Network:
The Jalen Rose Show
Men in Blazers
Jonah Keri With Bruins Play-by-Play Announcer Jack Edwards and Katie Baker
Subscribe to the Grantland Network on iTunes, and check out our podcasts page.
Follow The Solid Verbal on Twitter at @solidverbal and e-mail Ty Hildenbrandt and Dan Rubenstein at solidverbal@gmail.com.
---
Read more of The Triangle, Grantland's sports blog.
Contact us at triangle@grantland.com