In Which Fake Grantland Writes 700 Words on Rookie of the Year, Angels in the Outfield and Major League II
By Jared Bloom on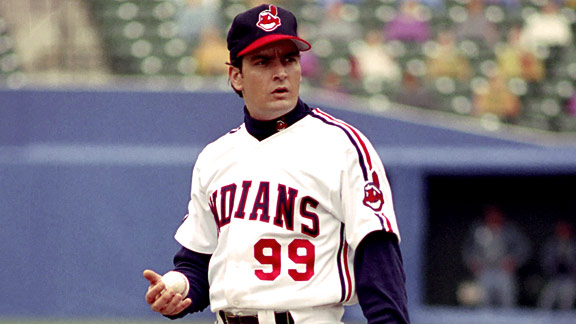 This summer, Jared Bloom started the Twitter feed @fakegrantland, filled with what purported to be rejected stories from this website. Last month, we showcased his best fake pitches. This month, though, Jared wrote more than 140 characters ...
---
For most baseball fans, the 1994 MLB season is considered "lost" due to a crippling work stoppage that robbed fans of a World Series for the first time since 1904. Sure, whatever.
But here at Fake Grantland, 1994 will always be remembered as the culmination of the most remarkable two-year period in baseball history. Consider for a moment that 1993-94 gave us the Rookie of the Year Cubs, the Angels from Angels in the Outfield, and the Major League II Indians — three of the most dynamic and compelling teams of the pre-For the Love of the Game era.
(And, yes, we know Little Big League was also released during this period. The problem, of course, is that the conceit of the film — wherein a child inherits the Minnesota Twins from his grandfather and names himself manager — is a clear violation of the MLB's "conflict of interest" rules. Ridiculous.)
Anyway, we know that the Cubs, Angels, and Indians were all great in their own right. But which team was the greatest? And how do they compare at each key position? On the one hand, you probably don't care. But, on the other hand …

---
Manager – If Ron Washington has taught us anything, it's that getting back to the playoffs is one of the toughest tasks in sports — and the Indians' Lou Brown (James Gammon) deserves all the credit in the world for guiding his team to the ALCS in back-to-back years. But if Washington has taught us anything else, it's that fidgety African-American managers are ideal leaders for teams with unexpected stars, be they Josh Hamilton or a kid whose mended arm allows him to the throw the ball at 120 mph.
The Angels' George Knox (Danny Glover) and the Cubs' Martinella (Albert Hall) both fit this description, but there is one key difference. Knox was able to navigate the inherent tension between on-field strategy and divine intervention — much like John Fox in Denver. Martinella, on the other hand, routinely mispronounced the name of his best player. He once called him "Rudebaker." I mean, that's not even close. VERDICT: Knox
Pitching Staff Ace -- There is no question that Ricky Vaughn had a playoff run for the ages in 1994. That said, a baseball season is comprised of three phases — the part where a player sucks, the montage where he gets better, and the big game — and Vaughn's "part where a player sucks" was suckier than most.
Meanwhile, 1993 and 1994 were banner years for starting pitchers in their mid- to late-40s who had questionable-to-disgraceful mechanics. The Indians previously set the standard with Eddie Harris (Chelcie Ross), who presumably retired between the Major League and Major League II seasons to spend more time with his family and die of natural causes.
So this leaves us with the Cubs' Chet Steadman (Gary Busey) and the Angels' Mel Clark (Tony Danza). Steadman, of course, was known for his deceptive shot put delivery and non-existent follow-through, which rightfully earned him the nickname "Rocket." But it's hard to give him all the credit when you consider that he had the help of pitching coach Brickma (Daniel Stern), the Leo Mazzone of guys who lock themselves between two hotel room doors.
And so the edge goes to Clark, a chain smoker who was going to DIE OF CANCER within the next six months but still managed to throw 160 PITCHES in the final game of the regular season — without the help of performance-enhancing cherubim.
Now, I know what you're thinking: What about Henry Rowengartner? "He's arguably the best pitcher in the history of baseball," you say to yourself. "And there's no indication that he ever gave up more than one or two hits." Unfortunately, he technically qualifies as a relief pitcher. And he's a fucking cheater. VERDICT: Clark
Outfield -- One might assume that the Angels would have the advantage in the outfield because, you know, that's where the angels were. But if there's one thing that's more impressive than assistance from the the Lord, it's shape-shifting. What Willie Mays Hayes (Wesley Snipes/Omar Epps) was able to accomplish by becoming a completely different person between seasons is a transformation of Jose Bautista proportions.
The complementary pieces of the Indians outfield are a case study in team chemistry. When a player like Pedro Cerrano (Dennis Haysbert) finds himself in a slump, there is really only one solution — find a Japanese player like Isuro Tanaka (Takaaki Ishibashi), who barely speaks English to openly challenge his manhood in the most stereotypical way possible. I'm pretty sure this is how Ichiro and Milton Bradley co-existed. VERDICT: Indians
Infield -- The only infielder of note on any of these teams is Roger Dorn, though he made the all-too-common transition from journeyman third baseman to team owner in the offseason. Beyond that, all of the other infielders seem to be light-hitting Rey Ordonez clones who do little beyond making montage-worthy web gems just as the rest of the team is starting to gel. VERDICT: Push
Intangibles – This is a tough one.
Just kidding. One team had angels. They win. VERDICT: Angels
FINAL SCORE
Angels: 3
Indians: 1
Cubs: 0
Jared Bloom is a writer and comedian living in New York City. You can follow him on Twitter at @jaebloom and follow his Grantland parody account at @fakegrantland.

---
Read more of The Triangle, Grantland's sports blog.
Contact us at triangle@grantland.com