The Shootaround: NBA News, Notes, and Dwight-itis
By Chris Ryan on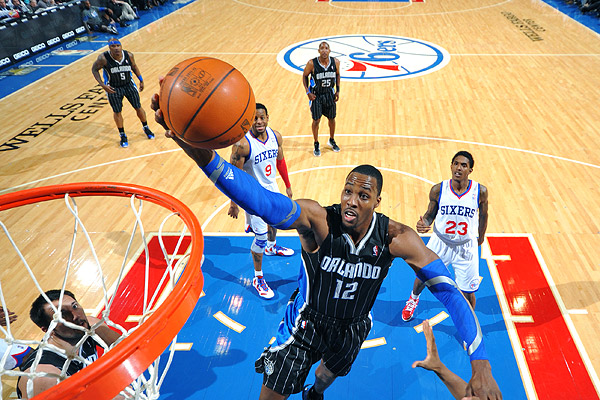 Contagion
If you want to know why Hornets GM Dell Demps went through hell to get Chris Paul out of New Orleans, all you need to do is look at the spot Magic GM Otis Smith finds himself in now. I imagine him smoking a Carlton and drinking Chivas with melting ice cubes. There is a tear running down his cheek while he listens to very sad jazz. Dwight-itis has infected his team, and it looks like it's a terminal case.

The symptoms of Dwight-itis are easy to spot. It usually flares up when your franchise player announces his interest to ply his trade elsewhere. You initially ignore the problem, not wanting to make too big a deal of it, claiming that these things happen. But then it spreads, affecting other players on the team, causing the coach to switch into self-preservation mode. Before you know it, players are arguing with the coaching staff, rumor mills are grinding out new stories every day about locker room dissent, and the cotton-candy sellers at games are singing Neil Young's "Everybody Knows This Is Nowhere."
Dwight-itis really gets dangerous when it goes airborne, leaving its host and infecting other teams. In the last few days, we've seen cases pop up in the Midwest. On Monday, Howard said: "If I could play with Derrick [Rose] right now and God wanted that to happen, it will happen."
Rose, who is not actually God, tacitly endorsed the idea, saying: "Me and Dwight definitely have a relationship, especially because of Adidas. I know that our market and the city speaks for itself if someone was interested to come to the Bulls. Dwight is a great player. Who wouldn't want to play with him?"
Nothing wrong with that at all. Just a guy taking his opinion for a stroll in the newspaper. But here's the thing: That opinion must have some kind of effect on Rose's teammates, right? Sure, they aren't naive about the way the NBA works, but they also aren't naive about the difference between playing in Chicago with the reigning MVP and in Orlando, going to a rebuilding phase.
Dwight-itis also flared up in Milwaukee, albeit not as seriously. Ric Bucher reported that Stephen Jackson and Howard are tight and that if the Nets wanted to help their chances of landing Howard, they could do worse than to acquire Jackson. I'm not a licensed tarot reader, but I find it interesting that this rumor comes on the heels of (or at the same time as) another piece accusing Jackson of having a negative influence on Brandon Jennings. Regardless of the behind-the-scenes action, Dwight-itis is causing some rot in Bucktown, too.
What can you do? Be diligent. If a player on your NBA team starts talking about his shoe sponsor or God bringing the group together with Dwight Howard, go immediately to your most trusted sources for NBA rumors. Chances are, they are already whipping up some public hysteria over it.
Tonight's the Night ...
For vengeance. The Celtics travel to Cleveland to get some payback after their demoralizing home loss to the Cavs on Sunday. The defeat was so tough, it made Kevin Garnett dress like Captain Ahab.
Around the League
There were A LOT of Twitter reactions on Monday night when Blake Griffin set phasers to dunk on Kendrick Perkins. But I thought Jeff Green's was pretty noteworthy: "GOT DAMN @blakegriffin." No love lost then, Jeff?
As a team leader, Dwyane Wade apparently has the power to veto coach Erik Spoelstra's call for zone defense. "As a captain, at that time, I just kind of vetoed it. That isn't going to happen much but I felt we needed to be more aggressive and a zone would've made us a little lackadaisical."
Anyone who saw Nicolas Batum collapse into a heap, grabbing his knee, late Monday night in the Blazers-Jazz game probably felt sick to his or her stomach. However, according to Batum: "I don't think it will be too bad."
Quote of the Day: Ricky Rubio
To Kobe Bryant, regarding the upcoming Summer Olympics: "You know you're getting the silver medal. You know that."