So much amazing is happening, and the Shootaround crew is here to help you keep track of it all. You'll find takes on moments you might've missed from the previous night, along with ones you will remember forever.

Scenes From the Miami Heat Locker Room, Post–Game 5
Dexter Pittman: "Hey LeBron, did you see what I did?"
LeBron James: "You mean, going out of your way to elbow Lance Stephenson as hard as you could in the final minute of a game that we were leading by 35 points?"
Dexter: "Yeah, that!"
LeBron: "I saw it, thanks for that. You're probably getting suspended, though."
Dexter: "Yeah, but he'll never give you the choke sign again, that's for sure! I SHOWED HIM!"
LeBron: "You sure did, Darius."
Dexter: "Dexter."
LeBron: "I mean Dexter."
Dexter: "If you want, I could try to run him over in the parking lot as he's walking to the Pacers' bus."
LeBron: "No, I think we're cool."
Dexter: "You want to grab something to eat?"
LeBron: "I can't, I made plans."
Dexter: "Want to play video games sometime?"
LeBron: "I don't really play video games anymore."
Dexter: "Well, if you ever want to hang, lemme know."
LeBron: "Sure thing, Darius."
One Piece of Advice for Dexter Pittman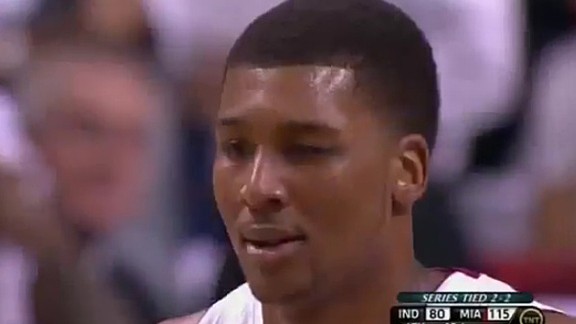 Next time: DON'T WINK.
— Chris Ryan
The 'It's Only a Flesh Wound!' Award: Lance Stephenson
Pittman got me good. My shoulder feel like its broke but I'm ok everyone let's go Pacers game 6

— Lance Stephenson (@StephensonLance) May 23, 2012
Quote of the Night: Larry Bird
Following his team's figurative and literal butt-whipping at the hands of the Heat: "I can't believe my team went soft. S-O-F-T. I'm disappointed. I never thought it would happen."
— Ryan
NBA History Lesson
After the Lakers blew out Boston in Game 3 of the 1984 Finals, a pissed-off Larry Legend called out his teammates and said they played like a "bunch of sissies." What happened next? Kevin McHale clotheslined Kurt Rambis, the Celtics won the Greatest Game Ever Played, the series turned and the rest was history. I'm just sayin'.
— Simmons
Exclusive Footage of Larry Bird's Game 6 Pregame Speech to the Pacers
— Ryan
LeBron, LeBron, LeBron, LeBron, LeBron
Allen Iverson Might Be in Attendance for Tonight's Sixers-Celtics Game in Philadelphia
I might get very, very, very emotional about this. According to SLAM, AI is going to be in the building. Even better? Tyronn Lue, Celtics director of basketball development, will also be in the building. Which allows me to post this:
— Ryan