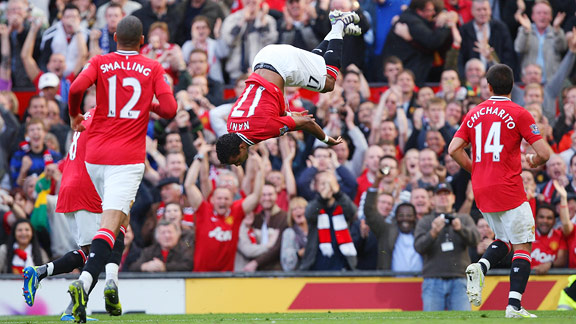 The Men In Blazers live to pod another day (after pledging their allegiance to bossman Bill Simmons and the 2009 soccer flick, The Damned United). They revisit a surreal weekend of EPL action, lauding Manchester United, and prescribing some World War I poetry for Chelsea's Fernando Torres.
And after countless hours of research, Michael Davies and Roger Bennett unveil their Supercuts EPL All-Hair XI with the help of Derek J, celebrity hair stylist and judge of Oxygen's Hair Battle Spectacular. All you Premier League prima donnas take notice. Derek J. DOES. NOT. APPROVE.
Listen to Wednesday's podcast here:
Subscribe to the Grantland Network on iTunes, and check out our podcasts page.
Previously on the Grantland Network:
Men In Blazers (Sept. 14 podcast)
David Jacoby with Bill Simmons and The Challenge's Johnny Bananas.
Michael Davies and Roger Bennett host Men In Blazers on SiriusXM Ch. 92/207, Mondays and Fridays 9 a.m. EST. Follow them on Twitter at @embassydavies and @rogbennett or check out meninblazers.tumblr.com.
---
Follow Grantland on Twitter or check out Grantland's Facebook page.
Read more of The Triangle, Grantland's sports blog.
Contact us at triangle@grantland.com