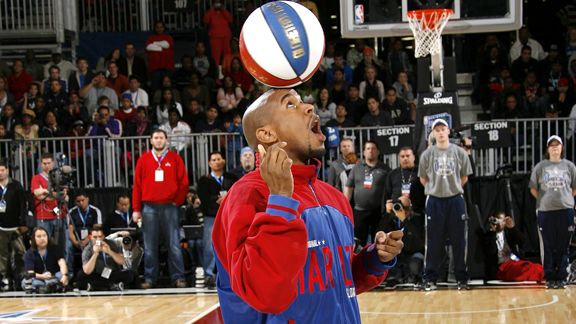 "Right now, Tuesday, Tuesday, Tuesday, just before my owners come into town, having brought in the labor relations committee and Billy [Hunter] having brought in his executive committee, it's time to make the deal," NBA commissioner David Stern said last week. "If we don't make it on Tuesday, my gut … is that we won't be playing on Christmas Day."
This is bad news for you, the fan. But don't worry! Some other people probably have it worse. (Yes, we're looking at you, Harlem Globetrotters.)

---
Matt Winick: Apparently he is one humorless dude. Matt "I don't consider any complaint funny" Winick makes the NBA's schedule. Normally that's hard enough, having to deal with arenas' scheduling conflicts in order to match up 82 games with 30 teams. But this year, he's had to work overtime, devising 74-, 70-, 60-, and 50-game schedules. On the other hand, enough people have lost wages due to the lockout, so he really shouldn't complain.
Adidas: It stands to lose $50 million, or as I call it, a Horace Grant.
Shaun Livingston: Unlike higher-profile players, who have entertained multimillion-dollar contract offers to play overseas, Shaun Livingston's backup plan is to play for the Central Illinois Drive.
Jordan Carr runs the blog Better than Voodoo while trying to make it as a screenwriter in Los Angeles. Follow him on Twitter at @btvoodoo.

---
Follow Grantland on Twitter or check out Grantland's Facebook page.
Read more of The Triangle, Grantland's sports blog.
Contact us at triangle@grantland.com