'I'm Sorry We Aired That Jaguars Game' ... and the Rest of the Month in Sports Apologies
By Bryan Curtis on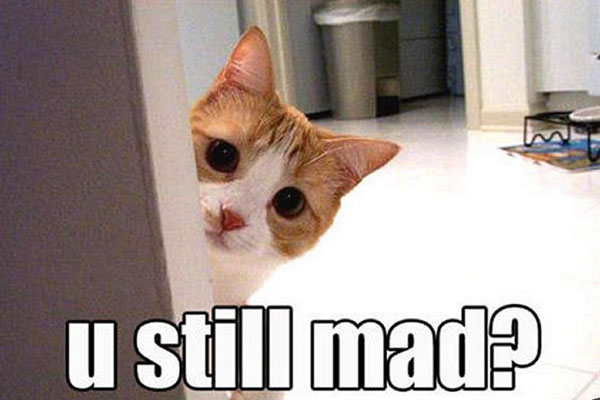 We live in the age of the sports apology. Thanks to Twitter, iPhone pics, and hidden mics, it's easier than ever for an athlete to screw up in broad daylight.
But the apology itself — "I'm sorry if anyone was offended" — has also become a thing. It is unleashed after any act, from a harmless end zone dance to a legitimately awful 9/11 tribute. When the apologies became as entertaining as the screw-ups, we decided it was time to do the Month in Sports Apologies. (Hat tip to Adam Hanft.)
I'm Sorry My End Zone Dance Included Both "Show Me the Money" and a Throat Slash
"I want to apologize to everyone for my selfish actions on Saturday ... " Crimson Tide running back T.J. Yeldon wrote. "That is not the way we do things at Alabama."
I'm Sorry You Heard Terry Bradshaw Swear
"The personalities in the studio, including Terry Bradshaw, were unaware that we'd be going to the set live at that time. We apologize to Terry and viewers who unfortunately heard the comments."
I'm Sorry I'm on the Cover of Sports Illustrated
"Oklahoma State athletic director Mike Holder apologized to his fellow athletic directors around the Big 12 Conference on Monday in advance of what's expected to be a scathing expose of the football program by Sports Illustrated. 'I apologize to all the athletic directors in the conference for what's about to happen.'"
I'm Sorry We Tied Liverpool
"[Midfielder] Jonjo Shelvey apologised to Swansea City supporters following the 2-2 draw with Liverpool after saying he wanted to 'go into a hole.'"
I'm Sorry I Said, "Fuck You, Fans. Fuck All of You."
"[Bo] Pelini found himself apologizing for audio in which he was speaking off the air with Greg Sharpe, the Husker Sports Network's play-by-play caller ... 'I love it here in Nebraska and feel fortunate to be associated with such a great University and fan base. I again apologize to anyone whom I have offended.'"
I'm Sorry Someone Used My Instagram Account to Mock Oscar De La Hoya
"The Los Angeles Times reported that a photo of De La Hoya was posted to [Floyd] Mayweather's Instagram account, accompanied by the headline 'MEANWHILE IN REHAB' and a caption that read: 'OSCAR: I gave Canelo the wrong blueprint I was high.' ... 'I apologize to Oscar and his family for this posting,' [Mayweather said]."
I'm Sorry I Photo-Bombed the PM
"The England centre Manu Tuilagi has apologised for playing a prank on the prime minister, David Cameron, during the British and Irish Lions' visit to Downing Street on Monday. Tuilagi gave Cameron 'bunny ears' as a group of the victorious Lions players and management posed for a photo with the Conservative Party leader ... 'Apologies for messing around on Lions photo. No offence intended. Great Day at Downing Street. Thanks to Prime Minister for hosting us.'"
I'm Sorry I Pulled a Pete Rose
"Ian Black has apologised to Rangers fans for betting against his own team ... 'It's a second chance for a silly bet and it's up to me to come back stronger and repay them, as well as the supporters.'"
I'm Sorry My Frat Brothers Are Assholes
"[LSU's] Delta Kappa Epsilon fraternity hung a banner from their house on Dalrymple Drive that read, 'Getting massacred is nothing new to Kent State.' ... A new banner was hanging in its place Sunday. That one reads, 'We would like to apologize to Kent State for our inappropriate sign.'"
I'm Sorry I Insulted Fantasy Owners
"Giants running back David Wilson reversed field this afternoon, apologizing to fans for hitting the 'send' button on a tweet ... Wilson said his emotions got the best of him when he lashed out at fans on Twitter, writing 'Ayy to fantasy participants and (angry) Giants fans ur irrelevant to me!!!'"
Hello? I'm Sorry I Juiced
"Milwaukee Brewers Outfielder Ryan Braun is calling Brewers season ticket holders to apologize ... 'He said ... 'I just want to reach out and say I'm sorry,' [one season-ticket holder recalled]. 'I cut him off right there. I said you know Ryan, I think you're an amazing athlete and this speaks volumes to your character to reach out to a small business owner like myself and let us know that you are going to do better.'"
I'm Sorry I Disappointed My Son
"Disgraced New Zealand footballer Ben Sigmund issued a public apology Friday for stamping on the legs of a United Arab Emirates player as he lay prone on the ground ... 'My son was watching the telly and that probably hurt me the most for him to say "where's daddy gone?"'"
I'm Sorry for the Mess
"England's cricketers have issued an apology for any offence caused during their celebrations of the Ashes series win over Australia at the Oval on Sunday. The statement ... followed allegations that England players urinated on the pitch hours after the series had ended."
I'm Sorry We Didn't Shake Your Hand at Midfield
"We, the coaching staff and captains of the Pascagoula Panther football team, would like to extend our most sincere apology for our failure to shake hands during the coin toss prior to our game this past Friday night ... If we had the ability to turn back the hands of time, we would surely reciprocate the offer of a handshake in acknowledgement of the expectation of a hard-fought contest fraught with excitement."
I'm Sorry I Admired My Home Run
"[Chris] Johnson was also one of the Braves players [Jose] Fernandez made a point to apologize to after the game Wednesday night ... 'He said he was sorry ...' said Johnson. 'I was like "Don't worry about it, dude."'"
I'm Sorry I Injured a Boy-Band Member in a Charity Match
"Aston Villa striker Gabriel Agbonlahor is to apologise for the tackle on Louis Tomlinson that left the One Direction singer sick on the touchline ... 'It was one of those things,' said Agbonlahor. 'I'll apologise to Louis when we meet up.'"
I'm Sorry I Questioned the Integrity of a Boxing Promoter
"Mr Warren informs us that he takes his responsibilities as a boxing promoter and manager very seriously and his first priority was the health and well-being of Callum Johnson. We apologise to Mr. Warren."
I'm Sorry I Thought My Team's Loss Was a Source of Mirth
"The 28-year-old [full back] was banned by Sunderland after reacting to the 1-0 loss with a comment on social media website Instagram that read: 'Great opening day. Hahahhahaha hahahhaha!!!' However, Bardsley has since apologised, prompting the club to lift his suspension."
I'm Sorry We Used Kobe Bryant as a Symbol of 9/11 Grief
"'We apologize to anyone who took this differently than we intended and were therefore offended by it,' Lakers spokesman John Black said in an e-mail. 'We used a photo of how we commemorated 9/11 in the 2001-02 season, shortly after the tragedy occurred, because we wanted to show our support of what we felt at that time and continue to feel now.'"
I'm Sorry We Commemorated 9/11 by Offering Nine Holes of Golf for $9.11
"[Tumbledown Trails] would first like to apologize to everyone that we have upset or feels we have disrespected in anyway ... Here is what we will do this Wednesday 9-11; (we will still let all that have tee times booked play for the previous rates we posted. Then for all other golf that day we would like to donate the $ difference between our normal rate and the previous price for the day to the 9/11 Memorial."
I'm Sorry We Aired a Jaguars Game
"WKMG TV [Orlando] issued the scrolled message on Sunday. It read that NFL policy states the station must carry all Jags away games. The end of the message said: 'We apologize for any inconvenience.'"