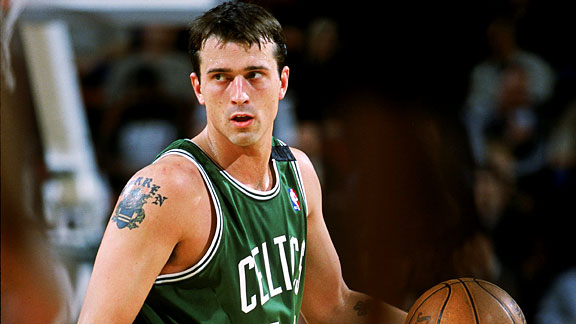 If you missed Jonathan Hock's superb documentary about Chris Herren last night, we're re-running Unguarded tonight (8 p.m. ET) and Saturday (7 a.m. ET) on ESPN2. I'm actually glad that Chris didn't come on the BS Report until after we aired the film, only because it was interesting to hear him discuss how last night's airing changed his life. We also talked about his basketball career, his addiction and his future, and I managed to squeeze a few nerdy hoops questions in there. My recommendation is that (A) you watch this film if you haven't already, and (B) you listen to this podcast AFTER you see the film. Thanks to Chris for being so gracious with his time, thanks to Jon Hock for being Jon Hock, and thanks to Connor Schell for being smart enough to say, "Whatever Jon Hock wants to do, we're doing."
Related: ESPN Films: Unguarded
Find Wednesday's podcast here:
Previously on the B.S. Report:
Cousin Sal
Jane Leavy
Bill Simmons and John A. Walsh on Hunter S. Thompson
Subscribe to the BS Report and the Grantland Network on iTunes.
Bill Simmons is the editor-in-chief of Grantland, the host of the BS Report and the author of the recent New York Times no. 1 best-seller The Book of Basketball. Follow him on Twitter and check out his new home on Facebook.
---
Follow Grantland on Twitter or check out Grantland's Facebook page.
Read more of The Triangle, Grantland's sports blog.
Contact us at triangle@grantland.com