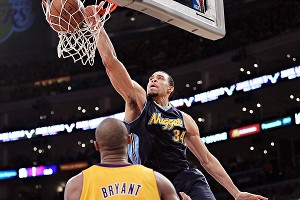 So much amazing is happening, and the Shootaround crew is here to help you keep track of it all. You'll find takes on moments you might've missed from the previous night, along with ones you will remember forever.
That Joke Isn't Funny Anymore
About 15 minutes after JaVale McGee's thorough handling of Andrew Bynum was complete, members of the media began to file into the relatively small postgame press room in the bowels of the Staples Center. They were informed that first to the podium would be victorious Nuggets coach George Karl, whose team had just staved off elimination with 102-99 win over the Lakers. The player from Denver, it was announced, would be McGee. Even after the best game of his career — 21 points and 14 rebounds — in the biggest game of his career, there were laughs.