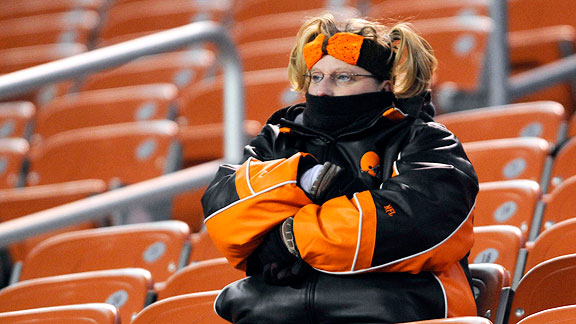 Over Labor Day weekend, 10 of the ablest minds at Grantland briefly stopped typing their own names into a Google search bar and devoted themselves to a sad question: Which city's fan base is enduring the roughest stretch in sports right now? Where should the sympathetic among us direct our pity? Or, for the cruel at heart, our Schadenfreude?
Each member of the Most Depressed Fan Base Committee selected their top eight cities, based on factors known only to them, and point values were assigned on a 1-8 scale (most depressed earns eight points, least depressed earns one). The individual lists were then compiled into an overall ranking, which is presented below.
Before we get there, though, some clarification. We're concerned with which cities are suffering now, at this exact moment in time. As William Faulkner once wrote, "the past is dead." (I'm reciting that one from memory — hopefully I nailed it.) For example, the Red Sox World Series drought is irrelevant because it ended, while the Cubs drought holds weight because it's ongoing. You get the idea.
When the voting concluded, 31 cities/geographic areas were represented. Among those who earned just one vote and didn't make the final list were Lubbock, South Bend, San Diego, Baltimore, San Antonio, Chicago, Detroit, Jacksonville, San Francisco, Phoenix, Long Island, Vancouver, Denver, Tennessee, and St. Louis.
In case you were curious, Lubbock came from Chuck Klosterman, and it came without explanation. But his e-mail signature is a picture of Mike Leach as God in a parody of the "Creation of Adam" painting, so maybe that explains it. (In the painting, Chuck replaces Adam.)
Hey, what do you say we get to that list?