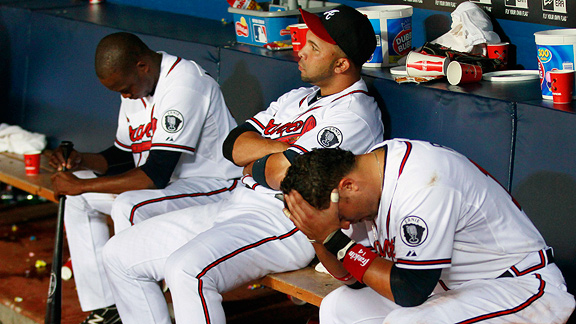 Editor's note: This post has been updated to clarify the time of T.I.'s release.
Late Wednesday night — Freddie Freeman grounds into a double play. Out no. 3. Phillies win. Braves blow an 8½-game wild-card lead and fail to make the playoffs. Season over.
The early hours of Thursday: Clifford "T.I." Harris is released from a halfway house. A free man. Again.
These events are oddly connected, but neither should surprise, and neither should make one overly emotional. We should, unfortunately, be used to this by now.
The Braves get our hopes up over the course of a few months, the comical thought of us sweeping the World Series and having a parade down every "Peach"-themed street begins to seep into our subconscious, and then they blow it and don't even make the playoffs.
T.I.'s freedom gets our hopes up because we think this is the time he stays out for good, but deep down we know that a free T.I. unfortunately starts the countdown clock for a jailed T.I.
We want to be sad about the Braves demise, but deep down, we knew it would happen. We also want to be excited about a free T.I., but (less) deep down (shallower, if you will) we know it probably won't last.