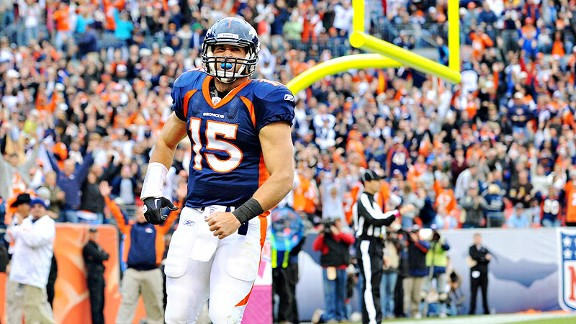 It happened. Down 23-10 to the San Diego Chargers at the half, and in front of the home fans, Denver coach John Fox finally said: "Screw it. Things can't get any worse. Let's put that Tebow kid in."
And so began the Tim Tebow Era in Denver. Tebow did his Tebowy thing. He ran quarterback draws out of the shotgun, yelled his face red after big plays, and ultimately came up short. But he did give Denver fans and Broncos BQBL owners a lot to look forward to. Denver now has a bye week, which it can use to make the Tebow package bigger, before the Broncos unleash it against the lowly Miami Dolphins. Sorry, I tried as hard as I could, but I simply can't restrain myself from making Tebow package jokes. I am ashamed.
This week, the BQBL was filled with so much ineptitude that even Kyle Orton's 34-yard first half, Michael Vick's four picks, and Eli Manning's game-losing interception couldn't top the absolute pee puddle of a performance Kevin Kolb put together. The man who once started over Vick is now being benched in favor of the pride of Tarleton State — Richard Bartel.