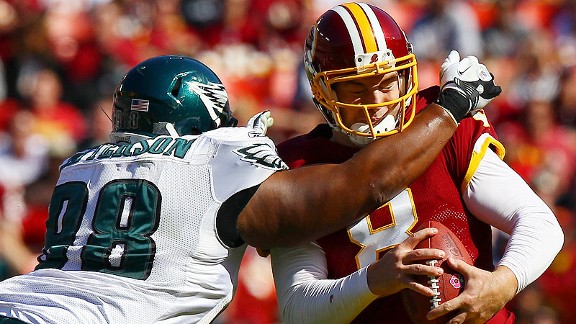 The following is a list of adult men who threw passes on Sunday in the National Football League: John Beck, Christian Ponder, Kyle Boller, and … wait for it … Vince Young. And if that wasn't enough to have fans of repulsive quarterbacking Harbaugh handshaking each other, with Oakland quarterback Jason Campbell out with a broken collarbone, the Raiders are reportedly close to acquiring Carson Palmer. If the deal does happen, there is little doubt that at some point this season, he will be joining the above list of esteemed field generals. Good news for Raiders fans, bad news for those of us who couldn't wait to see Terrelle Pryor make a run at scoring quadruple-digit BQBL points in a single week.
But let's not get too far ahead of ourselves. This week there was plenty for fans of failure.