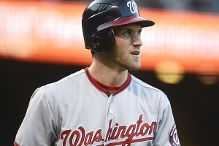 In case you were out living a life of leisure, here's what you missed in sports on Wednesday.
Good morning. In today's installment of About Last Night, we're lucky enough to have renowned sports comedy critic Fenwick Vaughnagan on hand to analyze and critique every one of Ryan's jokes. Vaughnagan was born in Caerwys, Wales, and earned international fame for his controversial first book, "You Can't Joke About Rugby, Mate." He moved to America in 1985, and has worked for the Miami Standard-Tribune ever since. Last year, he won the Chloe Herbst Memorial Humour Award for his debut novel "Field of Screams: A Murderous Romp Through America's Ballparks."
Note: Due to space limitations, we weren't able to include Ryan's joke and Vaughnagan's critique, so the actual jokes have been omitted.
Bryce Harper hit two home runs and was ejected for spiking his helmet — both career firsts — as the Nationals ended a five-game losing streak with an 8-4 win over the Marlins. CRITIQUE: "Ryan starts out a bit weak here, it must be said, with a tenuous and rather offensive connection between Harper and former president Jimmy Carter that wouldn't have drawn a laugh even among the yokels at the 1980 Republican convention. And at the risk of sounding like a prude, was it really necessary to use the word f--- 18 times in one sentence?"