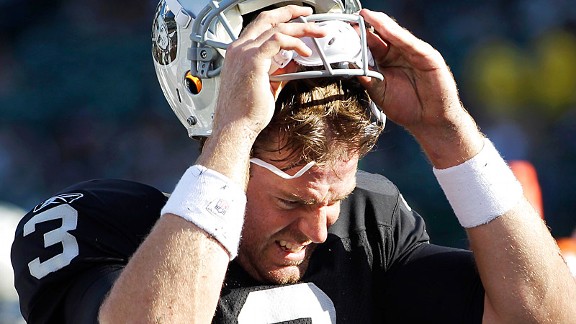 Every movement has a defining moment. The American Revolution had the Boston Tea Party. The hippies had Woodstock. Occupy Wall Street has … well, regardless, the BQBL's defining moment occurred on October 23, 2011, in Week 7 of the NFL schedule. For generations to come, on the morning of October 23, families clad in Carson Palmer, Curtis Painter, and A.J. Feeley jerseys will grab a football, head to the backyard, and throw errant passes to each other in recognition of this glorious day.
Keeping with BQBL Day tradition, the elder generations will describe the events of Week 7 in 2011 to the young'uns while aimlessly scrambling around the yard and throwing passes 30 feet over their heads. They will tell of the mythical Matt Hasselbeck and his 104 passing yards against the Texans. They will repeat the story of Palmer, who helped solidify a scoreless afternoon for his Raiders and — keeping with BQBL Day tradition — they will don a long blond wig and detail exactly how Painter, on national television, willed his team to lose by 55 points. Then, BQBL Day will culminate with the whole family around the dinner table, poised to dive into their traditional BQBL Day feast of nachos, buffalo wings, and HGH flakes, and they will first all take turns telling the tale of the Miami Miracle. The day that it was revealed to the world that Timothy Richard Tebow was not only the greatest quarterback to ever play the game of football, but the greatest man to ever walk the earth. I can't wait until next year. I think I am going to adopt a son right now.