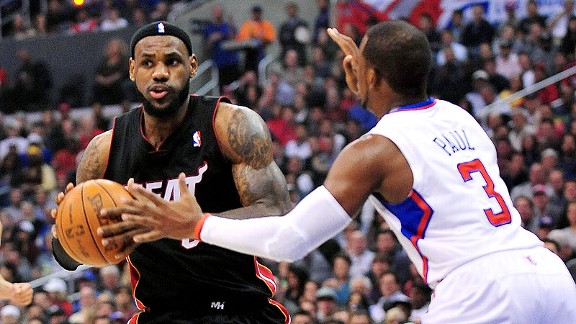 Tucked into a corner of one of the NBA's notoriously small visitors' locker rooms, LeBron James and Dwyane Wade sat side by side, their feet submerged in ice-filled plastic tubs, smiles on their faces. For the second straight night, the Heat had lost in overtime — this time to a Clippers team that used Wednesday's game as a chance to announce its own arrival — but as James started to field questions, there was a strange sense of satisfaction.
"Tonight, when you play that game, possession after possession, we played Miami Heat basketball — we defended and we gave ourselves a chance to win," James said. "We don't like to lose, but we're not going to hang our heads about this one. "
James' easy acceptance (and Wade's: "You never want to lose in the game of basketball, but no team goes undefeated") could conveniently be attributed to the realities of the 2011-12 season. The Heat left for Atlanta last week to begin a nine-day, five-game road trip that wraps up in Denver on Friday night. The compressed schedule has these sorts of pitfalls. Miami will only have one longer road trip all year, and a road back-to-back against a team eager to prove itself represents the type of loss built in before the season begins.