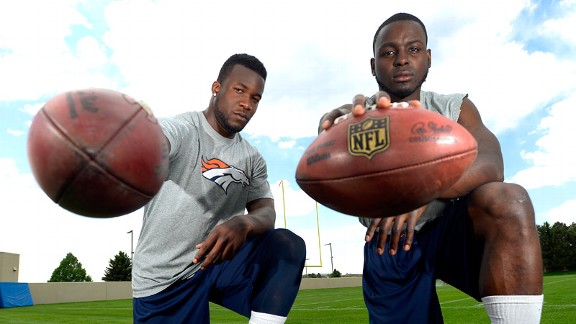 What's that? You were wondering exactly how many days until the start of the NFL season? Well, you're in luck! We here at the Triangle are set to spend the next month and a half providing a daily reason to get excited about pro football's return.
I know what you're thinking. Most teams don't even open training camp until this weekend, so choosing the winners of the league's highest-profile position battles before these guys take a single snap is a fool's errand. To that I say that you obviously aren't aware of my never-ending quest to embarrass myself. For the next few days, we'll be anointing starters around the league based on nothing but speculation and guesswork. Because here at the Triangle, we're all about science.
Montee Ball vs. Ronnie Hillman, Broncos, running back
Depending on how the Von Miller suspension works out, running back will be the biggest question for a Denver team that comes into this season as the favorite in the AFC. Ronnie Hillman has made his stance on the job opening clear, but I think we can safely say there's a conflict of interest in play there.
The Broncos took Ball, who had a widely productive college career (that included a lot of carries) high enough in April's draft that it's reasonable to think they want him to be a significant part of their offensive plans at some point in his career. Ball rushed for at least 1,800 yards twice at Wisconsin, and he's the sort of back that would be set up to succeed in a Peyton Manning offense. The Broncos are going to run when it's advantageous, and Ball is more than capable of grabbing yards in five-yard chunks. Knowshon Moreno is essentially a lesser version of what Denver is hoping for with Ball, and we saw the type of productivity Moreno had when Manning was putting him in the right spots.
Hillman is the type of home run threat that Ball is not. He ran a 4.45 40-yard dash in the lead-up to last year's draft, and his big-play potential is far greater than Ball's. Hillman's challenge will be maintaining some of the bulk he's put on this offseason.
Winner: Ball. Hillman will start training camp working with the first team, but my guess is that at some point during the season, the Broncos see the look Ball gives them. In an offense run by Peyton Manning, a consistently reliable running game is the ideal running game, and that's what Ball should provide.