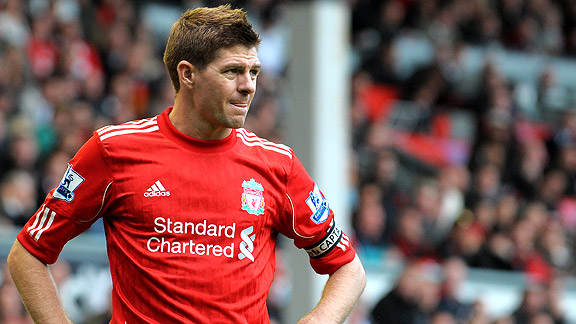 Sod the tactics. In this week's podcast, the Men In Blazers bear witness to a new era of EPL footie, where goals rain heavy and defense is a mere afterthought. The gentlemen examine why so many teams are leaking so many goals this season, praise Robin van Persie's class, consider Steven Gerrard's medical mystery, and dig deep into John Terry's downfall via the 7th century theological musings of a karma expert.
Plus, Michael offer listeners some advice he once received from his father — never hunch in the rain.
Listen to Wednesday's podcast here:
Subscribe to the Grantland Network on iTunes, and check out our podcasts page.
Previously on the Grantland Network:
Jonah Keri with Logan Morrison
Michael Davies and Roger Bennett host Men In Blazers on SiriusXM Ch. 92/207, Mondays and Fridays 9 a.m. EST. Follow them on Twitter at @embassydavies and @rogbennett or check out meninblazers.tumblr.com.
---
Follow Grantland on Twitter or check out Grantland's Facebook page.
Read more of The Triangle, Grantland's sports blog.
Contact us at triangle@grantland.com