If you believe December to be a month defined by its commercialist ideals — and really, there's no other way — the dominant message is that your previous 11 months can be judged by the state of your relationship. And viewed through the lens of a moderately priced piece of Zales jewelry, there essentially are two kinds of people: those who joyously indulge in holiday parties and modest gift-giving, and those who anticipate a lonely Christmas where they get taken to task by their elders who simply want to know what the hell is wrong with them and why they keep messing things up. Some people are sipping eggnog by a fireplace, others are chasing Captain Morgan with a McFlurry by the warmth of a space heater.
Not surprisingly, college football is every bit as beholden to relationship envy as our culture wants us to be during Black Friday. The mind-set is that no one should have to spend December without a BBVA Compass Bowl bid to look forward to at the very least. And if you don't get what you want, the social mores are no longer in place to preach patience over acquisitive thinking. Simply put, the idea that you're going to subject yourself to the whims of an emotionally unavailable and likely abusive white dude as long as he puts on a good face in public and keeps food on the table is as antiquated as a houndstooth hat.
The good news is that the coaches themselves are finally willing to enter the 21st century and embrace the joys of casual flings, multiple partners, and discreet hookups — in other words, the exact things online dating was meant to foster. Of course, whether it's JDate, OKCupid, or Christian Mingle, some people are, as the kids say, "thirstier" than others. OKCoach is only in beta testing right now, but our inside sources [cough — Jeff Long — cough] were able to grant us a one-week pass. Unfortunately, until we upgrade to the paid subscription, we can't see the premium content that includes the "swingers" profiles. But our connection says it's worth it if only to see "PsychoLeSU" and "TurfIsBluer."
Bobby Petrino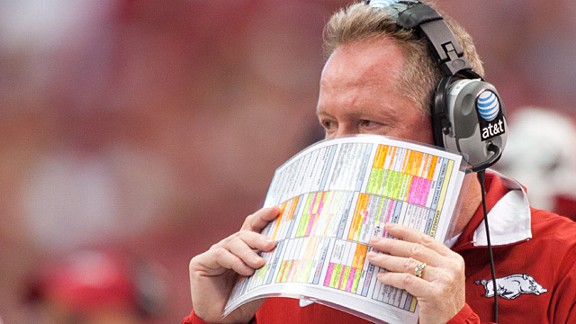 Username: PapaJohnsWasARollingStone
My Self Summary: If it feels good, do it! That's my motto. Motorcycles, flights after midnight, naughty texts, doesn't matter. I think the kids call it "YOLO," but rap's never been my thing.