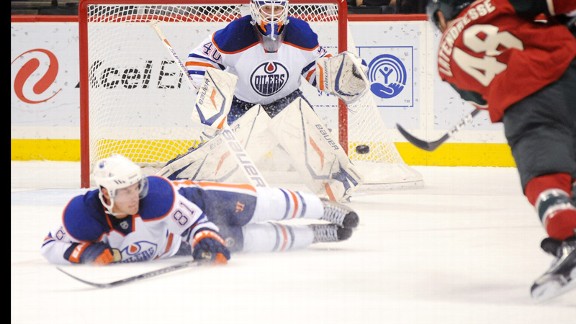 All the NHL's attention lately has been focused on its players' heads. The league voted this summer to broaden the scope of several rules addressing the kind of contact that can cause concussions — those hits that land up high or from behind — and it has even gone so far as to actually enforce them. New VP of player safety Brendan Shanahan has doled out 60 pre- and regular-season games' worth of suspensions, most of them for head shots, in this year's preseason alone.
It's safe to say that no small factor in this crackdown was Sidney Crosby, the league's most talented and marketable player, who has been sidelined since January with a concussion. (This weekend he announced that while he continues to progress, he will not be suiting up for Pittsburgh's season opener Thursday night.)
And yet over the weekend, a loud and impassioned debate was revived within and around the NHL community about a rule that many deem to be the most dangerous in all of hockey. As usual, it took a sickening injury to get everyone talking, but this time it wasn't a superstar's rattled head that did it — it was a relative unknown's shattered leg.