Confession time: I have a bad relationship with GIFs. I'm 100 percent alone on this one, I know, especially among young Internet sports types. But to me, GIFs are like "Harlem Shake" videos — hilarious visual gag at first, until you become so inundated that you go numb and begin to hate the person who bought you your first computer and sent you on this horrible, soul-killing journey into the heart of the Internet. (Important note: This is for comedy GIFs only … it doesn't go for the ones that are just meant to show a sweet dunk, a great goal, or any of the other sincere uses of the form.)
Watching a GIF, I get the weird sense that I'm being manipulated, as though I'm laughing begrudgingly at a stand-up comedian whose only bit is to hit himself in the face with a baking pan. The endless repetition is supposed to be what gives the image its humor, but something about it drives me crazy. It's like we're making snark-commodities out of human moments. (Actually, pretend I just said something along the same lines, but less pretentious.)
This is my only soapbox. I only care about destroying the GIF culture. But after all that big talk, I have to admit that I still laugh at the really good ones that transcend the medium, like Ben McLemore dancing. And the reason I'm mentioning it now is that I violated my own principles and … yeah, made a GIF. I couldn't help it: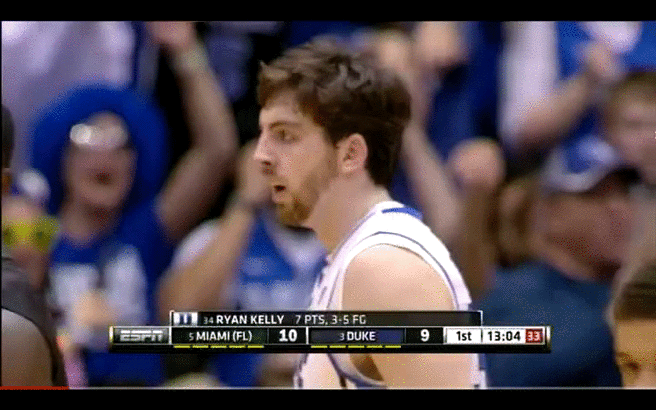 I know I should have stuck to my guns, but the way the cameraman went into soft focus on Kelly and readjusted to the fan doing the White Raven arms — it's like he was begging me to make a GIF. He was my serpent, and his comic shot was the forbidden apple. I hope this isn't the start of a slippery slope, but in three months you'll probably find me lying face down in a dark Internet cafe, dead from a GIF overdose.
On to the games.