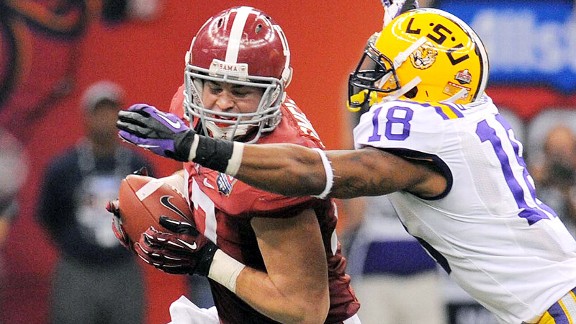 With the Alabama Crimson Tide in the books as this season's BCS national champion, Ty Hildenbrandt and Dan Rubenstein reconvene to review the The Game of the Century (of January) and discuss Jordan Jefferson's curious shuffle pass and Alabama's unbelievable defensive effort.
Plus, The Solid Verbal guys rehash their favorite moments from bowl season, offer congratulations to the winners of their postseason pools, and recap the most exciting thing to happen during the championship game -- a taco-eating contest in California.
Listen to Tuesday's podcast here:
ESPN.com Podcenter
Subscribe to the Grantland Network on iTunes, and check out our podcasts page.
Previously on the Grantland Network:
The Jalen Rose Show
The Basketball Jones
Men in Blazers
Katie Baker and Craig Custance
Follow The Solid Verbal on Twitter at @solidverbal and e-mail Ty Hildenbrandt and Dan Rubenstein at solidverbal@gmail.com.