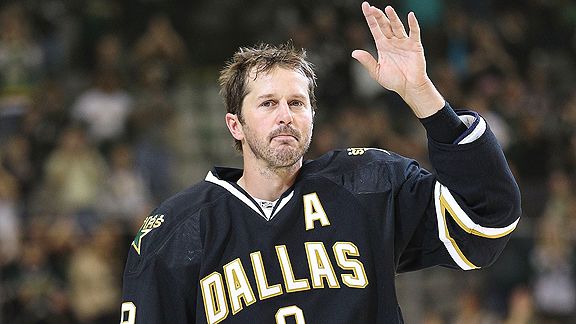 When the gloriously mulleted and barely 18 years old Mike Modano was drafted no. 1 overall by the Minnesota North Stars in the 1988 NHL Draft, he was so nervous that he stood on stage clutching his new no. 9 jersey in his, as he described them, "clammy and sweaty" hands.
"Put your sweater on!" he was quickly exorted. "Be proud, kid!"
He did, gladly, though that North Stars jersey would not be around for too long. In 1993, two years after the North Stars reached the Stanley Cup Finals with the help of young Modano's 20 playoff points, the team was relocated to Dallas as part of the NHL's push to move hockey beyond the sport's traditional hotbeds.
North Stars owner Norman Green later recalled that he was encouraged to make the move to Dallas by "the only Texan I knew: Roger Staubach." This was apt, both because of Dallas' status as a football-first city and because Modano, the Stars' biggest star, was the closest hockey had to an archetypal All-American quarterback.