Press X for Beer Bottle: On L.A. Noire
Can Rockstar's latest release change the face of gaming, or is it just Red Dead Detective?
By Tom Bissell on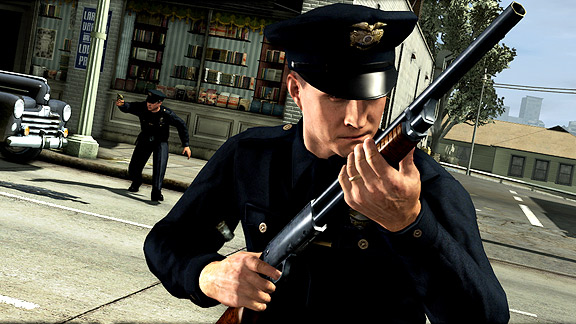 Over the past few years, I have played many video games I have liked, and a few I have loved, but most I have neither liked nor loved. Recently I worked out a rough estimate of the number of hours I had spent playing games I neither liked nor loved, which proved disquieting, indeed. I do not want to overstate things: I get my work done, hold down a teaching job, and the woman with whom I share my life does not, I think, feel neglected. (I just checked with her. She doesn't.) Life was and is fine, in other words. But video games have begun to seem like a fly buzzing in the room, and the only reason the fly is not dead is I have become too lazy to kill it.
Some of this despondency has to do with my largely futile efforts to write for games. Last year I published a book about video games called Extra Lives. A couple of developers read it and came calling. This excited me, given that one concern of my book is how poorly video games have told stories. Video-game storytelling is a more challenging conceptual problem than it may seem, and the manner in which this problem might best be addressed is in no way apparent. I was eager, all the same, to storm the castle. But of the various projects to which I found myself attached or within an eyelash of being attached, one imploded, one was canceled, one I removed my name from, and one entered stasis. But the whole reason I was playing so many games I neither liked nor loved was to see how they had stormed that same castle. At least, this was what I was telling myself while playing, say, Crysis 2 at four o'clock in the morning. So a month ago I decided to quit playing video games.
Sort of. The one thing I kept playing after putting all my games into storage was the multiplayer Beta for Gears of War 3. This did not count as playing because (a) it was not a proper game, (b) lasted only a month, and (c) is the parting shot of a franchise with which I have a long-running personal and professional relationship. But there were a few games coming up that I knew it was going to hurt to miss. One such game was L.A. Noire, which Grantland asked me to write about, and which I finished about an hour ago. It is a game that frustrated me enough to make me start playing something else when I was in the middle of it. It also validated and challenged some of my core convictions about the medium. Nevertheless, the first thing I did after finishing it was to put every game I own back into storage.
If you do not believe that video games are or should be primarily a storytelling medium — and there are plenty of smart, thoughtful people who hold that line — chances are strong that you regard Rockstar, the publisher of L.A. Noire and the developer behind the Grand Theft Auto games and Red Dead Redemption, with a good deal of asperity and suspicion. In a lot of ways, Rockstar's games come across as big, buttery bowls of mashed aspirations. They take place within open worlds, yet are governed by largely linear narratives; they are heavy on noninteractive cut scenes, yet typically go to great lengths to leaven their dictated storytelling with dynamic gameplay scenarios that reward player decision; they attempt, with the tenacity of novelistic realism, to plumb the depths and steeplejack the heights of American culture, yet they are also wedded to all manner of "gamey" tropes and conventions. What a lot of us love about Rockstar and Rockstar's games, however, is how seriously they take storytelling. Rockstar proceeds as though it is perfectly obvious that video games can tell meaningful, interesting stories that involve characters of genuine depth and vitality, and at times its games tell stories well enough that this does seem obvious.
Although Rockstar's fingerprints are all over L.A. Noire (the chapter titles! The red-dot enemies on the minimaps! The absurdly well-chosen soundtrack!), it did not actually develop the game. L.A. Noire is, instead, the first release from an independent Australian developer called Team Bondi, which worked on the game, reportedly, for the better part of a decade. Brendan McNamara, L.A. Noire's writer and director, was also responsible for The Getaway, a vastly underrated sort-of-open-world driving-and-shooting game released in 2003 by Team SOHO that did quite well on the PlayStation 2. The Getaway qualified back then as a relatively "mature" game. It has a lot of death and mayhem, certainly, and the character you control is a foul-mouthed English hoodlum. Much of the game involves driving around and shooting people, but you never feel as though its violence is included just for the hell of it. Not only does The Getaway play things relatively straight, it offers what was, in 2003, a stunning re-creation of modern London. When I first played it, The Getaway was something of a revelation: a centaur with a video-game head and cinematic body that dared to represent a world in which some of its audience actually lived. A lot of people are calling L.A. Noire things such as Grand Theft Auto: Dick Tracy or Red Dead Detective, but it resembles these progenitors much less than it does The Getaway. Except that now, rather than control an English hooligan running ragged in the early aughties, you control an American police officer in Los Angeles in 1947, and rather than drive around and shoot people, you drive around from one crime scene to another and pick stuff up and look at it. A lot.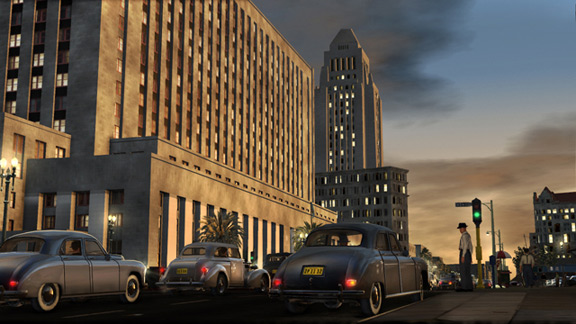 The story of L.A. Noire concerns a psychopathic cop named Cole Phelps, a man who inappropriately commandeers cars from civilians, steals outright any car that is left unattended, frequently destroys private property, and enjoys running over civilians. Despite his recklessness, Phelps becomes the most speedily promoted police officer in constabulary history.
At least, that is what L.A. Noire's story can be about, if the player allows it, which nicely nutshells the problem of open-world games that give players a large amount of behavioral freedom while simultaneously trying to tell a coherent, linear story.
Video games can do a lot of things other storytelling mediums cannot. Their penance, however, is to have to deal with things foreign to other storytelling mediums, one of which is a uniquely damaging form of audience disruption. Just about every storytelling game employs various masking systems that attempt to anticipate internally disruptive player behavior. Say you have an in-game friend — what happens if you try to shoot him or her? Does the bullet fire and blood fly and nothing happens? Or does the bullet fire and blood fly and does the friend say, in so many words, "Hey, what gives?" Or does the friend actually die and cause a restart? Or does the gun maybe lower when you pull the trigger? As everyone who plays video games knows, masking systems can be greatly amusing to test and prod, and the first thing I did in L.A. Noire was drive my car directly into some pedestrians and plow through a few streetlights, after which I insisted on driving my partner and me to our first crime scene in a dump truck. Once we got to the crime scene, I stranded my partner there and took off, still in my dump truck, spreading more mayhem. Had this been GTA or Red Dead Redemption, the law would have come calling, but the most incisive criticism I got from my partner during all of this was: "What are you doing?" Isn't it obvious, partner? I'm playing.
As it turns out, L.A. Noire's masking systems are not so great. I opted to sprint to my first shootout encounter, for instance, but when I neared the shootout proper a cut scene kicked in, which somehow teleported me back into the car I had dumped dozens of blocks back. In other words, the game was tacitly refusing to address all the asshole stuff I was doing. The GTA games somewhat escape this trap by making their player-controlled characters antiheroes theoretically capable of behaving like monsters, however much of such behavior may earthquake the surrounding fiction.
At first blush, L.A. Noire would have you believe that Phelps is not an antihero. He is a cop and a war hero — an all-around "good man." How good? Phelps cannot shoot his gun out in the open, which is probably the most significant safeguard the game's creators have placed on players determined to let Phelps go psycho. It is not much of a safeguard. But there is something admirable about how little L.A. Noire's makers appear to have worried about asshole players. A lot of games go to such lengths to anticipate asshole players that they sometimes feel like a pool that has been preemptively overchlorinated to frustrate the one kid determined to pee in it. Well-conceived masking systems can be things of real beauty, but they also squander precious development time that could be spent on other things, such as making more interesting games.
I eventually restarted the game once I had fooled around enough, but while playing through the rest of L.A. Noire the following question was never far from my mind: How big of a problem is it that players can effectively screw up video-game stories? It is a question that is never far from my mind when I am playing any game whose fiction works in tandem with my decisions to create something thematically unified and dramatically satisfying. So, how big of a problem is it? One answer to this question is: There is no answer to this question. Another answer is: Strong interactive fiction will compel players to behave in ways roughly analogous to how the interactive fiction's author intends them to behave. Another answer is: The whole purpose of interactive fiction is to encourage this type of crisis. Another answer is: This is precisely why the video-game medium is incompatible with authored forms of storytelling. In the past few years, I have thought about this question a lot — maybe more than any other question, in fact. None of the above answers satisfies me.
By design, L.A. Noire demands comparison with Chinatown, Ellroy, Chandler, Hammett, as well as every other planet, major and minor, in orbit around American Noire's throbbing black sun. In terms of atmosphere, L.A. Noire less triumphs over its competition than slaughters it. Film is a three-walled medium, and all its created worlds need to do is stand still while the cameras slide frictionlessly over them. (At an early point in the game, Phelps visits an old movie studio and sees a row of huge, gorgeous, discarded matte paintings lined up against a wall. It is as though L.A. Noire's creators are saying, "You had a good run, movies. It's over. Now stand aside.") A work of literature, by contrast, builds its worlds more stingily, via an active collaboration with the reader. Open-world video games present us with what might be the most emphatically four-walled storytelling medium human beings have yet devised. In an open-world game, everything has to be modeled, named, and built — every gun shop and police station and park and landmark and apartment building and sidewalk and street and hydrant and garbage can and hill and shrub.
Nothing in L.A. Noire's Los Angeles is less than thoughtfully designed, and some of what you find there is, quite frankly, astounding. This is a game world whose storefronts are showstoppers. I happened by an antique store, for example, and stood there outside its window for several minutes. I spent half an hour poking around a superlatively realized Los Angeles Art Museum. The billboards in this game, advertising products such as Cola King, EV-R-Mint Gum, Alaco Gas, and Valor Cigarettes, deserve their own making-of documentary. The civic research alone that backstops L.A. Noire is frightful to contemplate. A friend of mine works in Los Angeles in an office building that happens to be featured in the game. The sign planted atop the alcove of the in-game building is the same sign planted atop the alcove of the real-life building; the flophouse hotel located ignobly across the street from the in-game building is much like the flophouse hotel located ignobly across the street from the real-life building. My friend was curious as to whether the sign and flophouse hotel were there in 1947, so he made an inquiry with the building's management. As far as anyone knew, they were.
And the cars! By Jove, the cars. I am as uncompelled by the automobile as an American male can possibly be, and yet I never tired of L.A. Noire's pornographically detailed array of "sleds." While you drive around, what seem to be authentically period radio commercials urge listeners to donate food to "the people of Western Europe," which helpfully reminds us that, in living memory, "the people of Western Europe" did not mean a bunch of Woody Allen-loving socialists but an entire continent of traumatized starvelings.
L.A. Noire's Los Angeles may not be the most imaginative video-game world, but it is almost certainly among the most painstakingly rendered, as well as the most adult in its offering of documentary edification in three dimensions. Those who worked on this game must have felt, at times, like some junior Yahweh moving across stormily unformed oceans of code. Gamers have a tendency to get bored with this world-building stuff, which must be greatly irritating to the industry's legions of digital landscapers. To find oneself unmoved in the face of such an achievement is like standing in the middle of Hagia Sophia and saying, "That's it?" Yes. That is it.