Three-Man Weave
There are underdog stories...and there's what happened in North Dakota in 1988
By Chuck Klosterman on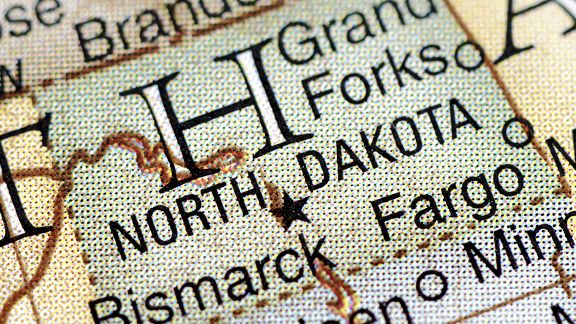 More than 23 years ago, a pair of low-profile junior college basketball teams played a forgotten game on a neutral floor in southeast North Dakota. The favored team was a school best known for its two-year forestry program; the underdog was a miniscule all-Native American college whose campus is located outside the Bismarck, N.D., airport. You've (probably) never heard of either school, and — in all likelihood — you will (probably) never hear of either one again. And if you remember this game, you (probably) played in it.
Games described as forgotten typically earn that classification because they deserve to disappear; traditionally, it's a modifier historians use to marginalize or dismiss a given event. But this game is "forgotten" in an actual sense: There's almost no record of its existence. Fewer than 500 people watched it happen. It was not televised and there's no videotape. It wasn't broadcast on the radio. Only a couple of small-circulation newspapers made mention of what transpired, and — because it happened before the Internet — Googling the contest's details is like searching for a glossy photograph of Genghis Khan. The game has disappeared from the world's consciousness, buried by time and devoid of nostalgia. And this, of course, is not abnormal. Junior college basketball games from 1988 are not historic landmarks. We are conditioned to forget who won (or lost) the opening round of the North Dakota state juco tournament because those are moments society does not need to remember. They don't even qualify as trivia.
But something crazy happened in this particular game.
In this particular game, a team won with only three players on the floor. And this was not a "metaphorical" victory or a "moral" victory: They literally won the game, 84-81, finishing the final 66 seconds by playing three-on-five. To refer to this as a David and Goliath battle devalues the impact of that cliché; it was more like a blind, one-armed David fighting Goliath without a rock. Yet there was no trick to this win and there was no deception — the team won by playing precisely how you'd expect. The crazy part is that it worked.
The only reason I know about this game is because I happened to see it, totally by chance: I was a 10th grader, and my older brother and I drove to this juco tournament because we had passing interest in the second game of that night's doubleheader (it was also a Sunday evening and we didn't have cable, so there was nothing else to do). The tournament's opening game was between United Tribes Technical College and North Dakota State University at Bottineau — the Thunderbirds versus the Lumberjacks. In the years that have passed, I've sometimes wondered if the game I thought I saw actually happened; I've wondered if maybe I'd imagined the circumstances or unconsciously exaggerated the details. Whenever I found myself talking about the game to other people, the scenario I heard myself describing struck me as increasingly implausible. Like Wilt Chamberlain's untelevised, scarcely witnessed, 100-point game in Hershey, Pa., it seems like a story someone made up in order to sound interesting. But this happened. And the game that occurred in reality is even crazier than the game I'd reconstructed in my mind.
If you write a story about this," Barry Webster tells me, "you need to explain how much I ripped it up that season." I'm talking to Webster over the telephone. He lives in Macy, Neb., the same reservation town in which he grew up. He's standing in his kitchen, having just taken his Labrador and his Daschund for a walk around the town, which probably did not take very long (the population of Macy is 812). When his son meanders into the room, Webster hands him the phone, just to prove that a guy from ESPN is on the other line. Webster can't believe someone is asking him about a game that happened more than two decades ago, but that doesn't mean he's not ready to talk: Our extemporaneous interview lasts more than an hour.
"I really did rip it up that year," he repeats. "I think I averaged 27 points a game, with a high of 46. I really remember that. As a Native, you always start with a strike against you. People always thought they were gonna kick our ass when we showed up in the gym, and that made me want to blow them away. I know I must sound cocky, but that's not how it was. I just knew the world was against me."
I don't need to remind Webster that he was the leader of the '88 Thunderbirds. He knows he was the star. A 5-foot-10 lead guard with dynamic quickness (he claims to have run a 4.3 40 as a high school quarterback), Webster had received casual attention from a few Division I programs, but he knows he never had a real chance of going there. "According to my high school coach, I was getting looked at by Colorado," Webster says. "But I was a jack-around. I didn't take academics seriously. The junior college route was really my only option."
Webster's trajectory is not unusual — in fact, it's the reason 1980s junior college basketball often bordered on the spectacular. Since major colleges were finally growing cognizant of academic standards and violations, there tended to be two types of kids who played hoop at the juco level: undersized high school gunners and D-1 prospects who didn't like to read. The master of this universe was San Jacinto's Walter Berry, the southpaw superfreak who dominated the 1984 NJCAA tourney before transferring to St. John's and winning the John Wooden Award. Jucos were the collegiate equivalent of the ABA, saturated with shoot-first superpowers. Webster wasn't even the best junior college player in North Dakota in '88; that was Dan Schilz of Lake Region State College, a 2-guard who led the nation in scoring with 35.3 points a game (still the ninth-highest single-season tally in juco history, one slot ahead of Latrell Sprewell).
It was into this world that Webster stumbled, almost by accident. He majored in auto mechanics.
"I'd never been to North Dakota," Webster recalls. "I didn't even know the United Tribes existed."
Not many people do. At the time, enrollment at United Tribes Technical College was somewhere between 200 and 300 students.1 Founded in 1969 by the five tribes of North Dakota, its brick campus buildings were originally built at the turn of the 20th century, intended as a military base. During World War II, the base was used an alien internment camp. Attending school at UT is the polar opposite of idyllic. But that's just how college life was (and still is) for so many Native American students — it's just that nobody pays attention. No American minority is less represented in the national consciousness.2 This was a collegiate program where the basketball team could not afford to print the name of its school on the front of its jerseys.
"We didn't even have warm-up clothes," says former United Tribe coach Ken Hall. "And Bottineau had those tear-away sweat pants! Half their team was dunking during pregame, and I didn't have one guy over 6-foot. But as anyone who ever played for me will tell you, everybody on our roster was in the best shape of his life. We could run all day."
This is how five Native Americans — and then four, and then three — defeated a team that should have routed them by 30: They ran and they ran and they ran. And then they stopped.
They had five kids they called the Iron Five."
These are the words of Buster Gilliss, the current Athletic Director at Bismarck State College and the head coach of NDSU-Bottineau in 1988. In his high school and collegiate coaching career, Gilliss won 508 games. When I reach him by phone, he's not especially excited to talk about a loss that (a) the world doesn't remember but (b) he can't forget. But he does anyway.
"They had five kids they called the Iron Five, and they played the whole game. They were a little older than most junior college kids — I feel like a few of them were in their mid-20s. But these were good players. I think they shot something like 78 percent from the field that night."
The actual percentage was 61, but the general perception is accurate: The Thunderbirds were on fire, especially during the first half. Coming into the game, NDSU-Bottineau was 17-8 and had beaten United Tribes twice during the regular season; nobody seems to recall what UT's record was, but it was definitely below .500 (Webster thinks they might have won 10 games that year, but Hall suspects it was more like seven or eight). The Tribe had opened the season with a full 12-man roster, but people kept quitting or getting hurt or losing their eligibility. By tournament time, they were down to five. It was bizarre to watch them take the court before tip-off — they didn't have enough bodies for a layup line. They just casually shot around for 20 minutes.
"It was always so goofy to play those guys," says Keith Braunberger, the Lumberjacks' point guard in 1987-88. Today, Braunberger owns a Honda dealership in Minot, N.D. "I don't want to diss them, but — at the time — they were kind of a joke. They would just run and shoot. That was the whole offense. I remember they had one guy who would pull up from half-court if you didn't pick him up immediately."
The five Thunderbirds would have dominated any 6-foot-and-under league — they were all guards and wings, and everyone had range. But they were completely overmatched by NDSU-Bottineau. It was Gilliss' second year as head coach, and he'd developed a recruiting pipeline into Illinois and Maryland. The Lumberjacks roster included high-flying talent such as Jerome Gaines3 (a 6-5 helicopter) and Keith "The Total Package" Offutt4 (a 6-6 rebounding machine). Offutt had nicknamed himself.
"You had to know Keith to understand," explains Darrell Oswald, the Jacks' 6-6 swingman. "He'd had a terrible upbringing and some emotional problems. He gave himself that name. Probably the best athlete I've ever been around. Had a 42-inch vertical."
The Bottineau roster represented the template for North Dakota juco basketball during the '80s: a handful of hyper-athletic (read: black) players who were destined to play elsewhere, and a core group of local (read: white) players who were small-town legends. Braunberger was from Max, N.D., a community of 285. Oswald hailed from Wing, N.D., a town with fewer than 200 people (there were nine kids in Oswald's graduating class — and that includes Anika, an exchange student from Sweden). The Jacks' leading scorer was shooting guard Dan Taylor from New Rockford, N.D. (pop. 1229), a player everyone called "Opie" due to his resemblance to a young Ron Howard. On paper, there's no way United Tribes should have been able to compete with this team. They probably shouldn't have been in the same tournament.
But they did. And they were.
"You'd think a game like that would have made national headlines because the idea of playing three-on-five is so odd," says Taylor, now a banker in his old hometown. "But no one even noticed."
Even by North Dakota standards, Bottineau5 is a pretty small town to have its own college; according to the 2011 census, there are only 2,211 residents in the metro area. That's part of the reason so little of this game is known: The Lumberjacks had a good team and real talent, but the weirdness of their season-ending defeat was more like a rumor that died in the translation. It wasn't that embarrassing, simply because there weren't enough people to feel embarrassed.
"By the time our bus got back to Bottineau, we'd supposedly played the whole second half against three Indians, which of course is not what happened," says Gilliss. "But you know, to be honest, there were probably 10 people in the whole town who cared that we got beat."