Immigrant Misappropriations: The Importance of Ichiro
Ten years after Ichiro Suzuki broke into the majors, a reflection on the 2001 Mariners, Jackie Robinson, the Four Noble Truths and the cultural impact of baseball's most enigmatic player.
By Jay Caspian Kang on
Like most 6-year-olds in the METCO-serviced suburbs of Boston, I spent the last two weeks of October 1986 with a Red Sox cap on my head. When school let out, those of us who did not take the early bus into the city huddled up in the pick-up/drop-off circle and practiced our lines. Most of us could list only the names of the ballplayers and our arbitrary preferences, but those boys who had been born into families of fanatics wowed us with jargon that seemed to provide them with a greater stake in the excitement of those two weeks. The morning before Game 3, I got up early to read the sports section and came to school with these phrases locked up in my head: "Let's get out the Oil Can! Rocket is throwing tonight, watch out! Can Hendu recreate his ALCS magic?" When I tried them out in the bus circle, the kids nodded along. That night, I asked my father to teach me how to read a box score. He complied with the sincerity and gravity expected of that situation. The mornings after Games 4 and 5, I came to school with a ripped-out square of newspaper in the pocket of my raincoat and ran my classmates through the significance of those numbers and columns. The Red Sox were up three games to two. We in the bus circle were just starting to feel invested in the team.
Then Mookie Wilson's grounder rolled through Buckner's legs and I joined in as all of Boston exhaled bitterly.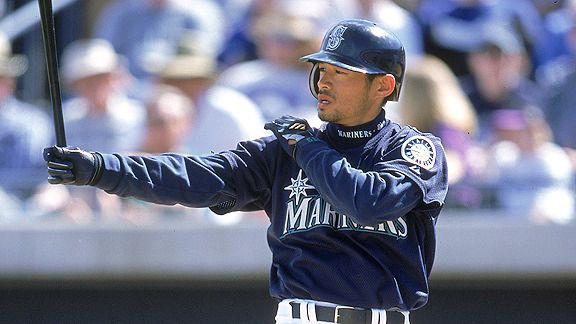 Ichiro Suzuki arrived in Seattle in the spring of 2001 to mixed expectations. When news of the signing broke the previous winter, Bobby Valentine, then the manager of the New York Mets, declared to the media that the slightly built right fielder was one of the best five players in the world. Despite Valentine's endorsements, baseball pundits around the country openly questioned how a player who had spent his entire career hitting fastballs that rarely hit 92 mph on the radar gun would adjust to the power pitching in the major leagues. Rob Dibble, who in the early 1990s joined up with Norm Charlton and Randy Myers to form a hard-throwing Cincinnati Reds bullpen known as the Nasty Boys, spoke for the doubters when he predicted Ichiro's batting average would never break .300. A week before the season began, Dibble, then a commentator on ESPN's Baseball Tonight, made the following statement on the air: "I will run naked through Times Square in the dead of winter if Ichiro wins the batting title." Nine months later, Ichiro took home the lion's share of the postseason hardware and Dibble made his run, albeit in a speedo. In addition to the batting title, Ichiro took home the American League MVP award, a Gold Glove, the stolen-base title and the AL's Rookie of the Year. No rookie had won both the MVP and Rookie of the Year awards in the same season since Boston's Freddy Lynn did it in 1975, and no player in baseball history has taken home all five awards. More impressively, the Seattle Mariners, a franchise that had lost three first-ballot Hall of Famers in Alex Rodriguez, Ken Griffey Jr., and Randy Johnson over the course of the previous three seasons, broke a league record by winning 116 games. At the center was an enigmatic, 160-pound man from Japan who spoke only through an interpreter and was rarely seen without his trademark wraparound sunglasses.
I moved to Seattle the November before Ichiro's arrival because I had been kicked out of a small, liberal arts college in Maine that I, in part, had chosen to attend because it offered me a chance to be surrounded by Red Sox fans again. I don't remember much about that first winter in the Pacific Northwest, except that I waited it out alone. I spent most of my time in used bookstores because I was convinced that I could feel balls of radiation hurling out of the lead paint that hung in cracked sheets on the wall. On Sunday mornings, when the hallways of my converted hotel filled with the dull stink of Nag Champa, I walked down to Aileen's Sports Bar on Broadway and watched football on a shaky 13-inch TV screen, accompanied by a cast of regulars who reminded me of what might happen if a Raymond Carver story collection collided with a Russ Meyer film set. My favorite of these characters was a weekend transvestite named Karla. During halftime of a Patriots game, she insisted that we drive my car across the country to live with her sister and her husband in Nashua, N.H.
The nights I stayed in, I sat in the armchair, shucked oysters for dinner, and went through the canon of juvenile manuals of detachment. I read Dr. Alan Watts, Thich Nhat Hanh, and Chogyam Trungpa. I transcribed all the block quotes in Franny and Zooey into a memo book — the type with that irresistibly nostalgic black marbleized cover — and went to the used bookstore down the street to buy up all the texts Salinger referenced. During my walks to the bookstore, I suppressed the hope that the girl with Bettie Page bangs and discolored thin arms that reminded me of dandelion stalks would be behind the counter. Her unbalanced recommendation shelf — Denis Johnson, Anne Sexton, Virginia Woolf, and Shirley Jackson — reminded me of someone back east who I had recently decided to stop talking to. For reasons still not clear to me, I stopped eating pork and red meat and practiced breathing every morning.
I listened to the Ichiro talk on the local sports talk radio station every morning during my drive to work. Throughout the winter, most of the writers and talk-show hosts echoed Dibble's skepticism that a Japanese position player could come over and make the adjustments necessary to become an impact player in the major leagues. When the small, but vocal throng of Ichiro supporters brought up Hideo Nomo's success for the Los Angeles Dodgers in 1995, the conventional wisdom replied that the situations were different because Nomo relied mostly on gimmicks: an exaggerated windup in which he turned his back completely to the batter, and a baffling split-finger fastball the likes of which most major leaguers had not yet seen. It is a truism in baseball that in an at-bat in which both the pitcher and the batter know nothing about one another, the batter is at a disadvantage because he must react to anything the pitcher might throw. Ichiro would be learning on the job. But for the most part, this was not the argument made in the papers or on the radio. A month before Ichiro flew stateside to take his first cuts at the Mariners spring training facility in Arizona, one of the local sports radio hosts summed up the prevailing sentiment when he said, "Nomo could get by his first year by whirligigging around and throwing foreign junk at the American hitters. They hadn't seen it before, and so he did all right. Now that Nomo's been in the league a couple of years, the batters are starting to tear into his Japanese bag of tricks. Ichiro's not going to have that luxury. The first time he sees a Randy Johnson or Roger Clemens fastball, he's going to see that Japanese tricks don't cut it over here."
By the first week of June, Ichiro had piled up three four-hit games, back-to-back hitting streaks of 15 and 23 games, a .361 batting average, and was on track to break the major league record for hits in a season. In an April game in Oakland, he unleashed a throw from right field that traveled at a seemingly impossible low and accurate trajectory to nail a stunned Terrence Long at third base. After the game, a bewildered Long told reporters, "I'm not the fastest guy in the world, but that's got to be the best throw I've ever seen." On the eve of the All-Star break, Ivan Rodriguez proclaimed, "Ichiro is the best player in baseball right now." The city of Seattle, which usually splits its sports enthusiasm between the Seahawks and the University of Washington's football team, went Ichi-Gaga, prompting many Asian-Americans in the community to come forward with praise for the city's embrace of a Japanese sports idol. Shawn Wong, a professor of English at the University of Washington, went as far as to credit Ichiro with a heightening of cultural awareness within the city. In a guest editorial that appeared in the Seattle Times, he wrote, "I'm learning something about race, ethnicity and understanding that I didn't know. As a professor, I think it's important for my students to articulate their opinions and understanding about what it is they learn. I often use theoretical terms such as 'racialization' to explain the dynamics of race, culture and society. Now I'm beginning to think an entire city can understand how race changes their culture and society, and they can embrace and even encourage that change, but not necessarily understand how to describe that change."
Like Wong, I believed I was witnessing the collapse of stereotypes about Asians. My letters back to the East Coast, which during the winter had alternated between a weird austerity and cloying anger, focused now on the importance of sports in a society: How a meritocracy like baseball offered anyone a chance to showcase the talents of a people.
The Bookstore Bodhisattva life I had tried over the winter gave way to the restorative energy offered up by the start of baseball season. (Strangely, I find that the warier I become of Opening Day's nostalgia-trap, the weaker I feel in the knees whenever I walk into a stadium. It is almost as if my resistance to baseball's sentimentality is also what feeds it.) Ichiro was my guy. I attended every home game that spring, usually by myself, and even enjoyed those rare nights when Ichiro went 0-for-5 and let us all down.
Before a sold-out Sunday afternoon ballgame, my fifth in a row to watch Ichiro, I spotted a kid loitering underneath the Alaskan Way Viaduct. He had on an oversized velour sweatshirt printed by a hip-hop label and a black-on-black fitted Mariners cap, two items of clothing that I usually associate with young gamblers and ticket scalpers. As he saw me approach, he produced a single ticket out of one of his cargo pockets and handed it over, muttering under his breath, "Thirty-five, best price for today's game." After looking over my shoulder, I palmed over two twenties crumpled into a sweaty ball. When he told me he didn't have any change, I waved him off and told him to just remember my face for any future transactions. He nodded, pumped his fist, and said, "Go Ichiro."
The seat was in Area 51, the section of bleachers directly behind the right-field fence that still serves as the unofficial Japanese cheering section. An older Japanese couple sat to my right. Both wore blindingly white Ichiro jerseys and flat-billed Mariners caps. They nodded, using the jerky, polite motion that many older Japanese use when greeting young Americans, and the husband offered me a bite of his plate of garlic fries. When I said, "No, thank you," his wife smiled, revealing a gold canine tooth that reminded me, strangely enough, of a photo of my great-grandmother taken when she lived on an orchard in what is now North Korea, a few years before the Japanese occupation during World War II that forced her to flee to the South. In the photo, her hair is pulled back tightly and she is smiling and pointing at a yellowed tooth that my father explained was a gold implant and not the product of some old-world hygienic deficiency.
When a group of Japanese students sitting in front of me passed around a red sign on which some indistinguishable Japanese slogan had been written, obscuring my view of the field, I could do nothing but sit back and mutter astonished, bitter words into the back of my hand. It finally occurred to me that I had been ignoring the elephantine irony of this happy scene: I was born in Korea to Korean parents, meaning the only history I share with Ichiro is that on several occasions over the past thousand years, his people have brutally occupied my home country. Rooting for a Japanese baseball player because he fit in the same constructed minority category was like if an Irish ex-pat began rooting for Manchester United because the good people of China couldn't distinguish between his accent and Wayne Rooney's. And in most ways, it was a lot worse than that.
When I got home that night, I thumbed through my copy of James Baldwin's The Fire Next Time and read the following passage, heavily underlined back in my days as a malcontent freshman: "If you know whence you came, there is really no limit to where you can go. The details and symbols of your life have deliberately been constructed to make you believe what white people say about you… Please try to be clear, dear [nephew], through the storm which rages about your youthful head today, about the reality which lies behind the words acceptance and integration. There is no reason for you to try to become like white people and there is no basis whatever for their impertinent assumption that they must accept you." As I read that passage, I realized that the images of the Civil Rights Movement and the multicultural education I received as a child in Boston had never lost their buoyancy, always floating on the surface of my consciousness, but that the rhetoric that underscored those images etherized, not completely into the air, but into a strange, misappropriated residue. I could watch Ichiro stretching in the on-deck circle and conjure the image of Jackie Robinson sliding home in 1947, but that association never brought hope, but rather a wariness that both told me that the association was wrong and that the only reason why I was cheering for Ichiro was because someone, something else had lumped us together.
Even back then, at the age of 19, I knew that the comparison was catastrophically wrong. But I still made it, and even today, when I certainly am old enough to know better, every time I see Ichiro, I still feel both the warmth and the embarrassment of that particular misappropriation. In my defense, I will say that when you are a first-generation immigrant, the templates for assimilation always belong to somebody else. You can staple your assimilation to Ichiro, Jackie Robinson, Joe DiMaggio, or Hank Greenberg, but you will always be wrong. But I don't know how else anyone is supposed to stumble toward American-ness than through these categorically wrong, sentimental avenues.
Ten years later, it seems to me that what I should have done was to shrug off Baldwin and understand that some ideas are better left on the pitch of the academy, where no score is kept and nothing is really ever at stake.
I also understand that doing so would be dishonest.