My Memories of The National
One of the stars of the "Main Event" recalls the greatest job he ever had
By Charles P. Pierce on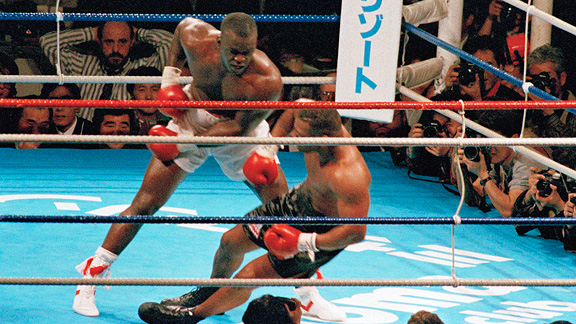 By an odd chance, I was back in Spokane this year for Super Bowl Sunday, which I passed pleasantly at Jack & Dan's, a neighborhood tavern hard by the Gonzaga campus, and one that was partly owned for years by Jack Stockton, whose son, John, played point guard for the Utah Jazz. (Once, when asked why there were no pictures of his famous son in the place, Jack replied, "There aren't any pictures of me, either, and I own the joint.") I was there on behalf of a magazine on a story that had absolutely nothing to do with sports. The crowd was sparse, at least by Super Bowl Sunday standards. You actually could hear the Fox broadcast crew, which may or may not have been a blessing. I tucked myself into a group of Packer fans and had an altogether splendid time.
The last time I was in Jack & Dan's was my 37th birthday, in 1990, when Jack himself was tending bar and serving me these giant birthday schooners of beer while I watched the All-American Bowl in Birmingham, Ala., and I was telling Jack about my visit to a place called Summerfield, in northern Louisiana, where I'd been a week or so earlier. I was working for The National on a piece about Karl Malone and John Stockton who, just at that time, were becoming the perennial winners of the NBA's Pairs competition. I had been in Summerfield, on the front porch of the general store of Karl Malone's mother, Shirley Jackson, who chewed tobacco and spit while we talked. The store looked like a place Walker Evans would have bought his Mr. Pibb — low-slung and slumped. There was a catfish pond out back with a couple of rusted folding chairs on its bank. Next to the chairs was a state-of-the-art satellite dish.
It had been hot on the porch, even though it was coming on toward Christmas. There was very little shade, even though there used to be plenty. There once was a huge tree out front of the store. However, during Karl's senior season in high school, the passel of assistant coaches who had taken to haunting the place had gotten on Shirley's last nerve, so one night she cut down the tree with an ax so the whole lot of them could broil in the sun. She told me this story on the porch, and then she talked about raising kids. A few weeks later, I was sitting in Jack & Dan's, watching North Carolina State beat a Southern Mississippi team quarterbacked by Brett Favre — who had not yet become America's most highly paid migrant worker — 31-27, and telling John Stockton's father what I'd learned from Karl Malone's mother, and thinking that, damn, Spokane might just be the greatest place on earth, for a night, anyway.
I judge the jobs I've had in this business by the places they took me, and by that standard, there simply has been nothing to match The National Sports Daily. Now, it is undoubtedly true that, had The National not sent me and so many other people like me so many places, it might not have run through 150 million of Emilio Azcarraga's dollars quite as fast as it did.
Oh, money. Yeah, wait. I should tell this story about money, first. In the spring of 1991, the last spring of our newspaper's life, I got a call from New York. Mike Lupica was leaving the paper to return to the New York Daily News, a development that surprised approximately nobody. He was taking with him his "Shooting From The Lip" column, the three-dot bullet template invented by the great Jimmy Cannon and subsequently appropriated by almost everyone else in the history of newspapers, including, most notably, in USA Today by Larry — "If it's Wheatena, I'm all in!" — King. The column had been running in The National every Friday, and it had developed an audience. They wanted to keep the idea under a different name, and someone had mentioned that I'd done a similar kind of thing when I was writing a column at the Boston Herald. So they asked me if I'd do it.
Of course, I told them, but I'd need more money to do it.
How much, they asked.
I had no idea, so I quoted them a figure that I thought probably indicated I was on mushrooms at the time.
They didn't even blink.
You start this week, they said.
I told my wife that I had good news and bad news. The good news was that I'd be making substantially more money. The bad news was that these people cannot possibly stay in business much longer doing business like this. I remain completely convinced that, had I asked for a Mercedes pulled by snow-white unicorns, one would have been in my driveway the next morning.
Then again, had The National not spent money the way that it did, it's unlikely that it would have sent Sam Donnellan all the way to Tokyo to watch the unbeatable Mike Tyson face off against an overweight schlub named Buster Douglas. (Later, it spent a lot of money sending a whole bunch of us to Vegas to watch Buster, an overweight schlub once again, underclub a left hand against Evander Holyfield and get starched for his trouble. I was there. I missed the end of the fight because my assignment got caught in a bizarre interoffice wrangle between my immediate superiors and some other titled layabouts in the operation. I still don't know what I was supposed to be writing about that night.) Peter Richmond wouldn't have had the chance to go to a Cubs game with Bill Murray and then hang out with Fleetwood Mac afterward. Which would have meant that we wouldn't have had the great scene several months later when Murray showed up in the New York offices to see Peter. Not long before that, a guy not many people liked had been fired, and Murray wandered into the daily editorial meeting, propped his flip-flops up on the table, and asked, "Show of hands. How many people thought [blank] was an asshole?" The world would be a poorer place without that moment.
Woody Allen said that 90 percent of life is showing up. He's right, except that 100 percent of journalism is showing up. If The National hadn't spent spend money the way it did, I wouldn't have gotten to spend a week in Oklahoma with the late Abe Lemons, the funniest man who ever coached anything anywhere. And I sure as hell wouldn't have been in the car with him, driving back in the middle of the night from a game in Lawton, when it occurred to Abe that, "You know where we are? We in UFO country. This is the kind of place where they see them UFO's. How come they never see them in big cities?
"I wonder about stuff like that. You know what else I wonder about? Lion tamers. How do they get the lions to know how to do all that stuff? And those whale guys. I think you could get one of them whale guys from SeaWorld and he'd be a helluva basketball coach.
"Oh, and you know something else? Are you aware of how many people in the world who love you and care about you have no idea where you are right now?"
Most of us grunts knew the paper was spending a lot of money, not least because it was spending a lot of money on us. Because of that, there was always a vague unease about the possibility that the business side of things might be being run by marmosets. There were hints that all was not well. The long-distance telephone cards we were assigned belonged to some piggy-back Ma Bell system that required us to enter what appeared to be a nuclear launch code before we could complete a call. One day, the whole system simply collapsed. (The rumor in the field was that the tinker-toy system had been run by a friend of the corporate officer who'd signed the contract on the paper's behalf. Having spent seven years covering the Massachusetts State Legislature in my younger days, I was not only pissed at the inconvenience, but also quite disappointed in the quality of the scam.) Things became a little clearer on the Day Of The Assassins, when the folks from Mexico showed up in Manhattan one fine morning and pretty much defenestrated everyone on the financial side of things. For a brief afternoon, while in a hotel in (I think) Charlotte, I was unclear whether or not the newspaper had a publisher, and thought that, perhaps, the whole thing was now being run from a Sabrett's stand on Fifth Avenue. The resulting layoffs and personnel shuffling threw everything into confusion; one writer had to move from Chicago to Denver with about two days' notice. It was like being a utility infielder.
But the point was that, for perhaps the last time, a publication launched itself with the proposition that its journalism would be something of great value, and that, therefore, it should pay people in a fashion commensurate with the value it would place on their work. This is what sent America's sports editors straight to the fainting couch, clutching their pearls and moaning like Aunt Pittypat Hamilton at the fancy-dress ball. The National wasn't shy about raiding people's rosters, and even a lot of writers who didn't come aboard were able to leverage the offer into handsome new deals with their current employers. Pretty soon, the bellowing from the Associated Press Sports Editors was audible on Neptune, and the APSE was pretty much a dog's breakfast as regards The National for the entire 18 months of its existence. Very few of our pieces were considered for the organization's annual awards, and, when we finally folded, Bill Dwyre of the Los Angeles Times, one of those people who (to borrow a line from Christopher Hitchens) fancied himself a wit and was half-right, assigned one of his columnists to dance on our freshly dug grave. A couple hundred people thrown out of work, and this guy decides to spike the ball in the end zone. Stay classy, big guy.