Four Nights at Elaine's: The Last Will and Testament of a Great Saloon
Cleaning out the liquor and closing the door on the best bar in New York City
By Wright Thompson on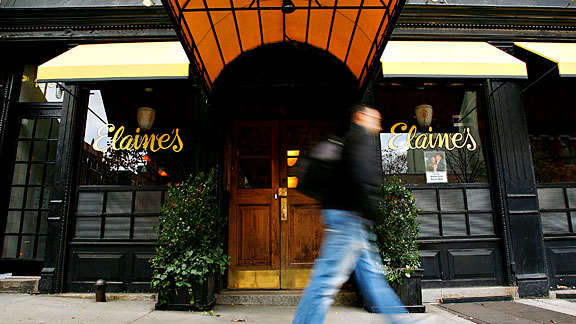 I remember the moment when I realized I wanted to write. I was at home, in the 10th grade, sick. My days and nights got mixed up, and when the house was quiet, I'd sit downstairs and read. My mom was a high school English teacher, so the place was filled with books. One night, I pulled one by Willie Morris off the shelf. It was called North Toward Home, his memoir of going from small-town Mississippi Delta boy to editor of Harper's. When I started reading, I thought I'd end up running my dad's law firm after college. When I finished, I wanted to be Willie. That seemed impossible. You have to understand what Willie means to Mississippi and to Mississippians. In my home state, there's Faulkner … and then there's Willie. When he died, his body lay in-state in the Old Capitol Building, like a conquering general or a governor. So the next morning, I told my parents about the book. My mom smiled. It was one of her favorite books, too. My dad was friends with Willie, so a few days later, my own copy arrived with an inscription. He also sent me New York Days, in which he talked about his writing life, and a lot about a bar called Elaine's. Those two books lit something.
Two years later, I went to journalism school at Missouri. At Mizzou, you have to apply to the J-School after your sophomore year. The first time, I didn't get in. When I finally did, I found the group of friends I still consider to be brothers. We spent our time reading stories and writing our own imitations, cocky kids with big, irrational hopes. During spring break of my junior year, in 2000, I went to New York with Seth Wickersham to try to make those dreams into something real. We both wanted to be magazine writers, like Dan Jenkins, like Gary Smith, like Willie Morris. Seth had interviews all over town, at ESPN The Magazine, Sports Illustrated, and the New York Times. I was more of a tagalong. His meeting at ESPN Mag went pretty well. Mine … not so much. The editors at the magazine forgot about me, so I sat out there for an hour or two, on a bench by the security guard, until someone noticed. There was a sign above my head that said "Visitors," and in front of me, through a big glass wall, the world I wanted to enter. The metaphor was unmistakable.
But even if we weren't magazine writers, we could act like them. We went to P.J. Clarke's for the first time; Jenkins' photograph on the back of You Gotta Play Hurt showed him outside the window. And, mostly because I insisted, we went to the bar Willie wrote about in New York Days.
We went to Elaine's.
April, 2000
We went looking for ghosts. Everyone did by then. Whatever Elaine's once was, a place where celebrities came to gawk at writers, where ballplayers came to chase movie stars, that place no longer existed. The '60s and '70s ended, and even though Elaine's stayed in business, it always seemed fleeting, part of an older New York. What was left was an idea, a place where the writers whose books covered the walls were just as important as the athletes who played on the television in the corner. For writers, this was where some sort of dusty magic lived, and people came looking for it as if visiting a religious shrine, leaving an offering and hoping something intangible would be given in return.
The long, yellow awning and amber lights looked intimidating from the sidewalk. A bar is its own world from the sidewalk, with blurry figures and muffled laughter, the melodic little music of whiskey and ice. The door is never as heavy as you expect it to be.
A lot of people have walked through that door searching for something. Mostly writers. Gay Talese and William Styron and George Plimpton. On and on. Elaine nurtured broke young writers, kept them fed and watered until they made it. She loved all of them, but perhaps none of them more than Willie, an outsider, a southern boy a long way from home.
We found a table, ordered a drink, and stared at the prices on the menu. We gawked at the people around us, and at all the books and photographs. A few tables away, Elaine sat by herself. She seemed like an apparition, something left over from a time long past. She was impossibly wide and her voice sounded like cigarettes. Everything about her was hard, as intimidating to me as her dark, wood bar and smoke-stained walls. I steeled myself with whiskey and went over, and, in a shaking voice, told her my story, about Willie and North Toward Home. I told her about how much we all missed him; he'd died less than a year before. She softened and the light in the room seemed to change. Funny, but the bar had a way of responding to her. It's like they were connected.
We sat at her table, and she asked for stories about Willie in Mississippi. She made sure to insist we come back the next night, and one more after that. She included us. She made us feel like writers. I was so far away from being a magazine writer that the place where I now work literally forgot about me, but Elaine treated us like we belonged.
April 2002
Another spring break, two years later. My friend Justin Heckert came to New York, much like we did several years earlier, looking for a job. Seth lived there and I flew up from New Orleans, where I was covering college football for the Times-Picayune. This trip would be successful for Heckert; he'd end up with an internship for ESPN Mag, where Seth had a full-time job. Before Seth had left for the city, I'd given him a copy of New York Days, as something to read, sure, but also as a talisman. I felt like Willie would keep watch over my friend. Seth had recently written his first magazine feature, a profile of Indiana quarterback Antwaan Randle El. We were actually writers. Not the writers we wanted to be, but we got paid money for words.
We spent a lot of that money on booze. That night, we scored a table in the window and started ordering whiskey. At some point, Seth realized that Neil Leifer, the famous photographer, sat in the back. Seth always recognized people; we were, frankly, journalism stalkers. A plan was hatched. We had a disposable camera with us … and he was Neil Leifer. We decided: When he stands to leave, we'll go outside, and I'll line them up by the window for a picture, and then he'll walk out and I can ask him, as if I don't know who he is, "Excuse me, sir, would you mind taking our picture?" Then we could have a photo of us taken by Neil Leifer on a disposable camera.
 
We waited. Leifer, turned out, had a hollow leg, and by the time he got up, we were all wrecked. Still, a plan's a plan. We went outside and, holy shit, this was working, but as I lined them up, Neil stopped at the bar to talk to someone. We looked around, trying to figure out what to do next. And then, at that moment, a man appeared. The details are a little blurry but everyone agrees that, suddenly, George Plimpton was now standing in front of us.
 "Excuse me, sir," I asked, "Would you mind taking our picture?"
He took the disposable camera, and we all grinned, high on ambition, Maker's Mark, and our New York days.