III. "We could do it with satellites."

Price: The address was 666 5th Avenue.
Athan Atsales (National News Editor): The devil office.
Price: We had to put satellite transmission facilities on the roof. We had to make satellite contracts, do the lease, the construction, get the furniture in.
Carpenter: The building didn't have cable TV, so we paid for that. The National had the cable company come, wire the whole damn building. We had big-screen TVs before big-screen TVs were really around. We had 50-, 60-inch televisions all over the place that costs thousands of dollars each.
Neil Leifer (Photo Editor): Nikon lent us a digital camera. It was the prototype. By that, I literally mean there were like two in the world.
Tom Patterson (Assistant Managing Editor): We were so technologically advanced that people came in to tour the office just to look at our computers.
Carpenter: One day, Van came around with one of the business guys, and the business guy was carrying a clipboard. Van asked, "How many fax machines are we going to need to receive all the faxes that we're going to get?" We thought four, and Van turned to the guy with the clipboard and said, "Six." The machines were $2,200 each. The sixth machine never received a fax.
Kindred: It was this entirely new computer system and entirely new satellite transmission system. They spent millions of dollars to create it at the last minute. The computer programming was done by some Israeli company. It was state-of-the-art at the time, but it was untested.
Doria: One thing became clear right off the bat, before we even started printing in January 1990: There was going to be a problem getting out a late newspaper, a paper with all the scores.
Fleder: I remember the tech guys making diagrams: The satellites had a brief period of time where they could transfer this information back down to the printing plants. The diagram was shaped like a funnel, and there was a very precise period of time where you had to make that transmission or you weren't going to make your deadline. The tech guys were explaining how all this information was going to be beamed up to satellites and then broadcast back down to printing plants across the country so we could print separate editions in each city. I always thought of it as "The Funnel Meeting."
Deford: People were so impressed by the fact that we could do it with satellites. You know, print it with satellites. That sounded so glamorous and everything.
Rick Jaffe (Assistant Managing Editor): We were the first paper in the United States to go without a composing room.
Hinton: Price signed a contract for five years with Dow Jones for us to piggyback the Wall Street Journal's distribution system. The Journal probably didn't even think about this and didn't care. What nobody thought about was the stock markets close at what? Four o'clock? Well, the Yankees aren't even taking batting practice at four o'clock. So, OK, you've got the Yankees and the Mets playing in the East. The White Sox and the Cubs are an hour behind. The Dodgers haven't even begun in the West. So the Yankees are taking batting practice, and Dow Jones is saying to the people at The National, "Where are your plates? We've got to go." And The National is saying, "We're not going to have a first edition ready to go until the Yankees and Mets are done." They said, "When is that?" And we're saying, "Maybe eleven o'clock." And they're saying, "No, baby. We're going at five."
Reid Laymance (Senior Editor): I was in New York, and in charge of the editing and production process. I was supposed to be the last look at a page, the last read on a story, before it would shoot off to the satellite to be printed. What we found out was, jeez, we're doing a 48-page paper, but there's a New York version, a Chicago version, an L.A. version. Three times 48, that's 144 pages.
Doria: We were rolling out first in three cities — New York, Chicago, and Los Angeles. We added Detroit, Boston, Dallas, Atlanta. We planned to roll out others, too. San Diego, Cleveland, Pittsburgh, Milwaukee, San Antonio. We wanted to open in just about every market in the United States. Eventually we wanted to launch in European cities, too.
Kindred: There were no test papers. They started hiring in the fall of '89 and wanted a paper by winter. It wasn't like we had six months to try and get this thing perfected. El Tigre was in a hurry. He wanted it done now.
Laymance: We realized the satellite could only do a page every three minutes. So you started realizing: 144 pages times three minutes each, that's 500 minutes. Well, that's seven hours.
Kindred: Detroit was one of the places that if it rained, we couldn't produce the newspaper.
Shaw: When I was working in Detroit, there was a series between the Pistons and the Bulls, when the Bulls finally beat Detroit after knocking their heads against the wall, and the Pistons walked off without shaking hands. It was big, and I was at the game, had written a column on it, and there was bad weather that night. So, we never printed it.
Laymance: It snowed and you'd see a guy go up to the roof of 666 to knock snow off the satellite dish.
Price: Somebody went up with a ladder and a broom.
Hinton: I went to New York to pick up my laptop. They bought these state-of-the-art Toshibas, and they put in these really cheap modems. In the dial-up, we could not get my computer to link up into the computer at The National. I said, "This is a problem." And the computer grunt says, "We'll change the modems. We bought $30 modems." The computer people they hired, frankly, I think they dragged them in off the streets. I went in the men's room and Van McKenzie comes in and says, "How's it going?" And I said, "Look, we're fucked on this sending system." He said, "What are you talking about?" I said, "Van, I'm telling you. We couldn't transmit a story from the newsroom to the host computer. We tried 20 times." He said, "OK, come with me. We've got a meeting with Peter Price. I want you to go in and tell Frank and Peter what you told me." Frank shows some serious concern, because he's been a writer out in the field. And Peter Price — who, I think, his total claim to journalism fame is that he'd been the editor of some Upper East Side magazine, some hoity-toity, Park Avenue publication — he said, "Well that can't be." And I said, "Why can't it be?" And he said, "Because my people tell me it can't be." He wouldn't accept that we'd just failed. And I said, "Well, I'm telling you it is. And I'm telling you your computer people don't know what the hell they're doing." And he looks at me, and Van, who was looking out for me, says, "Eddie, don't you have a plane to catch?" I was fuming all the way to LaGuardia. I got home and I told my wife, "This thing's going to fail. It ain't going to work." And she said, "Why? I thought you had the best writers, the best editors." And I said, "We do. But we've got a terrible business side. They don't know what they're doing. The tech side doesn't know what they're doing, either. We can write and edit all we want, but if we can't publish the damn stuff, we're dead."
IV. "Design Nazis and Agate Fascists."
Pierce: Van McKenzie was a force of nature.
Kindred: He was big, gruff, lovable. Probably weighed 270. Loud, crude.
Shaw: If you put a flannel shirt on Van, and handed him an ax, he'd look like Grizzly Adams.
Doria: Van was a big card player, a gambler. Prodigious appetite. Loved to party. Could drink a lot of beer. But a really self-made guy. Not a heavily educated guy, really.
Carpenter: He took no guff. But when it was time for fantasy football, he told me, "Go find a restaurant!" I went out, looked around, came back and said, "Van, everything's really expensive." He told me, "Don't worry about it." Our draft tab was $1,000. He just covered it. No problem.
Laymance: Van had this theory: He drafted every kicker. Every pick he had was a kicker. He said, "Everybody needs one. They'll have to trade with me later."
Kindred: He invented the big, splashy sports section. Big graphics. Big pictures.
Shaw: Van was a big thinker. He had great ideas. I think he knew what kinds of stories would win APSE contests and he devoted a lot of resources to them. If he had an idea, or you had an idea that he wanted, he gave you unlimited resources.
Michael Knisley (Senior Editor, NFL and Boxing): I remember sitting in meetings with Van. Somebody would come up with an outlandish coverage idea and instead of immediately shooting it down, Van would talk about making it happen. He'd sit there, wave his hands around, and say, "Well, can't we just go hire somebody?" And so we did. We went and hired somebody to, for example, go to Japan to cover the Mike Tyson-Buster Douglas fight. This was back when that sort of thing didn't happen much. Tyson had never lost; Douglas was a nobody. But Van said, "Let's do that." And there we were when Douglas beat him.
Jaffe: The Tyson-Buster Douglas story in February 1990 put us on the map.
Ian Thomsen (Main Event Writer): I was in Columbus with Douglas before and after the fight. Rob Fleder called and said I want you to go write about the next guy who's going to get beat up by Mike Tyson. They wanted me to write about a guy that had no chance. But Douglas had confidence. This was the time he was going to make his stand for his career. In the last paragraph of the story, I wrote something to effect of "When Buster Douglas beats Mike Tyson, so-and-so's going to happen. And when Buster Douglas knocks out Mike Tyson, such-and-such is going to happen."
Sheldon Spencer (General Assignment Reporter): Mike flew back from Tokyo into JFK early Monday morning. I was assigned to go to JFK and, no matter what, follow him. If he jumped on another plane to fly to his mansion in Ohio, I was supposed to jump on that plane. There was a mob scene at the airport. He hops into a white Mercedes with his bodyguards cause, you know, Mike Tyson needs bodyguards. And I hop into a yellow cab and say, "Follow that car!" We're going down the LIE for what seems like forever. I'm just hoping I've got enough cash. For all I know, he's driving to Cleveland. But he winds up at a Manhattan brownstone. I get out of the car and walk up the street and his bodyguards are standing in front of him. They know I've been following them. I go up and say, "Mike, I'm Sheldon Spencer, I'm with The National Sports Daily. I know you've been through a lot in the last 24 hours, but I would love it if you would give me a few minutes to talk about the fight and what's next." The bodyguards are standing in front of him and he's trying to get in the door, but he stops, turns around, extends a hand, and says, "Some other time, my friend."
Steve Lowery (Angels Beat Writer): The first big story we all worked on together in the L.A. bureau was the Hank Gathers piece in March. We got death threats, ironically, when we ran a headline that said "Hank Gathers is Dead" with a picture of Gathers on the ground.
Tom Friend (L.A. Columnist): There was a newsflash that Hank Gathers had collapsed. I'd just interviewed Hank and Bo Kimble. I lived minutes from the hospital where they'd taken him. So I just buzzed over and went in the front door, not the emergency room where all the other reporters had gathered. There was nobody at reception. It was a ghost town, so I walk in the door and there's Bo and there's the family. I nod at Bo thinking he's going to tell me to get out and he nods back. I stood in the corner. Fly on the wall. We're there 45 minutes when this doctor comes out and says, "Gone." The mom is on the floor screaming and yelling. The brother walks outside: "Noooooo!" It was beyond belief. I couldn't sleep for a month, it was just so haunting.
Atsales: What were we? Were we a paper or a magazine? I remember the SI people saying, "I don't know if we need scores in this paper." This is when they knew the deadlines were impossible and we couldn't get the scores in. The newspaper people stood by the scores. The magazine people we're always asking, "Do we need scores? Not if we have good long-form pieces to run."
Kindred: Van wanted everything in the box score, including which way the wind was blowing.
Kindred: One of Van's babies was the Page 2 thing.
Tim Tucker (Deputy Managing Editor): It was quintessential Van. Every day he wanted to take a page to tell a whole story in a nontraditional form. The idea was to peg it to an event that was happening that day and preview it.
J.E. Vader (Page 3 Writer; National Reporter): The page was actually called "Sneak Preview." My favorite was the "Make Your Own Carburetor Restrictor Plate" page we did for The Daytona 500. I loved that page. It was research-heavy, graphic-heavy, just a ton of information in not a whole lot of space.
Pierce: Van's the one Rob Fleder always used to fight with about the Main Event space. He always had some hair across his ass for some new graphic or agate thing.
David Granger (Executive Features Editor): What Rob and I did was separate from the daily news operation. We were supposed to create five 4,000-word magazine stories every week: "The Main Event." The paper only published five days a week. But still, we had to have a story for every one of those days. And it was like, "Fuck. We've got to assign 280 magazine stories in the next year?"
Leifer: Van was a newspaper man. And Frank was not only loyal to Van — Frank understood that Van's strengths were exactly in the areas he lacked.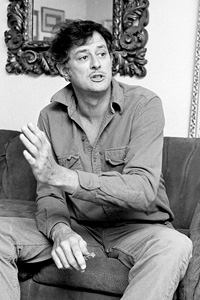 Deford: I never really got to be an editor at The National. I spent most of my time as a front man, as liaison between business and editorial. The number of days I came in and put out the paper were pretty few. When we opened in Miami, I went to Miami. When we opened in Detroit, I went to Detroit. I always hoped things would calm down so I could act like an editor. I could've been Ben Bradlee! But I never got that chance. Van was crucial to the operation. We were a great team. I was Mr. Outside. He was Mr. Inside.
Granger: Van was the enemy. He was the daily newspaper guy who truly disdained what Rob and I were trying to do. It appalled him that we got all these pages.
Vader: I came from SI, but I started to like the newspaper guys better. They weren't all Ivy league. They were funnier and smarter. Didn't take themselves as seriously.
Pierce: Fleder had to continuously brawl to keep the Main Event away from the design Nazis and agate fascists. Rob fought for our four pages like a bulldog, and he had to because Frank was being told by all the other people there — the people I like to call the APSE All-Stars — that it was a waste of space to do these things. Frank once asked me, "Why is Rob always so protective of his space?" And I said, "Because if he doesn't, it'll disappear. That's why."
Stout: The launch of The National corresponded with the first of edition of Best American Sports Writing. It ended up that four out of the 25 stories I included in the first volume were from The National. I used a really funny story by Peter Richmond called, "The Sports Fan", which was a profile of Bill Murray.
Richmond: I got Murray's number through a mutual friend, called him up, and said, "You want to do this?" And he said, "Sure, I love The National." He said, "I'll meet you at Wrigley in two months. They play the Expos in a three-game series starting July 7." But he never answered another call. So I flew out to Chicago and I got there a day early and tried to put together a Cub feature in case Murray didn't show, because I didn't expect him to. So I went to the PR people and said, "Just leave a ticket for Bill Murray at will call." Then I took my ticket and went down to our seats behind home plate, and during the national anthem, Bill Murray comes down with two bags of popcorn and two beers and sits down, and we spent the next three days together in Chicago.
Deford: Murray liked us so much that he came into the office, into an editorial meeting, posed in a Cubs uniform and everything.
Patterson: I get in late and I look around the room, and all of sudden Bill Murray's in the meeting. I said, "What are you doing here?" He said, "Oh, shut up and sit down. You're that asshole Patterson, right?" They had set me up to have him there.
Pierce: I don't think I ever had a story idea turned down at The National. Long-form narrative is always what I've wanted to do, but I went to the Boston Herald because of the money. I spent years there writing tabloid-length sports columns — 500, 600, 700 words — and was really bored. Working at The National was like working for SI, only working for SI on a daily basis. I always tell people, did you see Bridge on the River Kwai? Where they put the guy in the box, and they leave him in the box for a week and a half or something, and they open the box and he can't walk anymore because he can't remember? That's the way I felt when I sat down to write my first National piece. Holy God, I'm going to write 3,500 words again. How do I do that?
Granger: Charlie and Peter had this competition to see who could write the most stories. Charlie wrote 46. Peter wrote 45. These were stories that were all over the country, sometimes all over the world, that required reporting and then required writing.
Hinton: Charlie would get all this material for a Main Event, and he'd come in and he'd sit down to write. He'd set an alarm. He gave himself four hours per piece.
Granger: Charlie is the smartest man in the world, and he's also the fastest writer in the history of the world. I had this new George Will book about baseball, and I thought, "I can get Charlie out of my office for the rest of the day by giving him the book to review." I gave him the book and said, "I need 800 words just as soon as you can." He was back in 90 minutes having read the book, having written the review.
Hinton: I did a piece called "The Last Ride of A.J. Foyt." Foyt had disintegrated his legs in a crash, and an orthopedic surgeon had put his legs back together. He'd been rehabbing with the Houston Oilers. He was going to come back and run the Indy 500 one last time. So I go down to the ranch, and he was in all of his profane bull-glory, talkin' wide open: "Darryl Waltrip's a jack-off. Fuck him. … And you want to talk about an asshole, you want to talk about a prick? That's that Bobby Rahal." The lede for that piece set the tone: "Eight a.m. and raining on Waller, Texas. Population: Big Enough to Whip Your Ass. Out where Texas starts to look like Texas ought to, 40 miles northwest of Houston on the road toward Austin." Well, Frank wanted to cut the phrase, "Population: Big Enough to Whip Your Ass." So Granger calls me and says, "Call Frank at home. Fleder and I told him that we're quitting and now you need to tell him you're quitting unless he puts it back in there. You gotta fight for your phrase. We love it. We're going to stick by you. Now, you gotta stick by us."
Pierce: Rob really fought. He fought to the point that Frank started getting agitated about it.
Hinton: I called Frank at home. And Frank says, "Ed, somebody has to be the country parson around here. Frankly, "ass" is gratuitous." I said, "Granger and I have already gone over ways to keep the cadence in that sentence, and it's just not working." Frank says, "Stop struggling to find a new phrase, because I've already found a way to keep the cadence in that sentence — just remove 'Population: Big Enough to Whip Your Ass,' and listen to the sentence again." That made it, "Eight a.m. and raining on Waller, Texas. Out where Texas starts to look like Texas ought to, 40 miles northwest of Houston on the road toward Austin." I said, "Frank, you're right. The cadence is still there." Frank had been too good to me to get in some big fight. I called Granger back and told him I'd given in. He says to me, "Hinton, you chicken-shit coward, Fleder and I were ready to quit for you, and you folded."
Granger: We had our protective little cocoon, at least for a while. There was this row of offices for all the most powerful people. But then Rob went on vacation, and one of Van's people said to me, "We've got to expand. We're moving around. Call Rob and tell him that he's got to move." It was the pure example of how ostracized we were. They were taking his office away!
Laymance: Van was always around. I don't know if he ever signed on to a computer, but he'd come around, look over your shoulder, see what you were doing.
Atsales: We were the first to have these major box scores. The agate was the revolutionary thing; not the long stories. They had to hire correspondents in every city just to get information for the boxes. Having the average of every player? That didn't exist back then. We pioneered that. I remember the agate desk. Lee Gordon was in charge. They called him "The Agatollah." He had bowling shirts made for all his guys with their names on them, like they were some sort of team. They all wore those shirts proudly, even though they looked like idiots wearing bowling shirts to work.
Knisley: Gordon was incredible. He probably did more to change the world of sports journalism than anybody else at this newspaper did. He created new ways to present statistical information.
Laymance: There were nights that Van would stay really late and I'd drive him home. We walked the four blocks to where we parked our cars. Occasionally Van and I would grab a six pack and enjoy it on the drive.
R.L Rebach (Graphic Artist): We were working 16-hour days, six days a week. Sunday through Friday.
Spencer: Kim Cunningham would be at the office because she had just come back from a party.
Deford: She did this gossip page. The idea was good: to treat sports people like celebrities. I think we were ahead of the curve there.
Kim Cunningham (Gossip Columnist): Ten months in, I broke out in hives. I had chest pains.
Atsales: You got a $1,000 bonus the first year if you didn't have a sick day. If you had one sick day, there was a $500 bonus. There were a lot of sick people at work.
Spencer: That 6 p.m. to 3 a.m. shift. Yeah, that was the glamour shift.
Atsales: At 3, we'd walk every night from 5th Avenue to 10th Avenue to get our cars in the Howard Johnson's lot, where we parked. You wouldn't believe how many prostitutes would accost you during those blocks. They'd be all over. I'm not talking about just talking to you. They'd be grabbing you. They'd be doing everything they possibly could to sell it.