The Greatest Paper That Ever Died
(page 3 of 3)
Radically brilliant. Absurdly ahead of its time. Ridiculously poorly planned.
The National

changed everything about sports journalism — and torched $150 million in the process.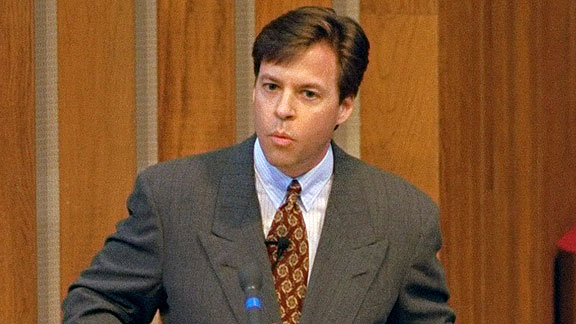 V. "This is Bob Costas. You're an asshole."
Chad: After college, I was a standup comic. I quit because I was getting married and couldn't make enough money.
Deford: We got Norman Chad off the rewrite desk at the Washington Post. There wasn't a chance for Norman to be himself there. George Solomon, great editor — but what the hell was he thinking?
Kindred: For the first issue, we had New York, Los Angeles, and Chicago. Deford wanted a profile of Patrick Ewing for the New York edition, Jordan in Chicago, and Magic in L.A. Ostler did Magic. I did Jordan. Lupica refused to do Ewing. The quote was, "I don't do that." He did his column, but he didn't do anything else.
Pierce: I needed The National. I needed to break a national profile. Norman was the same way. Then you had people like Lupica and Feinstein who went there not particularly invested in the project, except for the fact that they couldn't see a large thing happen in sports writing without them.
Granger: I edited Norman. He did a piece about Bob Costas, and every time he'd mention him he'd refer to him as "the 5-foot, 5-inch Bob Costas." NBC called complaining we'd gotten Costas' height wrong.
Chad: I told the publicist, if I run this correction — The National misreported Bob Costas' height, he's 5-8, not 5-5"— at the end of the column, I don't think it looks good for Bob.
Granger: Every time Chad wrote about Costas in a column for The National after that he would talk about "Bob Costas, who was not 5-feet, 5-inches tall."
Chad: One morning my phone rang. I go, "Hello?" And I hear, "Norman Chad?" I go, "Yes." The voice goes, "This is Bob Costas. You're an asshole."
Deford: Norman was the guy at The National who went from anonymity to stardom.
Kornheiser: Norman basically invented sports media criticism. He was turning out fabulous stuff day after day after day. Everybody should have looked to Norman to see what The National was supposed to be: flip, irreverent, and ahead of the curve.
Granger: I don't think I ever saw Lupica in the flesh.
Steve Buckley (Yankees Beat Writer; Boston Columnist): Lupica had a deal where he didn't do his own expenses. There was actually a secretary in the office who did expenses for him.
Spencer: Lupica had an office devoted to him, but he was never there. So that was the place where a lot of people held pizza parties.
Carpenter: Lupica's office had a view of 53rd Street. He was only in the office two or three times. So finally Deford gave his office to Lee Gordon because the door was right by the stats department. Lupica came in and threw a fit.
Pierce: Legendarily, Lupica went home from the 1990 Final Four because he wasn't sitting at midcourt. They put him in the auxiliary press box and he couldn't stand it, and he went home.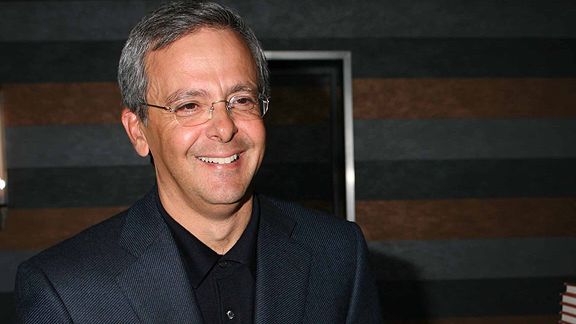 Chad: I'm one of Mike's few defenders. I only met him once. I had a dinner with him and Kornheiser. In an hour and a half, I believe other than ordering my entree and a refill on my Diet Coke, I said nothing else.
Carpenter: Lupica wrote a column in The National criticizing our own stats department for doing too much. He said we were sucking the blood out of sports and called us "Roto nerds."
Pierce: In May of 1990 the Times did a story, and Michael had this series of quotes that were really very destructive — the paper didn't have the urgency of a daily newspaper, he was unhappy with the direction the paper was going in, and he was thinking about leaving. We didn't need that. We didn't need one of our acknowledged superstars badmouthing the product on the business pages of the New York Times. I went into Fleder's office and said, "I'd throw him out a window and fire him before he hit the sidewalk."
Richmond: Two days after that article came out, I had a dream about throwing him out of the Shea Stadium press box.
Rebach: Mike left before the end. He used The National; he used his position as the premier New York-area columnist to get to The National, then he used his status at The National to get back.
Hinton: Everybody was pissed at Lupica all the time. When he quit, the verbal hyperbole was, "Frank's doing cartwheels across the newsroom." Lupica came and went and didn't really make a ripple, except that everybody considered him a pain in the ass.
Mike Lupica (New York Daily News columnist. Responding via e-mail to an interview request): Good luck with your piece, and your website, and thanks for your interest. But I don't have a lot to offer about my year at The National.
VI. "The day of the Mexican assassins."
Price: Distribution was almost impossible. Prior to launching in January 1990, I visited major newspapers around the country and they wouldn't touch our business.
Howard: They assured us that the Wall Street Journal trucks would take the paper. Of course, we found out later that the trucks left too early and we couldn't get the scores in.
Price: We looked at building our own fleet of trucks and printing centers. Color printing presses were just being introduced at the time. There was one manufacturer. The lead time was about a year and a half to order a press, and you had to pay for them up front. They cost about $8 million per press, per city. Remember, Emilio wanted to publish yesterday, which meant not doing things that were a year out. To set up a national distribution network, we would have needed our own trucks and then we would have needed to negotiate contracts with the National Newspaper Delivery Union. It would've been tens of millions of dollars. It would have been wonderful if we were the Gannett Company and had the kind of balance sheet and an existing staff to build our own distribution operation for a paper that didn't exist. That's a whole different ballgame. As a startup it would have been imprudent — if not insane — to do that.
Doria: And there was a recession going on. Advertising wasn't in great supply. The ability to distribute the paper, printing, and distributing, was a mess. Our writers in the field were always calling, saying, "The same paper's been in the box for five straight days."
Price: A daily newspaper at that point was running 70 percent advertising, 30 percent edit. Our ad-to-edit ratio was 20 percent as opposed to 70 percent.
Hinton: I got to a point where I would count the ads. Often, there was one — a Nike two-pager in the middle.
Kindred: I remember Peter Price going through mathematical machinations that showed we could survive without advertising. By newsstand sales alone, we could survive. Advertising would be a bonus.
Shaw: One of the ad guys in Detroit told me we were selling 4,500 copies a day in that market, and I was like, "Oh my God, that might be smaller than my college paper's circulation."
Price: It was a year-by-year plan, but I think the end of the first year we were targeting like 250,000 copies per day. Because, remember, we were only opening market by market. We weren't blasting out nationally immediately. We estimated that by the end of year two we'd be at 500,000. The million circulation was five or 10 years out.
Ostler: Did anybody do any sort of market research? It was kind of along the lines of a bunch of kids in the neighborhood saying, "Hey, let's put on a play. Maybe we can invite the adults and charge 50 cents apiece." That was the level of market research and planning that went into it.
Price: The lady I hired as Vice President of Circulation, Diane Morganthaler, used to be the Vice President of Circulation of USA Today, OK? So it's not that we went in without any knowledge of what distribution was all about.
Dan Correa (Chief Financial Officer): The break-even went from 400,000 in circulation to about 600,000 because we needed more editorial personnel and to maintain the technology. And when you miss your circulation goals, you lose twice. You lose because you don't get the 25 cents from the paper, but more importantly you lose ad revenue. That was the big shortfall. The ad revenue. We never hit the ad goals, and we never hit the rates.
Price: We had our vending machines smashed with baseball bats in certain markets. The distribution staffs of these papers were told we were threatening.
Deford: I live in Westport, Conn. That ain't exactly the middle of nowhere. They couldn't deliver the paper to me. I knew we had problems. I remember talking to the guy who delivers newspapers to me. He told me how many people on his route had ordered The National. Now, I can't remember the figures, but every one of them had canceled because they couldn't get the paper. And finally I canceled myself. I did! I canceled.
Atsales: Even in the box right outside 666, we couldn't get our own paper.
Ostler: Around the end of 1990, Steve Clow, who was the L.A. Bureau Chief, got a call from New York saying, "Steve, you know that water dispenser you have in your lunch room, the one with the hot and cold water tap?" And he said, "Yeah." And they said, "Well, we're going to have to swap that out for one with just cold water. We can save five dollars." This, a company that had been spending like a Saudi sheik for months and months, and now they're worried about two or three dollars a month. I knew there was trouble.
Doria: If people say it was the expense spending, meaning somebody spent $200 on lunch, that's not what did the paper in. What did the paper in was the inability to produce it and distribute it in a timely fashion.
Diane Morganthaler (Head of Circulation): Azcárraga had the money to invest in us because of some antitrust legislation that forbade him from owning TV media in the U.S. as a non-U.S. national or citizen. Right around the time that Emilio pulled the plug, that legislation was changed and he was able to go buy American TV media. Unless we had been profitable right out of the gate, it's likely that money — all of those millions — would've been pulled anyway because print media wasn't his bag.
Correa: Our editorial staff wrote a lot for the editorial staff. Instead of writing a daily newspaper, they were writing a magazine that was impressing other writers. We were a second, maybe a third read. The guy going to Wall Street was reading the Journal, the Times, and then us. The guy I would love to have reached was Joe Six-pack, and Joe Six-pack didn't need to read how the GM of the Mets reminded the writer of the Phoenicians. My immediate reaction was the guy reading this paper thinks the Phoenicians play in Phoenix.
Deford: Peter was fired around November of 1990, and Azcárraga brought his own guy in, Jaime Dávila.
Jaime Dávila (Longtime Azcárraga Associate): It is important to point out that Mr. Price was not fired. Mr. Price decided that he would rather leave shortly after my arrival.
Deford: It wasn't like Peter was going to be out of food the next day in his refrigerator. That was the thing. We all had contracts. Nonetheless, it was pretty tough, having your buddy and your colleague and your partner fired. It was hard. I was relieved that the boss acknowledged that the editorial was fine.
Dávila: One day, which I think was in October 1990, Mr. Azcárraga informed me that I was to stay in New York and that I was to start working at The National to determine if it could be saved. I was surprised because I had not had any involvement to that point. I told him that I didn't see how I could help since I had no newspaper experience. In essence, Mr. Azcárraga said that he didn't feel that he had another choice but to get one of his people involved in the day-to-day operation.
Deford (from an internal memo to National staff; January 31, 1991): Under Jamie Dávila, literally tens of millions of dollars have been cut from our annual budget. We are re-examining the entire circulation situation. Pilot home delivery programs are being tried in three cities. Returns have been cut almost 50 percent, even as we sell more copies. The readership is passionate and devoted. Perhaps even by the time you get this we will have a new advertising agency on board and we will be preparing for a major new ad campaign. Really now, does any of the foregoing even remotely suggest something looking to go out of business?
Pierce: The Mexicans showed up unexpectedly and asked to see the real books. By the end of the day, the publisher and business manager had been fired and the Mexicans had installed one of their own. He began to lay people off and shift people around the country. I remember, specifically, Mark Vancil, who had been our Chicago basketball writer, was moved to Denver.
Mark Vancil (Bulls Beat Writer): I could never find the paper in Denver.
Pierce: The story is that the business manager left, and when he left, he locked his desk. So they pried the desk open with a crowbar. And in the bottom drawer, they found unpaid invoices totaling over $2 million. The guy had been doing with the bills for the paper what we did with our college phone bills — throw it in a drawer and don't pay attention to it again.
Correa: They were not sitting in anybody's desk. That's an outright lie. Absolutely no hiding, no hoarding. They were sitting in the accounts payable department. We had a cash flow plan. The bills came in, they went to accounts payable, and they got paid depending on the terms. Twenty days, 30 days. Whatever we negotiated. So, absolutely there were millions. Why? Because the bills were several million a month. Payroll was several million a month. The printing bill was a million and change a week. Two weeks of unpaid printing bills adds up to be guess how much?
Dávila: The National was bleeding substantial amounts of cash. My first objective was to see how we could reduce the losses while I learned more.
Price: Emilio was saddened by the fact that it wasn't working. He said, "The problem with this fucking newspaper business is that you gotta distribute, you gotta move so many things around in trucks, unlike my television business. If we could only deliver the paper without printing it, that would be more like the business I know." I said, "All right, well there's this electronic thing developing called the Internet."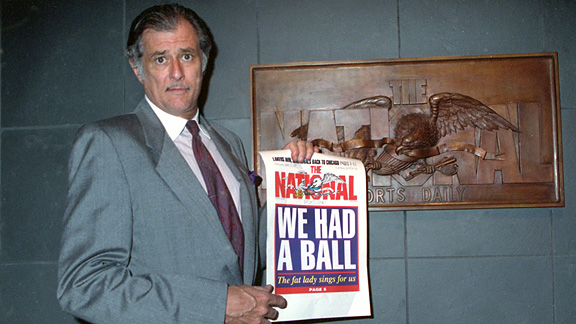 VII. "It was like the train escorting Lincoln's body from Washington to Springfield."
Tom Keegan (Chicago Bureau, Cubs Beat, National Reporter): There were rumors from the start.
Lowery: People outside the paper seemed to take pleasure in it. I don't know if it was jealousy or morbid fascination, but people would constantly talk about whether the paper was going to fail. I started to wonder, if my mom was sick, would they be doing this? Always telling me she doesn't look very good?
Deford (from an internal memo to National staff; January 31, 1991): At 7:30 in a press box somewhere some guy from the East Cupcake Gazette tells you it's too bad that The National is being sold to the Medellin drug cartel and turned into a weekly international guns-and-ammo newsletter. And you not only believe the guy, but pass the story on a gospel.
Buckley I was one of those naive little fellows who refused to see the obvious. I just figured something being run by Frank Deford, Vince Doria, and all those bright lights of sports journalism — that they would find a way.
Jaffe: I think Frank had a staff meeting in April or May of '91, and basically said we had till the end of the year to turn it around.
Keegan: You were always worried and afraid. Not that it would make a difference, but I was always trying to skimp and save on the road, looking for bargain meals so I wouldn't bankrupt the company.
Deford: The thing about Feinstein's cat was a bullshit story.
Pierce: This is how it was told to me: John was set to do the tennis and golf writer's phony-baloney annual trip to Europe. You go to the French Open, you take a couple of weeks off. You go to Wimbledon, you take a couple of weeks off. You go to the British Open. Sometime between the French Open and Wimbledon, John called Frank and said, "I have to come home." And Frank said, "Why? And John said, "I have had a death in the family." Frank's great blessing is that he's the most humane man I've ever met. He immediately went into sympathy mode and said, "John, I'm sorry, who is it?" And John said, "My cat died." And Frank, to his credit, apparently said, "What? Your cat died?" And John said, "Yeah, but that's not why I need to come home."
Rebach: I heard whoever was cat-sitting for him let him know that there was something wrong. He needed to deal with it, so he got on the Concorde, flew back, and he expensed it.
Pierce: Apparently Frank said, "Oh, god. OK, fine. Why do you need to come home?" And John said, "I don't think my other cat can get through it if I'm not there." Prompting me to have this vision of Feinstein walking into his darkened apartment, with his other cat in a chair with a cigarette and glass of brandy, going, "Oh, John, thank God you're home. He's behind the couch over there."
Deford: Oh, Christ. John was overseas. The French Open ends. It's another three weeks before Wimbledon. He calls me up and says, "Listen. Can I come home? It's cheaper for me to fly home — and not on the Concorde — than to stay over here. I haven't been home for a month." I said, "Sure." Where that crap came from about the cats, that's one of those great urban myths. No way in the world did he come home to feed his cat. That is so much bullshit: that he'd come home on the Concorde to feed his cats or because he missed his cats or because a cat died. The cats weren't in the conversation. I can assure you.
Hinton: The day was June 12. The day the Titanic hit the iceberg.
Deford: Jaime called me down. He had taken over Peter's office, right down the hall. I walked in, and he said, "I just talked to Emilio. We're going to close it." There wasn't any need for any explanation. We were going to do one more issue.
Price: Emilio had put me in his office in the General Motors Building, and we had taken up this conversation about having CompuServe do an edition of The National on the Internet. That would have been the obvious segue. But by then the paper had already closed. Maybe with broadband, it would not have gone away. It would simply have been reconfigured into a more sensible form of distribution that didn't require men in trucks.
Jaffe: It really caught everybody by surprise because we thought we at least had 'til the end of the year, at least from my level down. Maybe Frank and a couple others might have known, but the rest of the group only knew that we needed to do a lot better.
Deford: All I remember was then going out, and there was no sense in pretending, going out and standing on a desk. Everybody grouped around. I don't think I ever gave a worse speech in my life — all the clichés — and then we put out the final issue.
Laymance: Everybody looked stunned.
Keegan: I walked behind the writers' lockers by the bathroom at Wrigley. I thought there was nobody there. I took my scorecard and just rifled it against the wall. Right then, Joe Goddard from the Sun-Times walked out of the bathroom. He said, "What happened? Is everything OK?" The next day in the Sun-Times, that was the lede, me rifling things at the wall.
Buckley: I was in a car on Route 2. I was in the process of buying a house out in Concord. I was gonna buy this really nice house. I was listening to the Red Sox game. They were playing the Mariners in the Kingdome. Bob Starr was doing play-by-play. Mike Greenwell was at bat. I still remember Starr's exact words: "Here's the pitch, fouled back this way by Greenwell." Pause. And then he says, "The National Sports Daily," and I immediately think, "Well isn't that great? They're doing drop-ins at Red Sox games now." Instead he says, "The National Sports Daily has just announced it has ceased publication beginning with tomorrow's edition. That news just now coming over the wire." And I'm like,
"What?"
Lowery: My friend Mike Penner was having my birthday party over at his house that day. We all showed up in black. It was like a funeral for me. I think I dressed up like some French existentialist with a black beret. In a lot of ways, it was like dating that girl where everyone tells you, "Oh, man, you better watch it," and you think, I'm gonna be different. I'm gonna be the one. And then when it ends, you hang your head and think, "Why'd I feel like I'd be any different?"
Buckley: I never did get that house.
Howard: Fleder called me: "Bad news." And I said, "I'm not going to Montreal?" And he said, "No, worse. We folded." I was so hopelessly inarticulate. I just went, "Whoa."
Kindred: I was at Hazeltine, the U.S. Open, in Minnesota. Deford called and wanted me to know before it was public. "Don't tell anybody," he said.
Larry Dorman (National Writer, Golf): Kindred said, "We're outta business." Those were his exact words.
Vancil: I'd been golfing. I walked back into the airport Marriott in L.A., and Jackie MacMullan is the first person I see. Jackie comes up, gives me a hug, and says, "Hey, I'm so sorry." I have no idea what she's talking about. I've got golf shoes on, I have a bag full of clubs. I thought someone died. And she goes, "Oh, you don't know? The National is folding." I said, "Yeah, yeah, whatever." Rumors had been going around for so long that I didn't believe her. So, I get in the elevator and started thinking, Jackie might actually know. I get to my room and call New York, and whoever answered the phone said, "Are you calling about the folding or what you're supposed to write?" I said, "Give it to me in the order you prefer." They said, "You're writing the Lakers. We're folding tomorrow."
Jeff Horrigan (National Reporter, Boston): Charlie Pierce called me and Steve Buckley and Ian Thomsen. We were the Boston guys. We all met at the Eliot Lounge. The Governor of Massachusetts, Bill Weld, happened to come in and he sat with us for a drink. I know I was really drunk, but the next day I was like, "Did Governor Weld really sit down and drink with us to console us?"
Vancil: I remember calling New York at about 3 in the morning. Everyone was still in the office, obviously toasting the demise. I was calling to see whether everything got in. "Did you get my story? Did you run it the way I wrote it?" And whoever was on the other end of the line, in a drunken slur said, "Eeeevvrything got innnnnn."
Horrigan: After the bar, it was me, Ian, and Leigh Montville walking down Newbury Street. We encounter a National newspaper box and decide, wouldn't this be great if we could take this for a souvenir? We were in the process when a policeman stopped us. He was like, "What are you guys doing?" And we explained, even though we were very drunk, what just happened. He goes, "Hey, sorry. I'm sorry you lost your jobs but you can't do that."
Deford: And then we had a party. How many guys throw a party when you go out of business?
Howard: Did you ever see Roger and Me? When the last car rolls off the assembly line and they all start cheering, and there's that one guy standing there and he says, "I don't know what we're cheering: We just lost our jobs?" It was that kind of thing.
Pierce: The story about Feinstein's cat appeared on Page Six of the New York Post the day we were having our breakup party. We picked up the New York papers in New Haven, and Buckley was reading the Post. His knuckles started turning white. His hands began to shake. Then he threw the Post across the club car. And I said, "What the hell's going on?" And I picked it up, and there it was, the story of the cat. I said, "Oh god, Steve. I heard about that a week ago."
Buckley: It was like the train escorting Lincoln's body from Washington to Springfield, Ill.
Pierce: It was an extraordinary liquid event. This is when I was hooked up with Van McKenzie and things were getting very liquid, and they put up, on one of the big screens in the bar, the original promotional film they sent to advertisers before we launched. Frank was on it. And Peter Price. And then Mike Lupica came on and I vividly remember getting up on a stool and shouting, "Give us Barabbas!" I'll never forget it. McKenzie put his hand on my shoulder and said, "Ya know, there are a lot of nutty people in this business. But you're crazy."
Buckley: Lupica pops up and everybody's throwing beer cans at it. It was like that scene in Animal House when Flounder's picture goes up on the screen in the frat house.
Horrigan: People were waiting for John Feinstein to show up. I know a lot of people were hoping to give Feinstein a piece of their mind for embarrassing the paper that way. But he did not show.
Deford: It must have cost Emilio thousands. All the drinks were free. Guys came up to ask me for his address. They wanted to thank him. I'm not kidding. Everybody knew how much money he'd put into it. There wasn't a word of sour grapes. It was all a celebration of what we'd been, and I suppose what we might have been.
Spencer: The tragedy for The National was that you had people who were very much into their careers and they had to make the difficult decision whether to take this once-in-a-lifetime opportunity but turn your back on 10 or 12 or 20 years of service with your previous employer. The day The National folded I really felt so bad for those people. They risked everything. I really lucked into a job six weeks after The National folded, working for the Seattle Post-Intelligencer. A lot of people weren't nearly that lucky.
Buckley: I was crestfallen. I'm one of those guys who came up the hard way. I graduated from UMass in 1978 and got a job at a really small newspaper, the Westfield Evening News, when I was 22. From there I went to the Journal Tribune in Biddeford, Maine, and then the Portland Press Herald. Then I went out to Seattle, to the Tacoma News Tribune. The point being that every year was a little bit better than the year before. I was climbing, climbing, climbing, climbing. And now here it is, 13 years after I graduated from college, and I'm a columnist with this ambitious National Sports Daily. What could go wrong? And on that day, when I got that word, now all of a sudden I'm unemployed.
Chad: Some of the guys had three- to five-year deals. I only had a two-year deal. I was only getting paid another six months.
Pierce: They were really good about paying me. They paid me every dime. I had a June-to-December paid vacation.
Horrigan: There was long period of unemployment. There were concerns when it folded that there would be this backlash against us. Particularly the beat guys, it was tough for us to find work. Not that we were blacklisted, but it was almost like, well it serves them right.
Deford: Azcárraga was amazing. I think he committed to 50 million and lost closer to 150 million. Amazing guy. Paid every bill at the end. He paid everybody through the end of their contract.
Dávila: Our law firm recommended a Chapter 11 filing; I was almost fired for passing along the message. Mr. Azcárraga instructed me to pay every single commitment and employment contract on time and 100 cents on the dollar.
Chad: The Washington Post did a story the day The National folded, and they called me. I pretty much indicated to them that I never thought we had a chance. So, Frank sent me the final front page of The National. "We Had a Ball. The Fat Lady Sings For Us." And they'd replaced the overhead headline over The National logo. On the actual page that day, the headline was, "Bulls stampede NBA Title, pages 7-11." And he replaced that on my copy with "Deford Says Chad's Attitude Doomed National." He signed it. I'm looking at it now. I have it framed.
Kindred: Maybe a year later, Forbes did a cover story on Emilio: The World's Richest Latin American. It was made to look grainy, so he looked mysterious. In the story it talks about The National. It talks about how The National lost $150 million in two years, how this so upset one of Emilio's partners that he demanded to be bought out. So Emilio bought him out, and then when The National folded, Emilio took his company public, doubling its value. The point of that story was even when he loses, El Tigre wins.
Richmond: I don't know what those gold coins weighed. After I lost the job, I went to a gold broker and I think I got like 500 bucks for it.
Howard: It's a 37.5-gram gold coin. I know because I just sold it. It's worth $1,300.
Pierce: I do miss the place. I always wonder how they got the damn eagle out of the office.
Deford: You'd be amazed by the number of people who stop me, bring me papers to autograph. I give a speech and ask for questions afterwards, this is 20 years on, and somebody always asks about The National. People do remember it fondly. The thing they always say is, "I read every issue." And I think, "Bullshit." I know you didn't read every issue because you couldn't get every issue.
Howard: It was the best thing I ever did. In fact, most of us are still around. All we need is a guy with about $100 million. Have another rodeo; get Charlie, get Ian, we'll all show up.
Friend: The National was simply my dream job.
Richmond: I'd follow Frank Deford into any foxhole. To this day, I would. If he started this sucker up again and said, "Except this time we've only got $10,000 and four writers, and you'll have to walk to every city," I'd do it.
Kornheiser: I have, in the basement of my house, a National box. I have it and I have the last day's cover. The one that said, "We Had a Ball." I have that prominently in the glass part of the box. I will not talk about how I got it. Ever. In Washington they were yellow. My reason for having it? I had great feelings of warmth toward The National. I thought someday, you know, I'd be able to stick this in a living room and somebody will say, "What's that?" And I'd say, "That was the great and noble experiment of sports writing in America." (Additional reporting by Robert Mays.)
Alex French and Howie Kahn are New York-based writers