The Greatest Paper That Ever Died
Radically brilliant. Absurdly ahead of its time. Ridiculously poorly planned.
The National

changed everything about sports journalism — and torched $150 million in the process.By Alex French and Howie Kahn on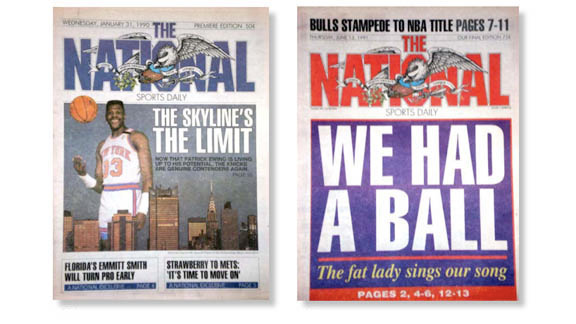 The National Sports Daily, on the one hand, is a long-dead and short-lived newspaper that, for 18 months, between January of 1990 and June of 1991, attempted to cover sports in a way that no other American publication would, could, or had ever even imagined. On the other hand, the paper is emblematic of the parts of culture and media that were not yet ready to converge. Typewriters and satellites. Mexican titans of industry and American daily news. Content in too many forms. Born from an impetuous whim only a billionaire would call a business plan, the paper quickly began its operations, grabbing all of the talent money could buy. Frank Deford, a writer who had achieved legendary status by the age of 50, was made editor-in-chief; columnists and a feature staff were gathered, poached, and lured from everywhere; every beat in the athletic spectrum was covered, charted, and ranked, from golf to professional wrestling. There were jokes, crossword puzzles, flashy info graphics, gossip, and an attempt to cover world news in brief. Somehow Casey Stengel wrote for The National even though Casey Stengel was dead. The long-form pieces were often exquisite and resonant. The box scores were innovative — a statistical Rosetta Stone. Egos ran wild. Ambitions, unchecked. Everyone's own ideas, of course, were the best ideas. And it was all just too much: The vision for the paper exceeded the technology available to produce it; the content straddled highbrow and lowbrow in a way that confused potential advertisers and buyers; distribution was a catastrophe; the money could not last. But what transpired in that year and a half launched careers and developed the voices and thoughts that would go on to frame the next generation of sports media. On the outside, The National seems long forgotten. But on the inside, there's no doubt at all that The National Sports Daily completely changed the game.
---
"It sounded exciting. It sounded new. It sounded like it was going to be the best thing ever invented." -- Dave Kindred
"I always tell people, I sailed on that Titanic and it was quite a luxury liner, too." -- Ed Hinton
"Everything about The National was wrong except the end product. The end product was terrific." -- Glenn Stout
I. "G4? I'd Never Been on a G Anything!"
Frank Deford (Editor-in-Chief): I had never heard of Emilio Azcárraga. Very few people had, despite that he was the richest man south of the Rio Grande.
Thom Potraz (Marketing Director): If you went to central casting and asked for a "Mexican Billionaire," they'd give you Azcárraga.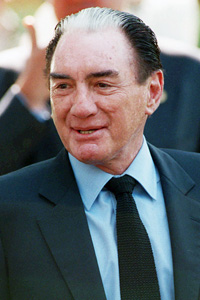 Dave Kindred (Associate Editor; National Columnist): They called him … El Tigre.
Peter Price (Publisher): It all started in the spring of 1989. Azcárraga wanted to have lunch. I'd heard about Emilio from Televisa, the Mexican media conglomerate, because I was in the media business, as well. I'd become publisher of the New York Post when Peter Kalikow bought the paper from Rupert Murdoch for $37 million. When I took over in 1988, there was a strike going, the circulation had plummeted, and the advertising had disappeared. We had the challenge of rebuilding. At lunch, Azcárraga started one of the strangest conversations of my life.
Emilio Azcárraga (Died in 1997. Lunch conversation recalled by Price): I read a comment of yours that the Post is unique among all American dailies in that it has many more male readers than female readers. You attributed that to the fact that the Post was a newspaper for women and a sports paper for men.
Price: The ladies like our gossip; the guys read it backwards and hardly ever get to the front of the newspaper.
Azcárraga: That's what I want to talk to you about! Why is it that the most developed country in the world doesn't have a daily sports newspaper? We've got one in Mexico. The Italians have two. The Brits have tabloid sports papers. L'equipe in France is reigning strong, and Japan has a sports paper.
Price: There are only three national newspapers in the United States, and only one is a purely national paper with genuinely national distribution. But USA Today is going on almost a decade, a billion dollars in losses, and it's supported by a major publishing company. To do a national sports paper from scratch without the backing of a major publishing enterprise, without having a delivery system, without having regional printing plants, without having a brand name, and without any staff is not for the fainthearted.
Azcárraga: I think it's a good idea. What would it take? Why don't you give that some thought and come down and visit me? I'll send my plane.
Price: I went to Mexico on his G4. I had never been on a G-anything before. The morning after arriving in Mexico City, I was brought to the Televisa production complex. It was like being at the backlot at Warner Brothers. People in costumes, cameras going here and there, trucks moving around. Emilio's office was tasteful, not extravagant. He had his lawyer and his CFO there. There was a big whiteboard with different color markers. I wrote out the challenges, one through four.
Price (in Azcárraga's office): The first is content. In the United States, you've got dozens of local events going on at the same time. You've got to have the Mets game from last night — box scores, game stories. And you've got to have Sports Illustrated-caliber national reporting. Unless you have them both, you're not a national sports daily.
Azcárraga: So far, so good. Keep going.
Price: Next: Production. You have to produce it in color. Every metro daily is quickly adding color. And metro dailies own their own presses. We don't have printing plants, so we've got to go out and make deals with these plants who already have deadlines for their metro dailies.
Azcárraga: Good. Tell me more.
Price: Third: Distribution. We'd have to rent an entire distribution network. USA Today did that with affiliate papers and by hiring school teachers with their station wagons to deliver the paper before they go to work. But they had a couple of years to plan all of that and eight years to get it right, and they're still having a hard time making a nickel. Almost all of these metro dailies rely on home delivery. There's no way that we can get a home-delivery network going, so we're going to have to rely on newsstand sales.
Azcárraga: Distribution. Got it.
Price: Last: Marketing. When you introduce a new product, you've got to spend a mint convincing people that they really need it. We've got to reach men, which is not an easy demographic.
Azcárraga: What will it cost?
Price: Emilio wanted a ballpark figure. Knowing what it costs to produce the Post, I said a minimum of $40 million. That was just to get started. Until you turn a profit or break even it could be $100 million. Nobody else in a room said anything. No questions. No challenges.
Azcárraga: This is a good idea. We're going to do this now.
Price: What do you mean, now?
Azcárraga: Let's make an agreement within the next 24 hours. We'll sign it tomorrow. You go home, tell them you've got something else to do, and we start.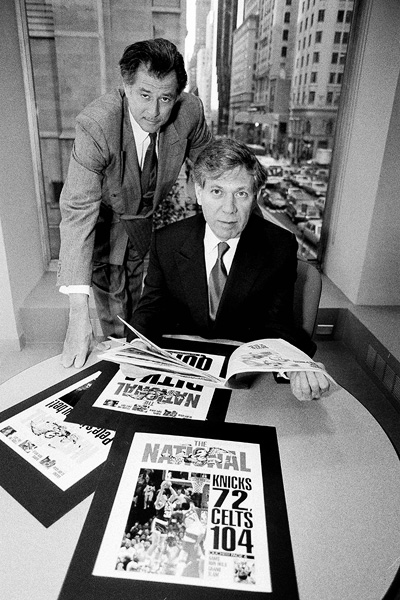 Price: I needed a lawyer. I thought it would take some pretty high-powered talent. So I called Marty Lipton. He's my neighbor in Manhattan. I just knew him from the elevator. I got him on the phone. "I've got an unusual request. I'm sitting here with Emilio Azcárraga, and he wants to print this national newspaper, and he wants the deal done overnight." The attorneys from both sides were introduced and the next day, out comes this fat document. Emilio said to his lawyer, "What do you think?" The lawyer nodded. Emilio thumbed to the last page, picked up the pen and signed.
Azcárraga: Here. Your turn.
Price: After I signed he gave me a big hug. Before leaving I said, "First order of business, Emilio: Remember that stuff about content? Well, in order to get the kind of quality you're talking about, and to attract the kind of talent that's going to make this happen, we need someone who is, say, the Dean of American Sports Writing."
Tony Kornheiser (Writer; TV Host): For my money, Frank Deford is the greatest take-out writer in sports, ever.
Kindred: Deford was at the top of his game.
Ed Hinton (National Writer, Auto Racing): Go back and read one of Deford's stories, like "The Toughest Coach There Ever Was." The 120th paragraph is as good as the lede, and the 150th paragraph was as good as the 120th, and the ending was better than all of it.
Price: I knew Frank from Princeton. He was editor of the Daily Princetonian. I was the publisher. I'd called Frank before leaving for Mexico and said, "Frank, here's this really crazy thing." He took it the way that I took it — as an impossible dream. So I called him again and said, "Guess what? It's a done deal." He said, "You've got to be kidding." Then he asked about the timetable. I didn't know. Emilio said yesterday was his timetable.
Deford: My family was going to move abroad for a year. It had all been worked out at Sports Illustrated.
Price: Frank had a lot of obligations — SI, a book, duties with NPR. He basically said, "Here's collectively what I make in all my endeavors." Our agreement with Frank was basically to assure that over the course of trying to do this, he wouldn't be out-of-pocket.
Deford: All together, it was the biggest gamble of my life.
Mark Mulvoy (Managing Editor, Sports Illustrated): Hell yes, it was a betrayal. Frank had planned to take a sabbatical from the magazine. The spring of '89 comes along and Frank says, "I'm leaving." I said, "I know. You're going to Europe." He says, "No, no, no, I'm leaving SI. I'm going to work on a media project for Emilio Azcárraga." I asked if it had anything to do with print, and he said it was a more visual medium. I told him that in a few months he was going eligible to be vested in the company and get a nice $1 million or half-a-million-dollar bonus. I went upstairs to talk to the chairman of the company, Dick Monroe. I said, "Deford's moving on. We ought to be good guys. I'll put him on the payroll for $100 a month for the next four months just so he can get this money." Dick signed off on it. The lawyers signed off on it.
Deford: A million dollars? God no. It was stock options. I don't think it was even $100,000. It was 50, maybe 75 thousand. Certainly not near a million. I went upstairs to talk to Dick Munroe myself. We had a very nice chat. He said I could leave immediately and get the money. But I was getting the money either way. Peter checked with Azcárraga, and he said, 'If Time won't give him the money, I will.'
Mulvoy: The next thing we knew, Frank was out of the building and trying to hire our people. Monroe felt betrayed. I felt betrayed. The editor-in-chief, Jason McManus, felt betrayed. We'd gone way out of the way to get the guy his money and now we all felt stabbed in the back. We had to fire him because he was on our payroll and trying to hire our people for a competing venture.
Deford: I'm just so tired of Mulvoy bringing this bullshit up. Carrying this bitterness, which is all false. I didn't try to poach people. First of all, if I wanted to hire people from Sports Illustrated I certainly could have. But, in fact, I was going to a newspaper. The people at Sports Illustrated were magazine guys. I told guys I didn't want them, people I really liked and admired, I said, '"This is not for you." The point is, whatever Mulvoy is telling you is not true.
Rob Fleder: At SI, the unequivocally declared policy was anyone that goes to The National will never work here again. It was cut and dried. It was presented to me in exactly those terms.
Deford: I hadn't been on a newspaper since I was a copy boy at the Baltimore Evening Sun. So, I had to go out and get some real editors who knew what the hell they were doing. I didn't know how to run a goddamn newspaper.
II. "This was as close to a frontier as we had"
Vince Doria (Executive Editor): The buzz started in the spring of '89. There was an awareness that Frank Deford was involved with something. Nobody seemed to know a whole lot about it. That summer I went to the Associated Press Sports Editors (APSE) convention. In those days, about 200 people attended from papers all over. One of the sessions was with Deford talking about the new venture. There was another session scheduled at the same time. So, in one room, you had Deford talking about what would become The National. In the other: investigative reporting and the process of using the Freedom of Information Act. One-hundred ninety people went to the Deford session.
Johnette Howard (Main Event Writer): Suddenly, everybody was talking about it. Everybody wanted to go there because it sounded like an exciting new idea — sort of like USA Today except with depth and quality.
Deford: If I did anything right, it was signing Van McKenzie, who died in 2007, to be the managing editor. If Van McKenzie is willing to give up the Atlanta Journal Constitution and come work for this crazy venture, move his family, if he was willing to do that, that was important. It was good getting Mike Lupica. It was good getting Dave Kindred, Scott Ostler, John Feinstein. All those guys. But getting the guy to run it who had such a wonderful internal reputation in sports journalism, that really mattered. Van was a pretty easy get, too.
Price: We did the hiring and planning during the summer with people due to come to work, I think, in September 1989. Maybe it was October 1.
Doria: As it turned out, a bunch of people from Atlanta joined the project. There was an Atlanta mafia there.
Hinton: The Atlanta Journal Constitution staff in the mid-'80s was the best sports staff in the country. We were better than the Washington Post. We took Dave Kindred away from the Washington Post. We took Gordon Edes away from the L.A. Times. Roy Johnson from the New York Times. Van McKenzie was getting anybody he wanted.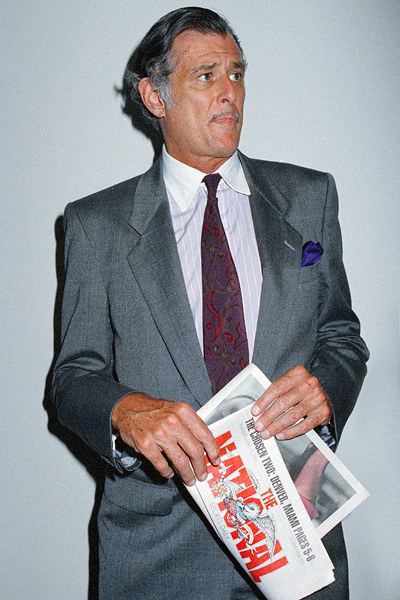 Deford: Van brought so many people in. They said, "If Van McKenzie's part of this, then I want to be part of it."
Bud Shaw (Chicago Bureau Chief; Detroit Columnist): I was working in Atlanta for the Journal Constitution as a feature writer and Olympic beat writer. Once Van got hired, he turned to a number of people on his staff — Chris Mortensen, a couple of desk guys like Tim Tucker. He asked me about going into Chicago and helping put together a staff for a Chicago bureau. That was when they thought they could be local in every market.
Tom Keegan (Chicago Bureau, Cubs Beat; National Reporter): I was the Dodgers beat writer for the Orange County Register. I went to Chicago for a lunch meeting with Bud. He pitched the paper to me as a place where you could really spread your wings. He claims to this day, as I was walking away from the interview, I had my shirt tail hanging out. I did my very best to dress like Frank Deford, but I missed the shirt-tail-hanging-out part.
Hinton: Mort, who is a Pulitzer-nominated investigative reporter, is the best office snoop I've ever worked with in my life. Mort could tell you to the dollar how much everybody was making in Atlanta. When I signed on at The National, Van told me I'd be getting $80,000. No negotiating. He said, "That's a good salary. That's enough." Later on, Mort says, "Hell, you could've gotten a lot more." I said, "What are you talking about?" He said, "You don't understand. Deford had read your clips. He comes into a meeting and throws your clips in front of Van and says, 'Get this guy.' Van says, 'Well, yeah, I want to. But he's kind of a pain in the ass.' Deford said, 'I don't care. Get him.'" I said, "Mort, you son of a bitch. I wish you had told me this five or six weeks earlier."
Peter Richmond (Main Event Writer): I had a Nieman fellowship at Harvard when I heard about The National. You're obliged, if you get a Nieman, to go back to the newspaper you were working at. I worked at the Miami Herald as the national sports correspondent. I'd go to the Super Bowl, the World Series, the NBA Finals. I'd go to prize fights. I had a column. Then I got a free ride at Harvard for a year. In the middle of it, I had heard in the New York Daily News that Frank Deford was rounding up this all-star team for The National. I thought, "Oh my god. I've got to get there."
Charles P. Pierce (Main Event Writer): As soon as I heard about it, I basically hurled myself out a window.
Deford: What was my sales pitch like? It wasn't a reach, and I wasn't blowing smoke. I'd say, "This paper is going to be the first of its kind. We've got this extraordinary staff and we've got a lot of money behind it. Go look up anything you want about Emilio Azcárraga. He's into this, and these sorts of things have worked all over the world, so why can't they work in the United States? Then I'd pause and say, "I understand it's risky. We all know this is new territory. But you're a sports guy. Don't you want to be part of this?"
Fleder: Here was this great adventure and chance to invent something new. It was clear even before it started, and certainly long before it failed, that you were going to get one chance to try this in your life. This was as close to a frontier as we had.
Pierce: Rob Fleder, who was one of the original founding members of Rotisserie baseball, literally in the Rotisserie restaurant, had seen some of my stuff in New England Monthly. He called and said, "Would you like to come down and talk about this thing we have?" So I went down to New York. They didn't even have real offices yet. They were in some space with pieces of paper hanging on the door.
Norman Chad (Media Columnist): Frank Deford called me at The Washington Post. He wanted to have lunch. We went to Rusty Staub's, in New York. Frank is striking. I realized the first time I met him how tall he is, how debonair. He's like the Clark Gable of sports writing. Plus, he's the greatest feature sports writer in history, and he just looks immaculate. He had barbecue ribs. I've had barbecue ribs 500 times in my life. He did not get a drip of sauce anywhere on his face, suit, tie. The guy is carved out of stone. I don't even know how he ate the ribs. He was like a god. He didn't even need a napkin.
Howard: You heard a lot about the great writers they were going to assemble, and Frank Deford at the time had the best reputation of anybody. Everybody was saying they were being lured, whether they were or weren't. It became this status thing. You'd be at a game and somebody would be like, "Yeah, they talked to me. I didn't want to go." It was total bullshit.
Scott Ostler (National Columnist): I was at the Los Angeles Times. I get a call from Deford saying, "Hey, I'm in Los Angeles, can I come meet with you?" So, he came to my apartment and said, "We're starting this new newspaper. I'd love for you to be a columnist. We'll double your salary." I was making roughly $80,000 at the time.
Glenn Stout (Series Editor, Best American Sports Writing): The National is responsible for a generation of sports writers in this country owning their own homes.
Deford: We were like the Yankees looking for free agents. The first guy I talked to was John Feinstein. I had dinner with him, and he said, "This sounds great." I said, "You look like you need a new blazer. I'm going to give you a signing bonus of a new jacket." And I did.
Howard: I was 28 when Frank called and said he wanted me to come to New York. I desperately wanted to do features. We went to lunch, talked for 2½ hours and drank two bottles of wine.
Fleder: Frank was talking to well-employed, very successful people. He had to convince them to leave their jobs. They had this party on Emilio Azcárraga's yacht, which was docked off lower Manhattan. It was this huge, incredibly beautiful boat. A few of us and our wives were invited, and I think the point was to show us that this mysterious Mexican guy actually existed. That he was serious. That there was real money to finance this thing.
Kindred: I remember going onto the yacht, Paraiso, and being asked to take off my shoes. I met Emilio there, El Tigre. I asked him why he thought this thing would succeed, and he said, "Because I'm too old to fail." I think he was 58. But he was a striking guy. He had this streak of white through his dark black hair. I remember going into one of the bedrooms; it had a Jackson Pollock painting on the wall. I violated one of my rules in life, which is never make a life-changing decision while on a yacht.
Deford: A lot of people signed on right away. So much of it was the money. You had to have more money to make people take the risk. You had to have something to take them away from the security. A lot of the middle-level people, guys who had worked on sports sections all their lives, they were delighted to come. They were the easier ones to get even though they weren't getting that much more money, because this was their chance to be on a national sports paper. Remember, writers have bylines.
Price: In the newspaper business at the time, the sports section was considered the playpen of the newsroom. People were not highly compensated. Six figures was unusual even at the senior ranks.
Fleder: I would field calls regularly from guys saying, "I just want to talk to you so I can go back to my boss and tell him I talked to The National to try to get some more money." We were paying very well. From what I gather, in the experience of the ink-stained wretches we were hiring, it was unprecedented.
Kindred: We offered Jim Murray $1 million. That was a Van idea. Murray said no.
Doria: They came back at me again about becoming one of two executive editors — the other was Rob Fleder — and basically overseeing the news operation. Ultimately, I think I was seduced by the notion of working with all these people who I had known for years from all over the country.
Pierce: I was at the National League playoffs in Chicago that year, and they called me up with the offer. It just absolutely floored me. It was six figures, right off the top. I almost fell out of my chair.
Doria: There's no doubt that there was a sense that money could be spent. Part of the whole thing was that money was spent in areas that it didn't have to be spent. The $52,000 brass eagle in our lobby.
Fleder: They brought it in by crane.
Ken Carpenter (Senior Editor, Statistics): They took some windows out of the side of the building on 52nd and 5th and raised this eagle thing into the lobby through a hole in the wall.
Price: Not true. It came up in the freight elevator.
Deford: Much more extravagant than the eagle — when we opened, we had a party. Azcárraga gave everyone on the staff a gold Mexican piece. I don't know how much it was worth. But everybody who was there at that time got this magnificent Mexican gold coin. This was to show that we meant business. We weren't some fly-by-night organization.
Fleder: At that point, you could close your eyes and take the leap and not think you were completely out of your mind.