So, Cricket? Maybe?
With labor trouble threatening the seasons of two of our four major sports, a pair of red-blooded Americans look overseas to fill the potential gap.
By Michael Schur and

Nate DiMeo

on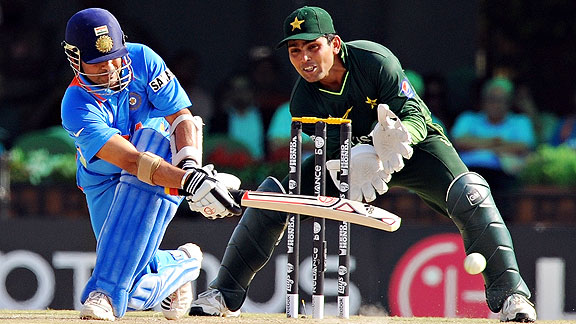 10:00 A.M. (PST),
May 10, 2011

Hello, sports fans, as well as fans of things that take nine hours to do! This is the semifinal of the 2011 Cricket World Cup — Pakistan versus India. An historic rivalry. It's as though the Yankees and the Red Sox had (a) nuclear weapons and (b) an enduring blood-feud over the disputed territory of Stamford, Conn.
Today's match is going to be amazing — or, rather, it's going to have been amazing, as it took place two months ago. But at the time we were probably reading some blog comment-section discussion about who would emerge from spring training as the situational lefty for Triple A Pawtucket or trying to predict Ryan Mallet's Wonderlic score, so we missed the outcome.
Let's bring on some cricket!
10:03
We sit on Mike's couch and pop in our bootleg cricket DVD, quickly finding that our DVD player can't read it. We then realize that instead of spending the day watching the Big Game ("Big Match?" "Big Donnybrook?") on a 42-inch flat-screen, we will be watching it while huddling around a 14-inch laptop.
10:04-10:07
We debate whether we should bother watching it at all. Surely Grantland can get by without 12,000 words on cricket, right?
10:08
We realize that we could either spend the day watching sports or actually go and do real work.
10:09
Hello again, sports fans!
Having propped up Mike's laptop on two enormous books, we watch the kind of overproduced, operatically scored psychedelic opening that can only signal an international sporting event championship. It seems fitting, as this is probably the way most American cricket fans watch cricket — on a computer, furtively, maybe at work even, at a weird hour of the day. We now feel like the DVD-player fail is kismet. We are all in. Go Cricket.1
They show a get-pumped montage, in which the kind-of-doughy stars of Pakistani and Indian cricket get off of their respective team buses. These men are all business before the Big Match (it is "Match," turns out. "The Mother of All Matches," we're told), iPod buds in ears, presumably pumping the South Asian equivalents of "Lose Yourself" or "Eye of the Tiger." Meanwhile, the montage itself is set to some wispy, new-agey thing that sounds like the start-up screen of a Wii.
10:11
We are told that the Punjab Cricket Association Stadium — the pride of Mohali, India and the site of this semifinal match — is "one of the great venues" in all of cricket. The shots of the stadium grounds make this statement seem like the rantings of a lunatic. The field is cracked and patchy and threadbare. It makes the Oakland Coliseum look like Roland Garros. This makes us sad for cricket. Whether we end up liking cricket or not, we are sure the sport deserves to have greater venues.
We are further told it's a perfect day for cricket, though we are not told what a perfect day for cricket is. Looks kind of sunny. Sunny is usually good for sports.
10:13-10:17
An on-field reporter gives an exhaustive report on the field itself, in all its parched, brown glory. He gets down on the ground and feels the dirt. He strokes the sad grass like it is the head a beloved grandchild. He could not be more excited about the conditions on the field today. It's apparent that field conditions really, really matter in cricket, which makes sense: It's a game that hinges on bouncing a ball. Mud must suck. "Parched and cracking" now makes more sense, in terms of a terrain worth celebrating. We still feel a little sad for cricket.
BRIEF DIVERSION: Our Cricket Histories
Mike: The only cricketer I have even remotely heard of is Sachin Tendulkar, the aging Indian ace, who happens to be playing in this very match. All I know of Tendulkar is that he is very good at cricket. If I were a fan of cricket, I would probably be offended by someone saying that all they knew of Sachin Tendulkar is that he is very good at cricket. When I was in college, I made a friend from Kenya who had never seen a baseball game, and when I asked him what he knew about baseball, he said that there was something called a catcher, and that there was "a man named Griffith Junior" who was supposed to be quite good. I found it endearing. Then I took him to Fenway Park, fully intending to teach him the game I loved quite quickly — by, say, the third inning. The first thing we saw as we entered the stadium was a batter hitting a double, which concluded in a baserunner being thrown out at the plate and the batter getting caught in a rundown between second and third — a situation that proved so difficult to explain I actually started giggling. I don't think I converted him.
He was a cricket fan. I in some way think of this exercise as a way to repay him for completely failing to teach him about baseball.
Nate: I have two experiences with cricket, both related to my usual gig as a public radio reporter. Ten years ago I drove down to scenic Newport, R.I., to do a little story about this local cricket club. I hung out on this lovely field atop a hill with 360 degree views of Narragansett Bay and interviewed a couple of cricketers. They were very nice. They played every Saturday in the summer. They wore white. They had tea breaks. Their wives and girlfriends all hung out and drank lemonade. The main guy I interviewed looked like the British Superman. The whole thing seemed delightful. "You know, we could use another regular player. I'd be happy to teach you the game," said British Superman, as his comely British girlfriend handed me a lemonade. I watched for a half hour, and mulled the offer. This didn't seem half bad, what with the ocean breeze, a little athletic competition, international girlfriends, and the lemonade and all. I asked how long the game went on. He said sixteen hours spread out over two days. I quickly got in my car and drove away.
10:26
The actual World Cup2 trophy looks kind of chintzy — just a silver cricket ball supported by three curved arms. It is no Stanley Cup. Its closest American cousin is probably the Vince Lombardi Trophy, that boring metallic football on a boring metallic stand — as if the Silver Surfer buzzed past an equipment locker. Neither seems befitting of the honor it represents. On the other hand, the World Series trophy is a truly weird, spikey yonic nightmare, so maybe simplicity is the way to go here.
BRIEF DIVERSION: The Basic Rules, Best We Can Tell
Super quick — and please skip this part if you know the rules of cricket — the basic situation in cricket is this (some of this we knew, or were able to piece together while watching and will be "discovered" in the text that follows, but it seems logical to explain it all here, if you're newbies like us. And again, if you are not newbies, we are probably going to say super ignorant things about your sport that, despite our best intentions, will infuriate you, so, fair warning):
- Two batsmen, each standing in front of a wicket. The wicket is a piece of wood parallel to the ground, resting on top of three wooden sticks — the whole thing is nine inches across and 28.5 inches high. The wickets are 20 meters apart, almost exactly the mound-to-plate distance in baseball. This whole bowling/batting area is smack dab in the middle of a giant, round, irregularly-dimensioned circular field.3
- There is one bowler for each end. The first bowler takes a running start and throws the red or white ball overhand and straight-elbowed towards the wicket at the opposite end of the bowling area, bouncing the ball once on the bowling pitch.
- Batter then hits ball, in any direction he chooses, or just kind of blocks the ball from hitting the wicket. The batters can run or not run, depending on where the ball goes, and each tries to reach the opposite batter's box area before the defense can break the wicket with the ball; each time they do this = one run. Ball reaches the boundary of the field on the ground = four runs. Ball sails over boundary on the fly (like a home run) = six runs.
- When the bowler in that direction has bowled six times, which is called one "over," the opposite bowler bowls. The batsmen hit until they're out.
- The main defensive objective is to break the wicket. Batter misses and ball hits wicket, ball hits batter's body in direct line with wicket, fielder breaks wicket with ball while batters are running (before they get back across the batting line) — any of that happens, you're done, as a batter. Or, if you hit the ball in the air and it's caught, you're done.
- When you're out, no matter how it happened, you just leave, sadly, in a long slow walk of shame, with the full-throated foreign-sounding celebration of the other team and its fans showering you with misery, and the next guy on your team comes out to take your place.
It's a weird effing game.
10:35
We are told that in ODI (One-Day International) tournaments, the team that bats first wins 72 percent of the time. This whole thing is basically NFL overtime. So when India wins the toss and elects to hit first, it strikes us as odd that the announcers would bother to discuss whether that decision is wise, but they do. They then do an interview with the Pakistani captain who does an admirable job of pretending that if he'd won the toss he would probably have just chosen to bat second anyway, but you can clearly tell he just died a little inside. Then they head over to the Indian captain who is handsome and oozes team leader. He is Steve Garvey-esque, and his interview is straight from the Nuke Laloosh school of sports clichés. Nate finds this vaguely disappointing, as he always wants foreign things to be more foreign than they usually are.
Hobbling around in the background: a large blue elephant mascot. As this match between India and Pakistan was recorded several weeks ago, it strikes Mike as possible that the mascot could have been Osama bin Laden, hiding in plain sight. He thinks this is hysterical. He then realizes that generic Vicodin is powerful stuff.
10:40
We are amid what feels like a 29-minute break while the Prime Ministers from both countries shake hands with every player from both teams, dozens of ICC officials, and then seemingly everyone in the entire stadium. The PMs of two countries that don't like each other standing side-by-side does help cricket-ignorant Americans such as ourselves to understand the import of these proceedings.4
10:45
The announcers are predicting that this will be the most-watched match in history. Given that we are watching it, we are inclined to agree. They also claim that this is "the match the whole world is watching," to which we respond: No. No it is not.
10:46
Mike proposes that should the teams meet again, the match should be played in Kashmir, for Kashmir.
10:47
The line-ups are announced. India is up first.
Because it's just about scoring as many runs as you can, and because once you're out, you're out, it makes sense to bat your players roughly in descending quality, best to worst (with some game-specific strategy mixed in, we imagine). Thus enter the apparently-great Virender Sehwag, as well as Sachin Tendulkar, whose genius as a batter is put into words by the announcer thus: "Words cannot describe his genius." This reminds Mike again how much more restrained and poetic European sports announcers are than their American counterparts.
A graphic points out that India has won 21 of 53 matches when batting first versus Pakistan, which bums out Mike in the same way he gets bummed out when someone says "Our team lost the game 4-9."
The Pakistani bowler is named Umar Gul, who looks a lot like the Pakistani version of Stat Boy from "PTI." Gul rubs up the ball. The fielders are positioned haphazardly around the circular pitch. Gul backs up to a position that seems to be several hundred yards outside the stadium. He then starts running, and continues to run for, like, ever. He rears back, plants his foot on a white line in the crappy field, skips the ball on its scraggly surface toward Virender Sehwag. And...cricket!
10:49
"Something happened."
That's the way Nate has summed up, after a beat, what happened. Gul bowled the ball, something kind of happened with Sehwag, someone yelled something, people milled around, and we have no idea what has just occurred.
(Settle in, people. This is going to take a while.)
10:56
Sehwag hits the ball very far and it rolls over the boundary, and people clap. This we kind of understand. Hitting the ball well enough to have it roll over the boundary is called, obscurely, a "boundary." Four runs for India.
Soon, the first over is over, with India garnering four runs total on the six balls. It is unclear whether this is the equivalent of a leadoff homer or strikeout or what. But as the game slowly — and we mean slowly — unfolds in front of us, the general rules become clear, and the successes and failures become easier to determine.
10:58
A second bowler (there are two working at all times, one on each side) named Abdul Razzaq bowls to Tendulkar, who scrapes out two individual runs over six balls. So far words can pretty accurately describe his genius. The umpires are Aussies, wearing jaunty hats and red shirts. Until this exact moment it did not occur to Mike that some kind of authority figure would be out there making sure rules are generally adhered-to. This sport has the mood and pace of a Memorial Day barbecue.
10:59
We get a shot of people packed into the roofs of apartment buildings far outside the stadium, Wrigley-style. We also get the first of what we assume will be thousands of shots of a hot Indian woman in the stands with cool sunglasses. They have to show something. The internet has informed us that a quick game of ODI cricket lasts seven and a half hours.
11:03
Suddenly, out of nowhere, Sehwag hits another boundary. And then another boundary, and another. All of these come off balls bowled to his inside, then deftly flicked to his left — he's essentially hitting what would be foul balls over the third-base dugout, but getting four runs each time. Gul keeps bowling them there, and Sehwag keeps boundaryizing them. It's like going belt-high inside to Albert Pujols, over and over. Then Gul goes outside and Sehwag gets another, whacking what would be an opposite-field line-drive single to right. 4 4 0 4 4 on the five balls of the over so far. And another. "It's raining boundaries here!" says the announcer, somewhat contradicting Mike's previous assertion in re: the poeticism of European announcers.
It quickly becomes clear that this is relatively extraordinary. It's early, but Umar Gul is already having a bad day, and the camera lingers on him like he's Rick Ankiel in the 2000 NLDS. We also get many shots of Gul's captain, Shahid Afridi, a handsomely bearded devil who right now looks like he would be thrilled if Umar Gul suddenly and irrevocably retired from international cricket. When Sehwag is awarded a free hit because of a foot fault by Gul — stepping fully over the line while bowling, which gives the batsman essentially a free chance to just whack away with minimal risk — Afridi can't even look at Gul he's so angry. The expressiveness with which Afridi displays his displeasure with his teammate, were it shown by Derek Jeter during a bad inning from CC Sabathia, would be the only thing the New York media would talk about for 11 weeks.