Grantland's NBA Draft Lottery Preview
This year's draft class is sad and terrible. Here's our definitive guide!
By Grantland Staff on
We present the First Annual Grantland NBA Draft Lottery Preview — our attempt to make sense of the confusing and depressing spectacle that will take place in Newark's Prudential Center on Thursday night. There is no way to discuss this particular draft without stating the obvious — it is bombed out and depleted. Outside of Kyrie Irving and Derrick Williams, the two players vying for the honor of joining the Dan Gilbert hate-train, this year's class is a collection of low-ceiling college guys and complete unknowns. What's worse, the teams in this year's lottery are all at least two, and sometimes as many as five, quality guys away from winning a playoff series. It's hard to imagine these teams finding the talent they need Thursday night, but just in case there's an All-Star hidden among this NBA chaff, Grantland has broken down each lottery team with a statistical analysis,1 a profile of its front office, a weigh-in from a current NBA GM, and predictions on whom it should and will draft. Dive in and prepare for the 2011 NBA draft, which could be remembered as the night Jonas Valanciunas was picked and changed the league forever. Or, it could just be the weakest draft since 2000, the year Kenyon Martin, Stromile Swift, and Darius Miles went 1-2-3, and the rest was history.
---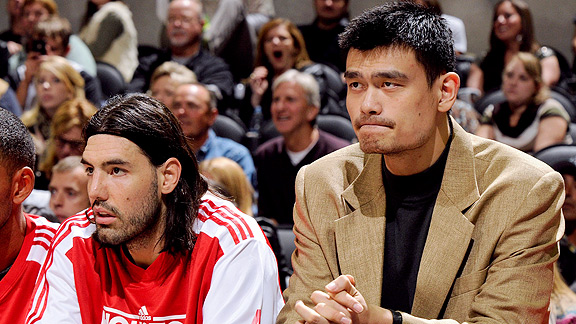 14. Houston Rockets
State of the Team: The Rockets have consistently been on the verge of breaking through, but seem to have settled into a rebuilding cycle. Outside of Yao, the Rockets do not have an All-Star-quality player on their roster. Last season, the Rockets traded away expensive pieces such as Aaron Brooks and Shane Battier for future picks. Given Daryl Morey's history of personnel decisions, those picks may be flipped in the future to acquire veterans, bypassing a true rebuilding process.
STATS:
W-L RECORD: 43-39
eFG% RECORD: 42-40
TOV% RECORD: 41-41
REB% RECORD: 36-46
FTA% RECORD: 50-32
BIGGEST WEAKNESS: REBOUNDING
Only five teams in the league allowed more offensive rebounds than the Rockets did. As you might expect, this has something to do with what happens when you start a 6-foot-6 center. For all of Chuck Hayes' ability as a defender, he was only able to capture 20.7 percent of the defensive rebounds available to him — the sixth-worst rate in the league for starting centers. Nominal backup Brad Miller would have been even worse, at 19.9 percent, and while Hasheem Thabeet has the size that Hayes lacks, the Tanzanian Sensation was only able to pull down 20.9 percent of the available rebounds in Memphis during his rookie season. Houston may also have found a way to fix the problem during the second half of the campaign, as they outrebounded their opponents in exactly half of their 50 games in 2011.
Front Office Profile: Daryl Morey is the executive who is pioneering statistical analysis in the NBA, but prefers to pickpocket teams through trades rather than build through the draft. Morey is a star among NBA GMs, and is unparalleled when it comes to finding undervalued assets — just ask Moneyball favorite and former Rocket Shane Battier. In acquiring players such as Luis Scola (and his lunch pail), Hayes, and efficiency maven Kevin Martin, Morey has assembled a team of cost-effective castoffs. They're the perfect complement to a star like Yao Ming — who may never play a full season again. For now, then, Morey's pocket protector Rockets remain a work in progress.
They Said It: "Everyone is playing poker, trying to get the best deal they can." — Morey on draft strategy (Houston Chronicle)
The NBA Executive Says: "USC's Nikola Vucevic is a sleeper for them here. I think Houston will take a long look at him."
They Should Pick: Nikola Vucevic
---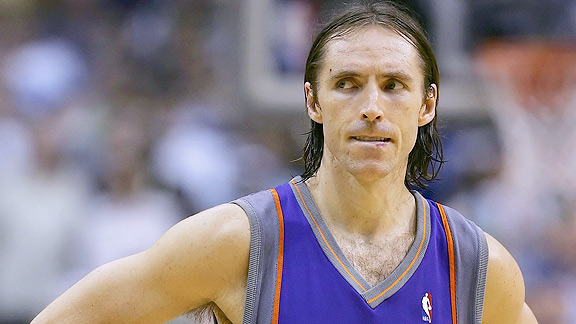 13. Phoenix Suns
State of the Team: Once upon a time, Steve Nash had players like Amar'e Stoudemire, Joe Johnson, and Shawn Marion filling lanes and flaring out to the 3-point line for his passes. Now, he's got Jared Dudley, Channing Frye, and Josh Childress. Phoenix's search for a backup point guard to help rest Nash turns eight years old next season, and it has been such a failure that Suns fans openly pine for the return of Goran Dragic. Yet Nash, now 37, soldiers on. He led the league in assists last year despite the weakened supporting cast, and he seems plenty capable of doing it again. Dealing for Marcin Gortat at last season's trade deadline improved Phoenix's interior scoring and defense, but they also picked up Vince Carter in the same exchange. Phoenix is coming off a 40-42 season, with a late lottery pick in a weak draft. There's not much hope the Suns will reclaim their place as Western Conference contenders or run-and-gun fan favorites anytime soon, but we can still pray that Nash be traded to a contender.
Stats:
W-L RECORD: 40-42
eFG% RECORD: 44-38
TOV% RECORD: 38-44
REB% RECORD: 21-61
FTA% RECORD: 44-37
BIGGEST WEAKNESS: REBOUNDING
The Suns collected the third-lowest percentage of available rebounds in the league on both offense (23.7 percent) and defense (71.6 percent). They did this despite the presence of one great rebounder, Marcin Gortat, who had the league's second-highest defensive rebound rate (28.6 percent) among centers. Solve for x and you realize that the Suns had some awful rebounders playing at forward in 2010. Grant Hill grabbed just 8.1 percent of available boards. Jared Dudley was at 8.6 percent. Channing Frye got all the way to 11.7 percent, and Hakim Warrick hit the lofty heights of 12.1 percent. The league average for forwards with 1,000 minutes or more was … 11.9 percent! Congratulations, Hakim.
Front Office Profile: Suns managing partner Robert Sarver's drafting methodology is a bit mysterious. At times, he seems awfully fond of drafting players his general managers are ecstatic about, then promptly sending them down to the D-League for seasoning. (Alando Tucker demonstrated the merits of that strategy by once winning D-League Performer of the Week in 2007 … then never playing for the NBA squad again.) Mostly, Sarver's tendency to shed picks is both (1) a well-intentioned, cost-cutting inclination to fund critical research on the Steve Nash Fountain of Youth project, and (2) a fool-proof way to create room on the roster to sign the Hakim Warricks ("There's so much Amar'e in him!") and Josh Childresses ("Great hair!") of the world to morbidly obese contracts.
They Said It: "I realize it may not be the most popular route all the time, but you have to consider your roster. We were just fired up to get Tucker." — Steve Kerr on former Wisconsin great Alando Tucker (Associated Press)
"We're not going to do something to save us a bunch of money if it causes us problems on the court going forward." — Managing partner Robert Sarver (East Valley Tribune)
The NBA Executive Says: "Possibly Tristan Thompson or Chris Singleton. Ultimately they need to find a replacement at point guard, but there's no one that good that's left when they pick."
They Should Pick: Kawhi Leonard
---
12. Utah Jazz
The Jazz are picking twice in the lottery, third and 12th.Their write-up can be found at the no. 3 pick.
They Should Pick: Jordan Hamilton
---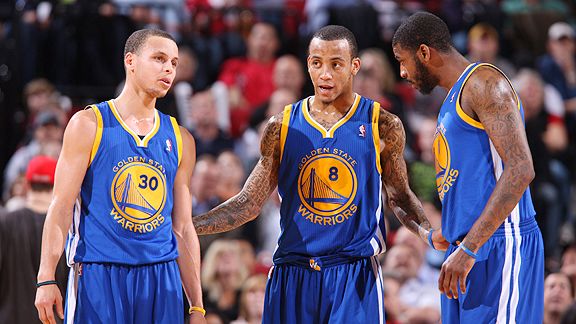 11. Golden State Warriors
State of the Team: The Warriors are another team without an identity. Mark Jackson, the incoming coach, is vowing to preach defense to a team with no defensive standouts, but he'll have to beat the Don Nelson out of them first. A backcourt of Monta Ellis and Stephen Curry is always entertaining, sometimes dazzling, but only occasionally winning. In order to build a deeper team, Golden State may ultimately trade one or the other. The front office brought in Jerry West as a consultant and it remains to be seen what his role will be or how directly he will shape the organization's future. A shrewd first move for West would be trying to unload David Lee and the $69 million remaining on his contract, but finding a taker doesn't seem likely.
STATS:
W-L RECORD: 36-46
eFG% RECORD: 38-44
TOV% RECORD: 48-34
REB% RECORD: 26-56
FTA% RECORD: 23-59
BIGGEST WEAKNESS: INTERIOR STRENGTH
David Lee isn't going anywhere and seems unlikely to suddenly improve as a defender, but his rebound rate fell from 18.2 percent of all (estimated) available rebounds as a Knicks player to just 15.4 percent with the Warriors last year. The club might trade Andris Biedrins to get a better defensive center in the lineup, but Biedrins is the team's best rebounder. Even with Biedrins around for 59 games, though, the Warriors only captured 69.3 percent of the rebounds available to them on defense. That was the worst rate in the NBA.
Front Office Profile: Larry Riley is the incumbent and a basketball lifer with about four decades of experience. But how much authority he will have going forward is debatable. Bob Myers is being groomed as the future of the organization, and while it is doubtful West will have full autonomy, he will be an influential voice in the ear of new owner Joe Lacob.
They Said It: "The way we play, we feel we can never have enough shooters on the floor." — former GM Chris Mullin (Contra Costa Times)
The NBA Executive Says: "I don't think they'll find the answers in the draft for their problems, but possibly Klay Thompson, Marcus Morris, or Donatas Motiejunas. They really need some type of defensive presence.
They Should Pick: Donatas Motiejunas
---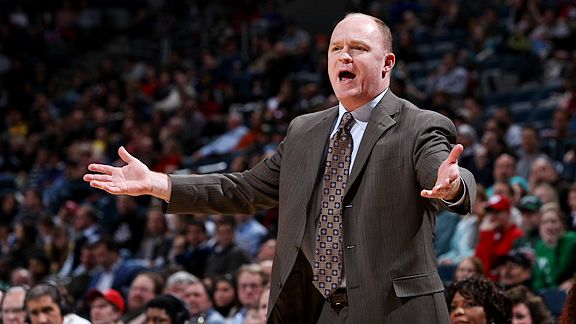 10. Milwaukee Bucks
State of the Team: Of all the bad teams in the NBA last year, none was as offensively anemic as the Bucks, who averaged just 91.9 points per game. Their field-goal percentage (43 percent) also ranked as the league's lowest. Despite those statistical deficiencies, the Bucks missed the playoffs by only two games. Much of that is due to coach Scott Skiles, a defensive drill sergeant known for squeezing maximum results out of limited rosters (and with Earl Boykins, Jon Brockman, and Luc Richard Mbah a Moute, limited is definitely the word). But this is Skiles' fourth year with the Bucks, and the demanding coach is known for wearing out his players. Phoenix's performance dipped in its third year under Skiles, and the Bulls fired him after a 9-16 start to his fifth season in Chicago. Be on the lookout for any signs of dissent from starters Brandon Jennings, Andrew Bogut, and John Salmons.
STATS:
W-L RECORD: 35-47
eFG% RECORD: 37-45
TOV% RECORD: 57-25
REB% RECORD: 41-41
FTA% RECORD: 32-50
BIGGEST WEAKNESS: SHOOTING
The Bucks had the league's worst field goal percentage (.430) and eFG% (.467). Michael Redd played only 10 games. The problem here is obvious, right? Not really. The Bucks were ineffectual in places where Redd's absence wouldn't seem to have had an impact. Namely, they were the worst-shooting team in the league at the rim, converting just 57.9 percent of their shots within three feet of the basket. (League average is 64.1 percent, per HoopData.) They were merely below average in every other facet of the shooting game. Among players who averaged 20 minutes or more, Milwaukee had four of the 29 least accurate shooters in the league near the rim: Chris Douglas-Roberts, John Salmons, Carlos Delfino, and Brandon Jennings. Salmons and Douglas-Roberts have been better in the past, and Delfino's almost exclusively an outside shooter anyway, but Jennings's struggles are disconcerting. The scary thing is that he actually improved at the rim last year; in 2009, he shot just 42.7 percent at the rim.
Front Office Profile: John Hammond was hired as Milwaukee's general manager in 2008. All he's done since then is draft Jennings, trade for Salmons, and, for these efforts, win the organization's first Executive of the Year award. With the no. 8 pick, in 2008, Hammond drafted Joe Alexander, whose lasting contribution to Milwaukee was as a piece of the trade that brought Salmons to the Bucks. Milwaukee's 2010 draft choice, Larry Sanders at no. 15, started 12 games this year.
They Said It: "I think this kid has a very mature side to him, presents himself that way. I think there's a perception about who and what he is. As people had a chance to get to meet him through this draft process, they found out he's a very interesting guy, a very mature guy, and a guy who has a lot of things going for him." — John Hammond on Jennings. (Wisconsin State Journal)
The NBA Executive Says: "If Jonas Valanciunas is still on the board, that's who they'll take. This is a team that already has a decent amount of talent. Alec Burks may be a possibility also."
They Should Pick: Jan Vesely
---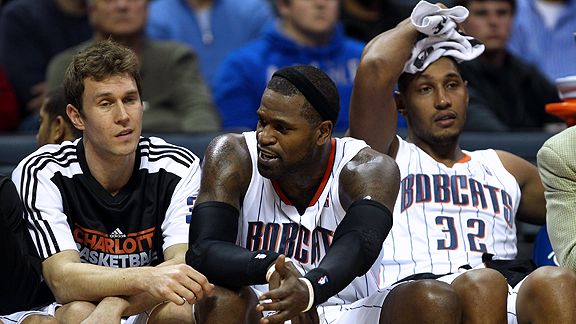 9. Charlotte Bobcats
State of the Team: Oh, look at that: The Bobcats are in the lottery again. Of course they are. They've picked in the lottery six times in the franchise's seven years. The only exception, actually, was last season, when they didn't have any draft picks. But it's because of this preferred place in the draft that the Bobcats have acquired young players who don't make Michael Jordan cover his eyes while watching his own team. What they still lack is a big man, preferably one who can contribute before he falls prey to a rookie vice that Mark Cuban calls the pizza-and-Twinkies diet — which, in the Tar Heel State, means midnight runs to Bojangles.
Stats:
W-L RECORD: 34-48
eFG% RECORD: 37-45
TOV% RECORD: 35-47
REB% RECORD: 44-38
FTA% RECORD: 47-35
BIGGEST WEAKNESS: SCORING
To nobody's surprise, an offense that relied upon a 32-year-old Stephen Jackson as its primary scorer failed to produce points on a consistent basis. Charlotte ranked 29th in points per game and 26th in offensive rating (points per 100 possessions). Jackson had the second-lowest offensive rating (OR) of any player who took 1,000 shots or more last season, producing just 98 points per 100 possessions. The league average for such players was 110.5. Meanwhile, backup guard Garrett Temple was the worst offensive player in the league (minimum: 200 minutes), putting up a 73 OR. He used 25 percent of Charlotte's possessions while he was on the floor, but he turned the ball over 30 percent of the time and was 12-of-42 from the field. The only young player on the roster who has exhibited any hope as a scorer is forward D.J. White, who had a .526 eFG% (effective field goal percentage) in 24 games after being acquired in the Nazr Mohammad trade. And he's blocked by Tyrus Thomas.
Front Office Profile: The Bobcats recently hired Rich Cho, who lasted as Portland's general manager for less than a year. Cho, a former Boeing engineer, caught on with Seattle's basketball operations department, moved to Oklahoma City when the SuperSonics became the Thunder, and ascended to assistant general manager under Sam Presti. The Trail Blazers hired him as GM last July, and the highlight of his brief tenure in Portland was convincing Charlotte to swap Gerald Wallace for Joel Przybilla, Dante Cunningham, and the 19th pick in this year's draft. Michael Jordan must have taken note, so now Cho will be running the Bobcats' front office while his Airness perfects his short game. Cho is a renowned stat-head whose draft process will rely heavily on quantitative analysis, and like his one-time mentor Presti, he won't hesitate to trade the pick in either direction.
They Said It: "You see a guy who's seven feet tall, a 7-8 wingspan. I played with a guy named Manute Bol and he changed the game. I mean, he wasn't an offensive player or a traditional center where you catch it on the post and make your move on the block, but in terms of defense you were always looking for him. I played against him as well as with him, and he had an effect on the game." — President of basketball operations Rod Higgins on drafting Alexis Ajinca (Winston-Salem Journal)
"We will get this right." — Higgins on this year's draft (Charlotte Observer)
The NBA Executive Says: "They've identified their needs. They need shooting and a big man. They may go for Biyombo, Tristan Thompson, Markieff Morris."
They Should Pick: Tristan Thompson
---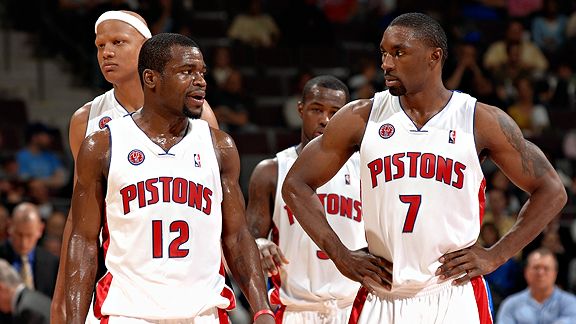 8. Detroit Pistons
State of the Team: The slow decay of the team that won the championship in 2004 is nearly complete. Richard Hamilton, one of the last hangers-on, is now an organizational pariah. The coachless Pistons suffered the added indignity of watching ex-head man Rick Carlisle win a championship with the Dallas Mavericks. Detroit will enter next season under new ownership with the sale of the franchise to Tom Gores complete.
STATS:
W-L RECORD: 30-52
eFG% RECORD: 27-55
TOV% RECORD: 50-32
REB% RECORD: 38-44
FTA% RECORD: 33-49
BIGGEST WEAKNESS: DEFENSE
Some of the names from those great Pistons defenses are still around, but their chops have vanished. Detroit opponents put up a .526 eFG%, the highest shooting rate in the league. The team's best defender — statistically speaking — was Ben Wallace, but he was playing only 22 minutes a night and turns 37 this year. He was part of their most frequently used lineup, but even that five-man unit (which included Wallace, Jason Maxiell, Tayshaun Prince, Rip Hamilton, and Rodney Stuckey) allowed 114 points per 100 possessions, well above the league average of 107.3. The dismal result could be an artifact of the team's quitting on the now-deposed John Kuester, but the metrics on veterans such as Prince and Hamilton have been in free fall for years now. The returning Jonas Jerebko could help, but the Pistons desperately need some fresh legs on D.
Front Office Profile: The Detroit Pistons won, and won often, in the past decade, churning through eight consecutive 50-win seasons and trouncing the Lakers for the 2004 title. They did it chiefly by relying on a collection of crafty (substitute savvy/wily/creaky) veterans. President of basketball operations Joe Dumars trusted the very adult Chauncey Billups, along with young folks-but-old souls Rip Hamilton and Tayshaun Prince, to play smart, defense-first basketball. This is, of course, the same brand of hoops that got Dumars elected to the Hall of Fame in 2006. That the Pistons made the playoffs for eight years straight under three different coaches is a testament to Dumars, and to his trust in veteran teams able to motivate and police themselves. Of late, though, the mature Pistons seem fed up with any coach at all: Michael Curry barely made it through the 2008 season, and kindergarten cop John Kuester marched the team straight into rebellion. Dumars has understandably stressed character in recent drafts, but this comes at a cost. While Greg Monroe, Austin Daye, and Jonas Jerebko seem like very nice people, they play defense like — well, very nice people. As the Pistons roster finally begins to turn over — Prince and Hamilton are surely on the way out — Dumars has the chance to draft an upstanding young man, and maybe even one who can guard the rim.
They Said It: "As you all know, I put a premium on character and have guys represent us the right way. Sitting back and watching us go through all the issues we went through last year, I said, 'Never again are we going to be in a situation where we go through those issues and drama.'" — Dumars (Detroit News)
The NBA Executive Says: "I think they'll look for a big. If Enes Kanter is still up for grabs, they'll take him; otherwise, they'll look at Bismack Biyombo."
They Should Pick: Bismack Biyombo