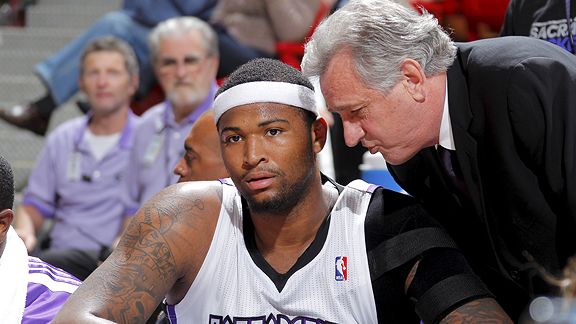 7. Sacramento Kings
State of the Team: The Sacramento Kings seemed ready to become half-decent after Tyreke Evans' 2009-10 Rookie of the Year campaign and the drafting of DeMarcus Cousins. Those good vibes feel like ancient history for the 24-58 Kings. In his second season, Evans missed 25 games due to injury, and his field goal percentage dropped from 46 to 41 percent. Cousins was as erratic as advertised, capable of both notching 27 points in an upset over the Lakers and earning fines for cussing at the Sacramento conditioning coach. The rest of the roster features names such as Jason Thompson, Francisco Garcia, and Beno Udrih. The outlook is even bleaker off the court. With the debt-ridden Maloofs shopping the team, and the chances of finding someone willing to drop nine figures on a new arena looking dim, the Kings may leave Sacramento in the next few years. Filipino tycoon Manuel V. Pangilinan (known throughout Manila as "MVP") has been mentioned as a possible buyer. Pangilinan might have the money to keep the Kings in Sacramento. He might also stock the bench with assistant coaches from his teams in the Philippine Basketball Association. So long, Mario Elie and Pete Carill. Hello, Bong Ravena and Boyet Fernandez.
Stats:
W-L RECORD: 24-58
TOV% RECORD: 36-46
REB% RECORD: 59-23
FTA% RECORD: 35-47
BIGGEST WEAKNESS: DEFENSE AT THE RIM
HoopData's numbers suggest that the average team converted 64.1 percent of their shots taken at the rim. The Kings allowed opposing teams to convert on 70.1 percent of those shots, the worst rate in the league. In five years of shot location data available, nobody has come within even a percentage point of the Kings' performance last year. The difference between that gruesome conversion rate and league average would have been about 2.9 points per game for Sacramento last year. We're being exceedingly simplistic here, but if you subtract 2.9 points from the opposing total at the end of each Kings game last year, their record improves by five wins. And that's just league average! Imagine if they actually got good at the whole defense thing.
Front Office Profile: Geoff Petrie, the Kings GM since 1995, has an eye for talent. In recent years he's drafted Tyreke Evans and DeMarcus Cousins in the lottery, and earlier in his career he landed Kevin Martin, Jason Williams, and Hedo Turkoglu with later first-round picks. (Then again, he also drafted Spencer Hawes and Quincy Douby.) Petrie engineered the first great Kings rebuilding when he acquired Chris Webber in 1998 and built a team around him that was a Robert Horry game-winner and a referee-tainted Game 6 away from the 2002 Finals. Now, with Evans, Cousins, and the late-season addition of Marcus Thornton, Petrie has again managed to assemble some impressive talent, but he needs to find a player or coach who can make Sacramento's young guns work together.
They Said It: "How can people not take a center who is this talented?" — Petrie on DeMarcus Cousins (Sacramento Bee)
The NBA Executive Says: "I think they'll look to add a point guard to complement Tyreke Evans. If they can't do that, they'll look for shooting."
They Should Pick: Jimmer Fredette
Slight aside: This is a "should pick" on several levels, and one is the backcourt of Jimmer and Tyreke would be hilarious for so many reasons. Here are some of the movies they would make together:
THE FARM: When an evil real estate entrepreneur (GREG ANTHONY) moves into town and threatens to bulldoze a sacred neighborhood rec center, two cops (JIMMER FREDETTE, TYREKE EVANS), each from opposite ends of life, must team up together to save the town they love and teach the fat cats that money doesn't buy everything. Co-starring Paul Rudd. Directed by whoever directed Love and Basketball.
THE BOOGIEMAN: When a truculent, soul-devouring blob (DEMARCUS COUSINS) shows up in Sacramento, the mayor (KEVIN JOHNSON) releases two bikers (TYREKE EVANS, JIMMER FREDETTE) from prison to drive the beast out of the city limits, possibly to San Francisco. Co-starring Beno Udrih. Directed by Zach Snyder. Should feature at least 30 minutes of scenes in which the bikers smash the blob with chains and spiked bats. Soundtrack by Tool.
WEDDING RIVALS: In his last game of high school basketball, a cocksure combo guard named Jimmer (JIMMER FREDETTE) is fouled hard by his longtime rival Tyreke (TYREKE EVANS). The coach at Tech U (ED HARRIS) decides to drop Jimmer's scholarship and signs Tyreke. Their lives afterward are a study in contrasts. One life is good. The other is a turd sandwich. Years later, Tyreke is washed up and Jimmer has become a successful real estate mogul. Their children fall in love and announce that they are getting married. Oh crap, a wedding must be planned! Co-starring Rihanna and Zac Efron.
HOME IS WHERE THE HEART IS: Jimmer Fredette (JIMMER FREDETTE) has just been drafted to Sacramento, one of the worst destinations in the NBA, to play alongside a notoriously difficult and oftentimes selfish star named Tyreke Evans (TYREKE EVANS). What's worse, the fat cat owners (MALOOFS) are threatening to move the team to Anaheim. At first, Jimmer secretly hopes this will happen. But during one of his first days in Sacramento, he comes across a young girl who tells him about how much it meant to her to watch Bobby Jackson play basketball. She says, "Home is where the heart is." Inspired, Jimmer goes to practice with a crazy idea: WE WILL WIN ENOUGH GAMES TO KEEP THE TEAM IN SACRAMENTO. His earnestness (read: Mormon) is met with ridicule and scorn by Tyreke Evans. The team gets off to a rocky start. Bedraggled and discouraged, Jimmer seeks out the advice of a wise sensei (KEVIN JOHNSON) who tells him some shit about teamwork and how it makes the dream work. Jimmer invites Tyreke over to his house. It is an awkward exchange, but Tyreke can sense that Jimmer really means it. They have beers and share life stories. At the end of the long share-time, Tyreke says, "I'm in."
Cut to Tyreke and Jimmer driving really fast in 2012 Dodge Chargers. There are cops everywhere. There is a bank safe attached to the back of their cars, but the HEMI engines are kicking ass. Then they go under a bridge. We can't see it 'til the closing credit scene, but there is some sort of safe swap that goes on. Kevin Johnson, who is now a bad guy, is trailing them in a police car, alongside the Maloofs. Tyreke and Jimmer do some crazy chain-safe-Charger maneuver, whereby the safe sideswipes the cop car, sending it over an embankment. Tyreke says, "Safe travels." The movie ends abruptly.
---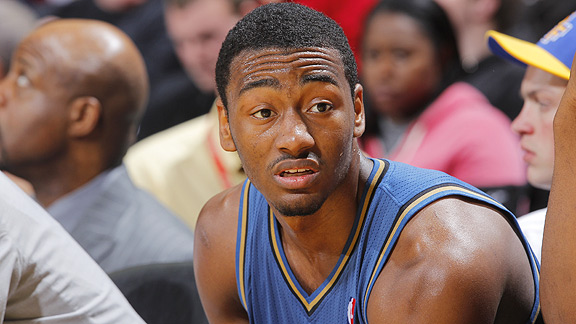 6. Washington Wizards
State of the Team: Much of Washington's future will depend on how quickly and fully John Wall develops into a franchise player. When you look beyond last year's no. 1 overall pick, the Wiz have six players under contract and none to be particularly excited about: The league's second-highest-paid player is putting up a staggering 11 points a game (Rashard Lewis), the power forward they locked up through 2015 has a career rebound rate of 13.8 (Andray Blatche), and the best wing-scorer on the roster put up an agonizing 45.6 TS percentage in his rookie season (Jordan Crawford). The lack of a proven or even promising player at almost every position leaves Ernie Grunfeld with the (sort of) luxury of picking the best non-point guard available. Of course, in a draft with (maybe) two potential All-Stars, this isn't the best time to be rebuilding.
Stats:
W-L RECORD: 23-59
eFG% RECORD: 23-59
TOV% RECORD: 41-41
REB% RECORD: 40-42
FTA% RECORD: 31-51
BIGGEST WEAKNESS: SHOOTING
Pick a shooting-rate stat and the Wizards ranked toward the bottom of it. Twenty-ninth in eFG%. Twenty-fifth in field goal percentage. Twenty-eighth in 3-point percentage. Twenty-fifth in free-throw percentage. The worst shooter on the team was unquestionably Jordan Crawford, who used a team-high 26.9 percent of Washington possessions after being acquired on February 23. He took 101 threes and hit just 24, the worst rate in the league for a guy with 100 attempts or more. Crawford finished with a .417 eFG%, the third-worst figure in the league for guys with 1,000 minutes played.
Further development from John Wall and a shock collar to help prevent Josh Howard from taking 3-pointers (30-for-115, a .260 shooting percentage over the past two years) should help.
Front Office Profile: Ernie Grunfeld was responsible for 11 consecutive playoff seasons (no titles) while running the New York Knicks and Milwaukee Bucks. He played in the NBA, too, as an effective role player, and seems to apply lessons learned as an eighth man to his work running teams: find one or two very good players, and get out of the way. In the post-Arenas era, Grunfeld has been prudent with contracts — after Rashard Lewis, no one will make more than $6 million next year — and for now, the plan is to let John Wall be John Wall, while everyone else scores 10 to 12 points a game. They're probably not far from a playoff berth and a first-round exit — all straight out of the Grunfeld playbook.
They Said It: "Basketball is a big man's game and it's hard to get a 7-footer with a lot of athleticism and the ability to run the floor and a 7-foot-6 wing span. He has all of those qualities." — Ernie Grunfeld on JaVale McGee (Washington Post)
"As players get picked we take them off our board, and the player we picked was the highest player left on the board. … We feel good about this kid. We really do; we think he's one of the more mature players in the draft." — Ernie Grunfeld on Nick Young (Washington Times)
The NBA Executive Says: "It's a team that's hungry for young players and young talent, and they are stockpiling draft picks. They'll probably look to add a versatile forward, maybe Jan Vesely."
They Should Pick: Jonas Valanciuanas
---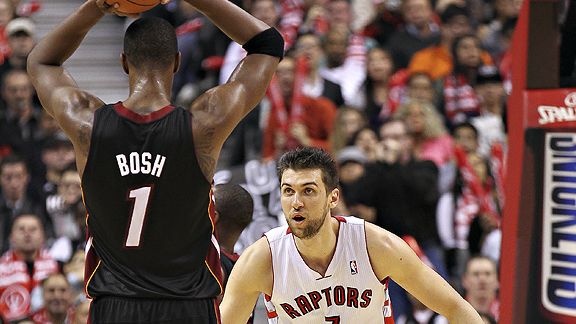 5. Toronto Raptors
State of the Team: The Raptors were ill-prepared for life after Chris Bosh. (And yes, that statement says everything.) The roster is a reflection of the ill-fated attempts to build around their departed "superstar." Andrea Bargnani could be the second scoring option on a decent team, but nobody should build a team around his jump-shooting, porous defense and even more porous rebounding. To remedy Bargnani's deficiencies, the Raptors drafted Ed Davis last year, but injuries kept him off the floor. The rangy and athletic DeMar DeRozan showed that if he learns to handle the ball and shoot, he could become a potent offensive weapon.
Stats:
W-L RECORD: 22-60
eFG% RECORD: 28-54
TOV% RECORD: 40-42
REB% RECORD: 43-39
FTA% RECORD: 31-51
BIGGEST WEAKNESS: SHOOTING
When is Andrea Bargnani going to become a great shooter? Since he entered the league in 2006, 73 players have taken 1,000 3s or more. Bargnani's taken 1,368 and hit 37.1 percent of them. Among those 73 players, he's 40th in accuracy. Not terrible, but he's behind Ron Artest. Fortunately for Bargnani, he looked pretty good compared to the guys around him last year. The average team hit 35.8 percent of the their 3s last year, but the Raptors hit only 31.6 percent of their shots from downtown, good for worst in the league. Toronto had just one player take 50 3s with a percentage above that league average, and Leandro Barbosa was only able to get his rate up to 36.5 percent. Respect is truly due to DeMar DeRozan, who was an impossible 5-for-52 from beyond the arc. That 9.6 percent success rate is the worst in league history for a player who took 50 3s in a season or more. On the bright side, the three worst seasons from downtown before DeRozan's feat belong to Hall of Famers: Dennis Johnson (1986-87 and 1988-89) and, yes, Michael Jordan (1987-88, when Jordan went 7-for-53 from 3).
Front Office Profile: Bryan Colangelo helped craft a dynamic Phoenix team, but has not found the same success in Toronto. He picked Bargnani first overall in the 2006 draft instead of LaMarcus Aldridge or Rudy Gay. Both Hedo Turkoglu and Jermaine O'Neal played poorly after Colangelo brought them in. And last summer's contracts to Linas Kleiza and Amir Johnson appeared ill-advised at the time and even more so now. Despite this track record, Colangelo was signed to a multiyear contract extension last month and will be shaping Toronto's roster for the foreseeable future.
They Said It: "A lot needs to play out in the coming weeks. I'm not going to sit here and tell you I'm confident that Chris [Bosh] is coming back. That's why the selection of Ed Davis at this spot is one that looks to be the right piece." — Bryan Colangelo on Ed Davis (TSN)
"He's got the physical tools reminiscent of Vince Carter." — Colangelo on how DeMar DeRozan is a lot like the player who torpedoed the franchise
"We felt Andrea Bargnani was really the best pick for the future of this organization going forward. It's not about today; it's about today and tomorrow and we think Andrea is a player that's not only going to help us in the short run, but we think is going to grow into a terrific star in this league." — Colangelo on Bargnani
The NBA Executive Says: "They'll likely take the point guard that Utah didn't pull the trigger on, whichever one is left after Cleveland and Utah picks."
They Should Pick: Kemba Walker
---
4. Cleveland Cavaliers
The Cavs are picking twice in the lottery, fourth and first. Their write-up can be found at the no. 1 pick.
They Should Pick: Enes Kanter
---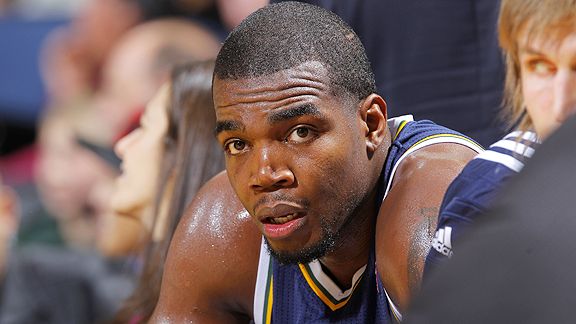 3. Utah Jazz
State of the Team: Before last season, Utah's head coach-GM combo was the epitome of stability. Heading into this draft, the Jazz are without their superstar, their coach, and a team identity. The haul from the Deron Williams trade left Utah with the young assets they'll need to retool, but a return figures to come slowly. Derrick Favors was always seen as a high-ceiling player whose eventual impact will take time to realize, and Utah has the unenviable task of selecting third in what many consider a two-player draft. Despite the turnover, the Jazz is left with a solid and relatively young front court. Paul Millsap was very efficient in getting his 18.2 points per game last season (.536 eFG%), and although Al Jefferson isn't lighting the world on fire, a consistent line of 19 and 10 is something most teams would jump at. The concern is that the player Utah could use is a young point guard to step in for Williams, and that type of talent is nowhere to be found in this draft.
Stats:
W-L RECORD: 39-43
eFG% RECORD: 42-40
TOV% RECORD: 42-40
REB% RECORD: 40-42
FTA% RECORD: 30-52
BIGGEST WEAKNESS: DEFENDING WITHOUT FOULING
The Jazz commit fouls like nobody's watching. They allowed the highest rate of opposing free throws per field goal attempts last year, the fifth year in six they've finished at the top of the league. (They were fourth in 2008-09.) It's just how the Jazz operate. Usually, the Jazz trade fouls for an active, effective defense, but Utah was just 23rd in defensive rating last year, allowing 110.1 points per 100 possessions. They were in the top 12 in each of the three preceding seasons, but the ongoing turnover in their personnel doesn't augur impending improvement. As effective defenders such as Deron Williams and (presumably) Andrei Kirilenko leave, the Jazz are left with a hodgepodge of uninterested (Al Jefferson), slow (Gordon Hayward), and inexperienced (Derrick Favors).
Front Office Profile: The guide to Utah's steady franchise, Kevin O'Connor stayed in the background for much of the past decade, selecting players who suited Sloan's system, including Deron Williams. That's until this year, anyway, when many outlets reported that a heated exchange between O'Connor and his coach over their star point guard precipitated Sloan's resignation.
They Said It: "We think he's a multiple-position player and winning counts for something. He's been a winner wherever he's been." — O'Connor on Gordon Hayward (Associated Press)
The NBA Executive Says: "When a team has two picks in the lottery, they like to work on a string. The likelihood is Utah takes a point guard first and looks to take a wing player with the second pick. With their second pick, I think they'll look at Alec Burks, Tristan Thompson, and Jordan Hamilton."
They Should Pick: Brandon Knight
---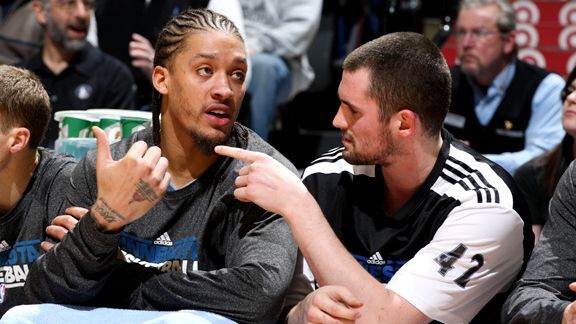 2. Minnesota Timberwolves
State of the Team: Minnesota's future is tied to the 2009 draft, when GM David Kahn selected three point guards in the first round, among them Ricky Rubio. Rubio is finally signed and expected to join a team that finished at the bottom of the Western Conference in each of the past two seasons. But the same reason he finally signed — the expiration of the bargaining agreement and the special threat a lockout would have on his salary — may also be the reason his debut is delayed.
Kevin Love, the team's best player, had the third-highest rebounding rate and the fourth-highest PER (player efficiency rating) in the league. Although it could be argued that his rebounding stats are padded by the fact he plays on the same team with Michael Beasley, proud owner of the NBA's 158th-best rebounding rate, Love has established that he could be the second-, maybe third-best player on a championship-caliber team.
It's hard to imagine that any of the players in this draft could be this team's lead dog. Although Derrick Williams vindicated the God-fearing population by dunking all over Duke in the NCAA tournament, Minnesota's glut of athletic wings with Beasley, Anthony Randolph, and Wesley Johnson is a roster problem nobody wants to solve. But the promise of Williams should hold more value than any, or really, all of the other three.
STATS:
W-L RECORD: 17-65
eFG% RECORD: 24-58
TOV% RECORD: 25-57
REB% RECORD: 52-30
FTA% RECORD: 31-51
BIGGEST WEAKNESS: GM
OK, so maybe it's a little harsh, but the most obvious problem here is roster construction. Although the ridicule has centered on the fact that Minnesota has too many point guards, the bigger problem could be that the team has too many forwards. While the combination of Love and Beasley makes sense on paper — an athletic scoring wing complemented by a rebounding big man who can pass and hit open jumpers — the promise of Beasley/Love guttered out pretty quickly. The early excitement over Beasley was mostly comparative. He was better than he had been in Miami, and, as a result, the trade to bring him to Minnesota seemed better than anything else Kahn had done. But by year's end, Beasley's PER was only 15.54, good for 118th in the league, one spot above Craig Smith. What's worse, Beasley used 28.2 percent of his team's possessions while he was on the floor, the 10th-highest rate in the league. What this means is that not only is Beasley a black hole, he is an inefficient black hole.
Minnesota will be picking second in a draft whose second best player is Derrick Williams, an athletic wing player.
Let's all yell it together: KAAAAAAAAAAAAAAAAAHN!
Front Office Profile: David Kahn's two-year tenure as Minnesota GM has been tumultuous, to say the least. The point guard jokes have gone stale since Kahn's first draft, and this will be the year Ricky Rubio either provides some redemption or the final punch-line. The moves since the 2009 draft haven't done much to slow the criticism. Wesley Johnson did little to justify his top-five selection in last year's draft, and although trading a second-round pick for Michael Beasley was initially lauded during Beasley's quick start, the former no. 2 pick regressed significantly by season's end. Minnesota has valuable assets in this year's second overall pick and young star Kevin Love, and whatever choices Kahn makes with those pieces will be crucial for a team that needs some excitement.
They Said It: Kahn told jittery supporters he believes Rubio, the fifth overall pick, and Jonny Flynn, the sixth pick, will play off of each other extremely well. "Together," he said, "we will have one of the most dynamic defensive backcourts in the NBA over time." — Kahn on Rubio/Flynn (Associated Press)
"It's not how I would handle it, no. I think everybody has reasons for why they conduct their business in the way they want to conduct their business. If you're asking me if that's what I'd do, no. That's not how I would handle things, but everybody's different." — Kurt Rambis (Minneapolis Star Tribune)
The NBA Executive Says: "This is probably the most likely pick to be moved. If they don't trade it immediately, they'll probably take the best player on the board and look to move it at a later date."
They Should Pick: Derrick Williams
---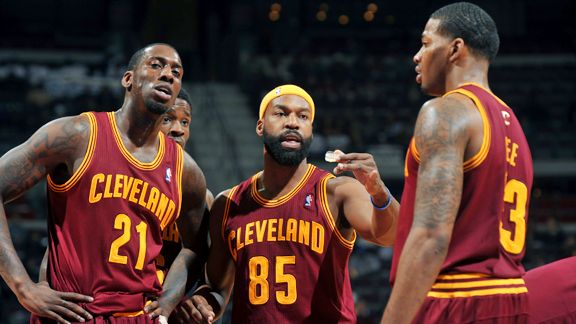 1. Cleveland Cavaliers
State of the Team: In a season filled with stunning lows, the willingness of owner Dan Gilbert to pay and rebuild already showed dividends in how Cleveland landed the top pick: The Cavs received the draft selection from the Los Angeles Clippers as compensation for assuming Baron Davis' contract. The rebuilding process in Cleveland will certainly take more than one year, but having two of the top four draft selections, even in a weak draft, should provide a measure of hope for a team whose best player is J.J. Hickson.
Stats:
W-L RECORD: 19-63
eFG% RECORD: 19-63
TOV% RECORD: 35-47
REB% RECORD: 32-50
FTA% RECORD: 47-35
BIGGEST WEAKNESS: SCORING
As judged by eFG%, the Cavaliers were outshot in 53 of their first 65 games. In their last 10 games, they were outshot only three times. Part of the change can be attributed to the arrival of Baron Davis, whose eFG% (.522) was nearly 0.1 points better than that of the man he replaced, Mo Williams (.424). Beyond Davis, the Cavaliers had 12 other players use more than 15 percent of the team's possessions while they were on the floor. Not one was able to put up an eFG% greater than 50 percent. Davis can create shots for himself and others, which means the offense won't be totally hopeless again in 2011, but Baron is also a perpetual injury risk. The Cavaliers desperately need a wing-scorer. You know, like LeBron James. The defensive side wasn't much better, as they also allowed the league's second-highest eFG% (.524).
Front Office Profile: This will be the first draft spearheaded by Chris Grant, who replaced Danny Ferry last summer. Grant is Ferry's former assistant. Over the past five years, Cleveland selected late in the first round, which gave the front office the leeway of selecting picks that could be considered moldable projects like Hickson and Christian Eyenga. They no longer possess that leeway. The Cavaliers need both of their draft picks to produce immediately. Again, the best player on this team, and the only decent guy under the age of 30, is Hickson.
They Said It: "We want to get to know him and get our arms around who he is. At some point we'll develop a plan for the kid. I don't know how accelerated it would be." — Danny Ferry on Christian Eyenga (The News-Herald)
"We need to re-sign LeBron, and we'll speak to him [Saturday] and get into our plans for him. And we'll continue to sign other free agents or make trades going forward. So this is kind of what you do during this year. So it doesn't necessarily seem stressful or abnormal. It's just that there's a lot going on and a lot of attention, right here in Cleveland." — Chris Grant (NBA.com)
The NBA Executive Says: "They'll look to add a point guard and a big guy with the fourth pick."
They Should Pick: Kyrie Irving
— by Jay Caspian Kang, Jonathan Abrams, Rafe Bartholomew, Bill Barnwell and Robert Mays
Additional reporting by Sam Schube and Danny Savitzky
Correction: An earlier version of this story stated that Toronto was still searching for a coach. The team profile was written yesterday before news broke that the team had hired Dwane Casey as coach.