Painting The NBA Trade Picture
There won't be any player movement once the lockout hits … so it's time for the Picasso of the Trade Machine to go to work
By Bill Simmons on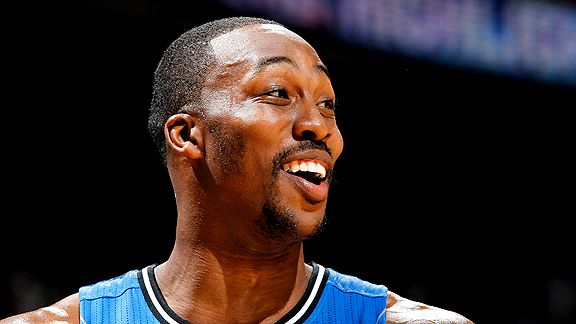 These are sad days for the Picasso of the Trade Machine. We're less than two weeks away from a seemingly unavoidable NBA lockout, which means no basketball, no basketball transactions, and most importantly, no canvas for me to paint my fake trades. It's an artistic tragedy along the lines of the Spider-Man musical and every expensive painting that went down with the Titanic. You also have to feel for the Trade Machine, which will spend the summer hanging out on ESPN.com like a bored housewife who never gets hit on, looking sad, wearing tight clothes, and flirting with the pool boy in a desperate attempt to get noticed. And we won't. Because there's no reason to make up fake NBA trades when nobody in the NBA can trade.
The good news: These next nine days will generate a whirlwind of trade activity, if only because a post-lockout salary cap world is The Great Unknown. Let's say you're Philadelphia. What if The Great Unknown makes it much harder to move Andre Iguodala? Don't you have to move him this month to be safe? Same for Minnesota, a team that owns the no. 2 overall pick and a variety of tradable assets that range from "Wait, HE'S available?" to "You could definitely talk me into him" to "I'll think about it, but can you mail me his latest urine sample first?"
All in all, 12 to 15 teams need to shake things up before July, allowing me to break out my Trade Machine canvas one last time. I added one wrinkle this time around, inspired by a reader named Brian in Chino, who believed my constant pimping of the "always trade three quarters for a dollar" analogy could go further. Brian suggested an actual money scale that determined the value of every player.
My first reaction was, "What a dumb idea, that's a total waste of time."
My second reaction was, "What a brilliant idea, that's a total waste of time!!!!"
For the 900th time, here's my philosophy with NBA trades: You always want to turn coins into paper. The Knicks paid a steep price for Carmelo, but still, it wasn't THAT steep because I'd always rather have a crisp dollar bill (Carmelo) than a bunch of coins jingling around in my pocket (everyone Denver got in that trade). Let's take that premise further and use the rankings of my 2011 Trade Value column (written four months ago). Here's what such a money scale could look like.
$2 bill: Reserved for "untradeable" stars, the ones who can't be moved unless it's for another "untradeable" guy (and even then, it's not likely). This year's list: Wade, LeBron, Durant, Howard, Dirk, Griffin, and Rose. That's it. I like the symmetry of the $2 bill here: You never see $2 bills and you never see untradeable stars get traded unless their franchise totally screwed up.1
$1 bill: All-Stars sitting a notch below those $2 bills, either because they're not quite as good, they're hitting free agency soon, they're a little long in the tooth, and/or because they're making too much money. This year's group: Kobe, Paul, D. Williams, Westbrook, Gasol, Carmelo, and (wait for it … wait for it …wait for it …) Zach Randolph.
Note that's too important for a piddling footnote: Kobe can't be bumped to the $2 bill group because of his lavish contract, which guarantees him $25.2 million in 2011-12, $27.9 million in 2012-13, and a crap-in-your-pants $30.5 million in 2013-14. Even if the next labor deal includes salary rollbacks of 15 to 20 percent (a real possibility), assuming the NBA dumps its flaccid salary cap and gravitates towards a hard one, I can't see how the Lakers could keep Kobe and Gasol ($18.7m, 19m, and 19.3m these next 3 seasons) with a $50 million cap. Throw in questions about Kobe's knees (he didn't practice for all of last season, basically) and his fall from the top five in the playoffs (sorry, Lakers fans, it happened), and Kobe can't be called untradeable anymore. He just can't.
Silver dollar: All-Stars, inexpensive soon-to-be All-Stars, slightly overpaid All-Stars, or indispensable playoff guys who aren't quite as desirable as an actual one-dollar bill. In the 2011 trade value column, this group covers everyone from no. 14 (Kevin Love) to no. 27 (Eric Gordon). Let's also make Chris Bosh, Tyson Chandler, Andrew Bynum,2 James Harden, and Marc Gasol silver dollars; let's drop Tim Duncan from the group with many regrets and one tiny tear trickling down our cheek; and let's drop Monta Ellis down to the next group because Golden State is shopping him frantically enough that it makes me nervous.
50-cent piece: Borderline All-Stars, former All-Stars, and up-and-comers, which covers everyone else from no. 28 to no. 49, plus Ellis, Jason Terry (we can't leave off the captain of the Irrational Confidence All-Stars), Shawn Marion (the LeBron Killer!), Jrue Holliday, Marcin Gortat (don't laugh), Paul George, Arron Afflalo, Brandon Jennings, and Evan Turner (gulp).3
Quarter/Dime: Quality starters who would become 50 cent pieces if they weren't overpaid, so we're making them worth 35 cents instead. This group has only four players right now: Andre Iguodala, Luol Deng, Kevin Martin, and Andrea Bargnani. And no, Monta Ellis should not be included in this group. Find me eight other guys who can score 25 to 30 points a game and get their shots against anybody. You can't. Eleven million a year is a fair price for him.
Quarter: Quality role players, possible up-and-comers, competent starters, and immediately waivable contracts (like Erick Dampier's contract last August). This is a fun category: For instance, Kendrick Perkins was possibly a 50-cent piece with his old (cheap) contract, but post-extension, he's definitely a quarter. Andrea Bargnani would be a 50-cent piece if he weren't so freaking overpaid. Danilo Gallinari, Wilson Chandler, and Ray Felton all seem like 50-cent pieces, but really, they're quarters. Jeff Green? Definitely a quarter. (Much to every Boston fan's chagrin.) Jared Dudley? The ultimate quarter, with a puncher's chance at becoming a 50-cent piece. You get the idea.
Dime: Covers players who should be quarters or 50-cent pieces, only they're either overpaid or their contracts make them fundamentally untradeable (I'm looking at you, Ron Artest, Elton Brand, Carlos Boozer, Ben Gordon, Emeka Okafor, Antwan Jamison, Corey Maggette, and John Salmons); players who seem like quarters, only they really aren't (what's happening, Mike Miller?); young players who seemingly have a chance to be quarters, only it will never happen and you're dumb for thinking it (Mosgov!!!!!!); or Hasheem Thabeet.
Nickel: Either a fringe rotation guy with no upside, a semi-washed-up veteran, or Hasheem Thabeet.
Penny: Any 12th man, any D-Leaguer, anyone who spends more time in suits than jerseys, or Hasheem Thabeet.4
We need to include four more money-related wrinkles before T.M. Picasso starts painting …
a. For trade purposes, a future top-10 lottery pick (like what Jersey gave Utah in the Williams deal) would be a 50-cent piece; a future first-round pick with potential (like Oklahoma City's throwing in a future Clips pick into the Green/Perkins trade) is a quarter; all other future first-round picks are dimes; and a future second-round pick is a nickel.
b. For the 2011 draft, we're making the no. 1 and no. 2 picks worth 50 cents; picks 3 thru 6 are worth 30 cents; picks 7 thru 12 are worth 25 cents; picks 13 thru 16 are worth 15 cents; every pick from 17 thru 35 is worth 10 cents; everything else is worth a nickel.5
c. If you free cap space in the trade, we're making that a nickel for $2.5 million saved, then another nickel for every $1.25 million after that (with a cap of 25 cents total).
d. The following albatross contracts are worth negative money: Gilbert Arenas, Rashard Lewis, Brandon Roy, Baron Davis (minus-50 cents); Hedo Turkoglu, Josh Childress, Travis Outlaw, Richard Hamilton, Andris Biedrins, Al Harrington (minus-25 cents); Charlie Villanueva, Ron Artest, Andray Blatche, Richard Jefferson, Luke Walton, Beno Udrih, Drew Gooden, Jose Calderon, DeSagana Diop, Francisco Garcia (minus-10 cents).
Did you get all that? Let's make a quick test run and translate the money scale to trades that already happened this year.
The Carmelo Trade: Carmelo ($1 bill), Billups (quarter), Balkman (penny), and Carter (penny) to the Knicks; Felton (quarter), Gallinari (quarter), Chandler (quarter), Mosgov (dime), a future no. 1 pick (dime), and $17 million in cap space (quarter) to the Nuggets. When you include New York's sending Anthony Randolph (dime) and Eddy Curry (penny) to Minnesota for Corey Brewer (nickel) to facilitate the deal, here's how it panned out: The Knicks gave up $1.21 to get $1.32 (and a paper bill); the Nuggets gave up $1.27 (and a paper bill) to get $1.10 in coins.
The Perkins/Green trade: Perkins (50 cents) and Robinson (nickel) for Green (quarter), Krstic (nickel), and a future no. 1 from the Clips (quarter). Since Perkins' post-trade extension flipped him from a 50-cent piece to a quarter, you could argue Boston won the trade … as long as you don't include the part that it killed their season, ruined their chemistry, and caused them to lose in the second round of the playoffs to the most despised team in 20 years. Hold on, I'm going to kick my dog in the ribs.
The Williams/Jersey trade: Williams ($1 dollar bill) for Favors (50 cents), a 2011 lottery pick (50 cents), Devin Harris (quarter), and Golden State's partially protected 2012 first-rounder (a quarter right now, but a possible 50-cent piece). So the Nets turned $1.50 of coins into a $1 bill; they felt like they had to overpay because it was their one chance to acquire paper.6 If Williams doesn't re-sign there next summer, it immediately becomes the single worst NBA trade since Milwaukee passed on Paul Pierce in the 1998 draft so they could flip the rights to Dirk Nowitzki with another no. 1 pick for Robert Traylor.7 Meanwhile, the Jazz made out like bandits: They have more money than when they started, and either Favors or their no. 3 pick could easily turn into paper someday. Phenomenal trade by them.
Without further ado, let's make up 20 fake deals separated into various categories, and let's make sure none of them include the bogus "Monta Ellis for Andre Iguodala" swap, which makes no sense for the simple reason that Monta Ellis is better at basketball than Andre Iguodala. Anyway …
DRAFT-RELATED TRADES INVOLVING MINNESOTA (WHICH MEANS THEY INVOLVE DAVID KAHN, WHICH MEANS ALL BETS ARE OFF)
Important note: As Chad Ford and I covered in yesterday's BS Report, we're living in a world in which David Kahn controls the 2011 NBA draft, which is a little like when you let your kids handle the remote control … in other words, you don't know WHAT channel you're ending up on, and there's a 0.3 percent chance you'll end up accidentally ordering porn. Adding to the drama, the Timberwolves are semi-screwed with their no. 2 pick for a variety of reasons: the best two prospects (Kyrie Irving and Derrick Williams) don't fit their needs;8 Williams (the most likely outcome if they kept the pick), would give them a third tweener forward (along with Anthony Randolph and Michael Beasley); they don't have their no. 1 pick in 2012 (the Clippers have it), so going through Rebuilding Season #5 doesn't make a ton of sense; their GM is worried about his job security and wants to win right now (Kahn!); other NBA teams hate talking trades with them because the Timberwolves have more leaks than a men's restroom (KAAAAAAAAAAAAAAHHHHHHHHN!!!!!); and also, KAHHHHHHHHHHHHHHHHHHHHHHHHHNNNNNNNNNNNN! So you have Minny frantically shopping that no. 2 pick to muted silence, tempered incredulity, and general revulsion … and now it's being rumored that they might pass on Williams altogether and take banger Enes Kanter, who isn't rated as highly as Williams on any board except the ones in Turkey. Let's help them out.
TRADE NO. 1: Minnesota trades its no. 2 pick (50 cents), Wesley Johnson (50 cents), Darko Milicic (dime), and Anthony Tolliver (nickel) to Los Angeles for Andrew Bynum (silver dollar). Final tally: Minnesota ($1.00); Lakers ($1.15).
Even if the Lakers are getting the no. 2 pick in 2011 and the no. 3 pick in 2010 for a guy who's missed over 200 games the past four years, it doesn't put them in a better place: I'm not sure how having Wes Johnson, Derrick Williams, Lamar Odom, andRon Artest helps them unless they flipped the no. 2 and Odom to Cleveland for the no. 1 and Anderson Varejao (then took Kyrie Irving), which Cleveland would turn down because we all know Lamar Odom would fall apart if he couldn't live on the beach.9 For Minnesota, it's a classic "there's a 50/50 chance this works, and if it does, I'm a genius!" trade. Those are always hairy. I'm advising both teams to stay away.10
TRADE NO. 2: Washington trades Javale McGee (25 cents) and the no. 6 pick (30 cents) to Minnesota for its no. 2 pick (50 cents) and Anthony Randolph (dime). Final tally: Washington (60 cents); Minnesota (55 cents).
I guess this one depends on your feelings for McGee: Washington believes he's a 50-cent piece and reportedly turned down a variation of this deal; I think he's a quarter and would rather build around John Wall and Derrick Williams than John Wall, Javale McGee, and the Turkish Guy (or the Lithuanian Guy, or the Congolese Guy). Then again, I'm higher on Williams than most: he's a "modern" power forward, a scorer with an inside/outside game who only hurts you defensively on those rare nights when you're facing a low-post beast like Zach Randolph. We also know he doesn't shy away from big moments, as evidenced by his memorable March Madness run (that should count for something, right?). What am I getting with McGee other than someone who lands on SportsCenter's Top 10 Plays twice a week? Yeah, he can block shots, but so what? My buddy House (a huge Wizards fan) says of McGee, "He's the single most fundamentally unsound player I've ever had the displeasure of watching on a consistent basis. He's lost three out of every four plays on defense. His basketball IQ is the same as my son's basketball IQ, and my son doesn't turn one until next month." Sounds like the perfect fit with Michael Beasley! Too bad we'll never know because Washington overvalues McGee.11
TRADE NO. 3: Atlanta trades Josh Smith (50 cents) and Zaza Pachulia (dime) to Minnesota for its no. 2 pick (50 cents), Anthony Randolph (dime), and Nik Pekovic (nickel). Final tally: Minnesota (60 cents), Atlanta (65 cents).
An intriguing idea that couldn't be completed until after July 1, when Minnesota falls way under the cap … and by that point, it won't matter because we'll be in the middle of a lockout.12 Crap. By then, you could just make it "Smith for the no. 2," allowing Minnesota to eventually start Michael Beasley, Anthony Randolph, and Smith, and make Enigmatic & Occasionally Troubled Lefty Tweener Forward history … for about three minutes, until an emotionally scarred Ricky Rubio flees the premises and heads back to Spain.
TRADE NO. 4: Phoenix trades Steve Nash (50 cents) and Jared Dudley (quarter) to Minnesota for the no. 2 pick (50 cents), Anthony Randolph (dime), Jonny Flynn (dime), and Martell Webster (nickel). Final tally: Phoenix (75 cents), Minnesota (75 cents).
"Nash for the no. 2" became a hot rumor late last night so I took some liberties with this one; the final product would be a splendid rebuilding move for the Suns and an interesting play by the T-Wolves, who'd immediately become one of the most likable teams in basketball (Nash, Dudley, AND Love?), as well as one of the most entertaining teams in a while (Love throwing outlets to Nash and Rubio???). And you can't overstate the value of Nash mentoring Rubio, especially when Jason Kidd and Kevin Johnson had such a profound effect on Nash's formative years. Only one problem: If I'm Steve Nash, why the hell would I want to leave Phoenix to play for such a screwed-up franchise in a small market in cold weather? I can't imagine him signing off on this one. Unless he was drugged. Still, I like the combination of these two teams … hold on …
TRADE NO. 5: Phoenix trades Marcin Gortat (50 cents) and Jared Dudley (quarter) to Minnesota for the no. 2 pick (50 cents), Jonny Flynn (dime), and Nik Pekovic (dime). Final tally: Phoenix (70 cents), Minnesota (75 cents).
Winner winner chicken dinner! Phoenix rebuilds around the local kid (Derrick Williams) and whatever they get for Nash when he finally breaks; Minnesota gets a real center (check out Gortat's March-April splits if you don't believe me) and a proven swingman who helps its chemistry and joins forces with Love to form a multimedia superpower (Dudley); and Jonny Flynn goes from the most screwed-up situation possible to Steve Nash Point Guard Camp. Everybody wins! Now I'm feeling it … one more trade!
TRADE NO. 6: Minnesota trades Michael Beasley (quarter) and Martell Webster (nickel) to Detroit for Ben Gordon (dime) and Austin Daye (dime).13 Final tally: Minnesota (20 cents), Detroit (30 cents).
Good god, we have an actual basketball team in Minnesota! I can't stop using exclamation points!!!! Let's see … Gortat and Darko Milicic at center; Kevin Love and Anthony Tolliver as rebounders; Wesley Johnson, Austin Daye, and Anthony Randolph as the scoring forwards; Jared Dudley as your glue swingman; Ricky Rubio and Luke Ridnour as your point guards; Ben Gordon as your scoring 2-guard and crunch-time guy; and we haven't even used the no. 20 pick to stash a foreign prospect yet. Just mail the 2012 Executive of the Year Award to my house. Thanks.14