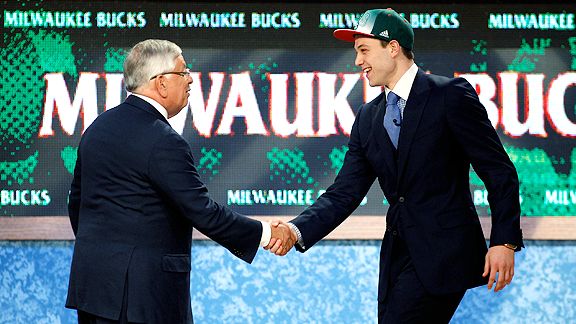 8:18 -- The Pistons just lucked out: Brandon Knight at no. 8? Really? He celebrates by nearly going for the Draft Cycle: From what we could gather, it just went "Dad, Mom, Hat Lady (she jumped the gun), agent, buddy, buddy." He was two away from magic. I like this pick: smart kid, good character, good pedigree, talented … he might end up being better than Irving for all we know. Not sure how he falls to eight. Joe Dumars is like Rob Lowe — every time you think it's over for him, he rallies back.
8:20 -- Random question: What would happen if Detroit re-signed Rodney Stuckey, then started Knight and Stuckey together? If you start two combo guards, does that equal one point guard and one shooting guard? I say it does; Jacoby thinks it cancels each other out; Wildes solves it by saying, "If you have two Arnold Palmers, that doesn't mean you have one iced tea and one lemonade, it means you have two Arnold Palmers." He's right. Stuckey needs to go.
8:22 -- Pop Quiz: Christian Mingle is …
a. A high-flying 20-year-old forward from Portugal who lit up the Nike Hoop Summit and might sneak into the lottery.
b. the name of a dating service website that just ran a commercial in which the narrator said, "Sometimes we wait for God to make the next move, when God is saying, 'It's your time to act, the next move is yours.'"
(I'll let you think about this one.)
(Keep thinking.)
And … time! The answer is "B."
8:23 -- Charlotte grabs Kemba Walker at no. 9, leaving the door open that Friday's Charlotte Observer will have the headline, "KEMBIYAMBO!" Everyone in the room likes that pick — not just because he's crying with joy, not just because he's a leader and a winner, but because he could absolutely be the second or third guard on a contender someday. I'm not betting against Kemba Walker. Meanwhile, Mark Jones drops his first "What does this moment mean to you?" in his Kemba interview. He was due.
8:25 -- We're in Jimmer range.
8:26 -- Getting closer.
8:27 -- Closer.
8:28 -- Close …
8:29 -- Ladies and gentleman, it's Jimmer Time! Sacramento just grabbed him with the 10th pick. I see him becoming a more consistently explosive version of JJ Barea, only with deeper range. That's a guy you'd want on your team, right? Although teaming Jimmer (a black hole in college) with Tyreke Evans (a black hole in the pros) makes me a little nervous. Can the usage rate of two guys add up to higher than 100 percent?6
8:30 -- Whether that Jimmer pick works or not, can't we do Hard Knocks or 24/7 with the Kings next year? Jimmer, Tyreke, DeMarcus Cousins, Pooh Jeter, Omri Casspi, the Maloofs going broke, Mayor Kevin Johnson going for a new stadium … you're not watching that show?
Wildes: "I'd watch a 24/7 on the making of a 24/7."
Jacoby: "I'd watch any 24/7. Anything. ANYTHING."
Me: "You'd watch a 24/7 on a WNBA team?"
Jacoby (after a pause): "Almost anything."
8:32 -- We just spent the past three minutes trying to figure out who Jimmer will hang out with on the Kings. It's unclear. In other news, TJ Fredette reminds me just enough of the brother from Lights Out that it makes me nervous. Let's hope he doesn't lose all of Jimmer's money 15 years from now.
8:32 -- Just remembered that nobody watched Lights Out.
8:35 -- Golden State grabs 2-guard Klay Thompson (son of Mychal), a pick that has "We're trading Monta Ellis" written all over it. Major Stidbit heading into commercial: Thompson is the "Second player ever taken in the first round from Washington State. The first player? Don Collins, back in 1980." I'm so ready for this quiz after the draft. I'm gonna ace it.
8:38 -- "We could have had it allllllllllllllllllllllllllllllllllllllllllll."
8:40 -- Utah grabs Alec Burks at no. 12, or as he'll be known in Salt Lake City from the day forward, "Not Jimmer." Bilas points out that Burks can't shoot, and also, he can't defend. Sounds like a steal. How has Kawhi Leonard not been taken yet? What am I missing?
8:47 -- After failing with Robin Lopez and Taylor Griffin, Phoenix grabs its third twin in three years: Markieff Morris — the identical twin of Marcus Morris, who was better than Markieff at Kansas — only now Markieff is a slightly better prospect because he's a natural "4" (and Marcus is a tweener 3/4), but again, they're identical twins, and if you can figure this out, God bless you.
8:48 -- Wildes thinks there's a poster of Danny DeVito in Twins in Phoenix's front office.
8:52 -- We're on a run of Morris brothers: Houston just took Marcus 14th, rewarding him for a funny interview with Heather Cox right before the commercial. As Stu points out, Markieff was born seven minutes before Marcus; now he was just drafted five minutes before him. Our best Stidbit ever! By the way, San Diego's Kawhi Leonard is officially our "how the hell did he slide to the middle of the draft" guy, which doesn't happen every year, but when it happens (Danny Granger, Ty Lawson, Roy Hibbert), you know as it's happening. He should have been a lottery pick. That guy is a natural NBA small forward.
8:58 -- Questions we would have asked Angel Morris (mother of the Morris twins) that Heather Cox didn't ask during their interview:
a. "How did you come up with the name Markieff?"
b. "Which one do you love more? Be honest."
c. "Which twin is more likely to retire early and have a failed broadcasting career, only to come back later unsuccessfully, but only after leaving his pregnant wife for a 21 year old blonde and turning the nation against him? Maybe … Markieff?"
9:00 -- Indiana eagerly grabs Leonard, who's wearing our favorite outfit of the night (a navy blue suit with white piping) and nearly pulls off the Draft Cycle before the Hat Guy squashes it. (He got off six hugs in like 3.2 seconds.) A little bit later, he inspires a "huge hands!" frenzy from Bilas. Did you know his hands were 9.8 inches long and 11.3 inches wide? Or that his teammates in college called him "The Human Avatar?" Mark Jones compares his hands to "meat cleavers." I'm adding this to my Bucket List: "Shake hands with Kawhi Leonard."
9:07 -- Right before Stern tells us that Philly took Nikola Vujevic with the 16th pick, he glances at the index card one more time with an amused, "Really, another effing foreign name???" smirk. "He's the greatest," Jacoby says. We're all gonna miss him when he retires — name me a more entertaining commish on Draft Night. You can't.
9:10 -- The Knicks are on the clock, followed by the obligatory full-body massage of Donnie Walsh by everyone at the ESPN table. If Donnie crapped into his hand and whipped it at Rachel Nichols right now, the media would gush things like "the great Donnie Walsh has done it again!" and "Another savvy move by one of the classiest guys in sports!" It's unbelievable. I need this explained to me at some point.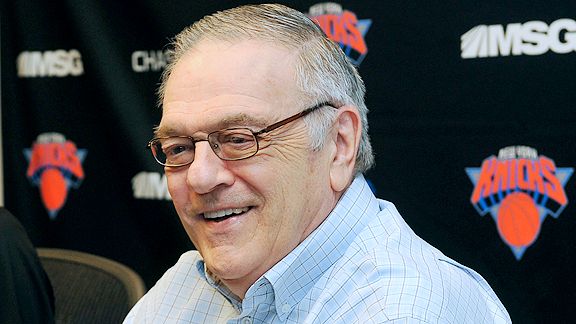 9:12 -- The Knicks take 2-guard Iman Shumpert at no. 17 (huh?), followed by lusty boos from the Knicks fans in Newark, the obligatory shot of a confused Spike Lee, and David Stern blessing the pick by saying, "Iman is not with us tonight." Ooooof. So to recap: Donnie Walsh made Landry Fields untouchable over Danilo Gallinari, then four months later, picked someone who plays the exact same position as Fields. Another savvy move by one of the classiest guys in sports! By the way, can someone loop every confused Spike Lee draft reaction on You Tube? Don't we have enough for a 90-second clip at this point?
9:14 -- Spike on the pick: "I believe in Donnie Walsh, so that's his pick, we're gonna go with it, we have no choice." Only the Knicks can make their fans sound like hostages.
9:15 -- The winner of this year's Rashard Lewis Award (for the last guy in the greenroom):7 Chris Singleton, the fledgling clothing designer and forward who's headed to Chocolate City as the 18th pick. Hey Wizards — don't think I haven't noticed that you're slowly transforming yourselves into a young, high-flying, high-energy team with cool caps and jerseys. In other news, I'm getting excited for the Celtics to pick ferocious rebounder Kenneth Faried at no. 25. We're in range.8
9:26 -- TRADE! Ric Bucher reports that San Antonio is sending George Hill to Indiana for the rights to Kawhi Leonard. Like it for both teams. Van Gundy's take: "When San Antonio does a deal, I always think they're right." Somewhere, the people watching this draft with Richard Jefferson are sitting in awkward silence.
9:37 --Our last next picks: Tobias Harris (Charlotte picking for Milwaukee); Donatas Motiejunas (a Lithuanian for Minnesota to stash abroad);9 Nolan Smith (Portland).10 Stu's running out of Stidbits, he just told the guys that Smith has a tattoo of his father's face on his arm. We might have to start drinking a little more heavily soon.
9:39 -- Andy Katz reports that Portland and Denver are talking "feverishly" about a Ray Felton/Andre Miller deal. Does "feverishly" mean they're so excited about the deal that they kept interrupting each other on the phone and talking over each other? Are they getting angry at each other? Have words been exchanged? We're confused.
9:44 -- Denver breaks my heart (OK, not really) by taking Newark's own Fareid, a relentless rebounder/shotblocker from Morehead State who held his baby up when he got picked like she was a deer's head or something. If Faried doesn't end up having a meaningful moment for a contender at some point over the next eight years, I'm giving you a full refund for this column.
9:45 -- "You can't teach relentless!" Bilas gushes in the middle of a five-"relentless" binge about Faried. Jay Bilas was relentless right there.
9:49 -- Houston drafts Nikola Mirotic … who can't play in the NBA for four years because of buyout issues. Fran Fraschilla loves the pick except that "Houston needs help right now." Um … what? The good news: We have a trade … Houston is sending Mirotic to Minnesota with Brad Miller and a future first-rounder for Jonny Flynn, the rights to Motiejunas, and a two-year cycle of PED's to help Motiejunas gain weight.11
10:08 -- Highlights and lowlights from the next few picks:12
Reggie Jackson (OKC's pick at 24) gets a whopper of a Stidbit: "He's a superstitious guy, he has to wear black socks and he has to take a shower before every game."
The Celtics pick a guy I kinda like (Providence shooter Marshon Brooks), then trade his rights to Jersey for a guy I kinda don't like (JaJuan Johnson) and a future second-rounder, followed by Jacoby pointing out that Johnson is 6-foot-10, 220 pounds ("He's seven inches taller than me and weighs 10 pounds more … and I'm in shape!"), followed by me sulking for about 23 seconds, followed by my dad and I having a brief "why didn't the Celtics trade up for Faried?" phone conversation before realizing that neither of us really care.
My dad asks me again to not put in the column that he went out to dinner during the draft. Got it.
With Chicago picking at no. 28, Stu jokes to the other guys, "There's no chance that the Bulls use that pick and select a certain NBA owner that owns a team in Charlotte, right?" For whatever reason, that's greeted with dead silence. Then Stu says, "That, that can't happen?" More silence. And then, "We don't think Michael Jordan can come back?" More silence. It's like everyone just wants to go home.
Jacoby admits that he cried once during the Budweiser "coming home" military commercial.
Minny flips no. 23 (Mirotic, who's already been traded twice this round) to Chicago for 28 and 43, then takes Cleveland State's Norris Cole (another point guard for Kahhhhhhhhhhhhhn!!!!!),13 who immediately won fans for having a flattop in his highlight reel. "I like the concept of picking for other teams," Jacoby says. "It's like buying a lap dance for one of your buddies." Wildes and I immediately greet that joke with Van Gundy-esque "I'm not selling that crap" death stares. This needs to end soon.
San Antonio seemingly reaches for Corey Joseph at no. 29 … until you remember that the Spurs always pull those "reach" picks out of their butts. That's followed by Stern coming out for the last round of boos ("Thank you for that," he says), then announces Chicago takes Jimmy Butler (this year's feel-good story) as Cousin Sal and I win our second wager of the night (the Jimmer/Kansas parlay, and yes, that's another feel-good story). End of first round, end of Draft Diary XV.

Last thought: Whenever NBA TV runs old drafts in the week leading up to the latest one, I see the year in the TV Guide listing and a memory trigger comes to mind: something like, "Oh yeah, 1998, that's the year everyone kept passing on Dirk and Pierce," or "Crap, that's the Bias draft, I'm changing the channel immediately." I have a feeling we'll remember the 2011 draft as the Foreigner Draft. And I have a feeling I will change the channel.

Bill Simmons is the Editor in Chief of Grantland and the author of the recent New York Times no. 1 best-seller The Book of Basketball, now out in paperback with new material and a revised Hall of Fame Pyramid. For every Simmons column and podcast, log on to Grantland. Follow him on Twitter and check out his new home on Facebook.