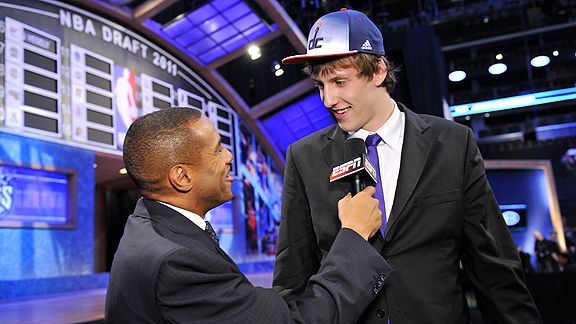 Here's all you need to know about the 2011 NBA draft: it was held in Newark, N.J.; its consensus first pick played 303 total minutes of college basketball; its most exciting player projects to be a rich man's JJ Barea; its most exciting pre-draft trade involved three small-market teams that all might move someday; and my father (normally a draft junkie) was left so uninspired by this year's draft pool that he skipped the first 90 minutes of the telecast to have dinner with his wife. No, really.1
Fortunately, we won't remember any of this in 20 years: We'll only remember June 23, 2011 as the day Ron Artest changed his name to Metta World Peace. Move over, World B. Free, there's a new sheriff in town! Without further ado, Draft Diary XV.
7:30 p.m. ET -- We're coming to you live from the New and Improved Man Cave! I'm joined by some pretzels, some lukewarm Bud Lights and my buddies Wildes and Jacoby, who I grabbed for tonight's peanut gallery to help with what looks to be a brutally bland draft on paper. I've been grasping for straws all day; I even roped Cousin Sal into making our first two draft-related wagers ever: Jan Vesely being a top-six pick (-125 odds), and a parlay with Jimmer Fredette being picked in the lottery and two or fewer Kansas guys being drafted (+110 odds). When you're gambling on an NBA draft, you know it needs some help.
7:31 -- ESPN opens its telecast with Adele's "Rolling In The Deep" as the theme, Taye Diggs narrating and every prospect dressed like they're in the 1930s. We've decided the theme is either "We're entering the Depression" (literally, there's a lockout coming), or "We wanted everyone to dress like it's an Amar'e Stoudemire press conference."
7:31 -- Tonight's announcers; Stu Scott, Jeff Van Gundy, Jon Barry and the Wizard of Wingspan, Jay Bilas.
7:33 -- Does anyone get more of a kick out of being booed than David Stern? He just came out to his usual round of jeers, made his introductions, then said, "On the clock, the Cleveland Cavaliers … for whom I rigged the lottery last month!" Fine, fine, he didn't say that. Hey, is it a bad sign that Kyrie Irving and Derrick Williams both have a "Crap, I think I'm a good player, but even I'm not sure I should be the first pick in a draft" look on their faces?
7:38 -- Cleveland just had five weeks to think about this pick, but that's not stopping them from milking the clock for another five minutes just to remind Clipper fans that the Clips gave away this pick to get rid of Baron Davis. Van Gundy raves about Derrick Williams, saying he's going to be good right away and he's the perfect "4" for this generation. (I agree, actually.) Barry follows by saying, "If you believe Kyrie Irving is the best player in the draft, you take him. If it's Derrick Williams, you take him." Glad he's here.
7:39 -- Our no. 1 pick? Yup … Kyrie Irving. You know, because any time you can grab a freshman point guard who missed two-thirds of the season when you have $20 million of point guards on your roster, you have to do it. We'll see how this goes: I see him settling somewhere between an extremely poor man's Chris Paul and a rich man's Mike Conley. Will he ever make an All-Star team? It's possible … maybe one or two. One thing I don't understand: Why does everyone keep saying this month that you "need" a good point guard to win? Didn't anyone watch Jason Kidd and Mario Chalmers just battle in the Finals? You need good players to win. I believe Derrick Williams will be a more effective professional basketball player than Kyrie Irving. We will see.
7:41 -- Bilas breaks down the Irving pick for 75 uninterrupted seconds, shattering Dick Vitale's record from 2005. He also used up one of his "great feel for the game" immunities on Irving — he has three left with 29 picks to go.
7:42 -- Heather Cox interviews Kyrie's dad, Drederick, under the NBA's little-known rule, "Any time a lottery pick's father is in the audience, you have to interview him." Uh-oh, guess who's on the clock ….
KAHHHHHHHHHHHHHHHHHHHHHHHHHHHHHHHHHN!!!!!!!!!!!!
A quick recap of Kahn's 24 months in charge: his Timberwolves lost 132 of 164 games; he used the fifth and sixth picks in the 2009 draft to take a Spanish guard who couldn't come over for two years and a point guard who bombed so badly that he's probably getting traded tonight; he drafted three point guards in 2009 and three small forwards in 2010; he locked down a center combo of Nik Pekovic and Darko Milicic for a measly $9.3 million a year; he gave Ramon Sessions $16 million over four years, decided he didn't like Sessions, dumped him in a trade, then gave the exact same deal to Luke Ridnour (who didn't deserve it either); he starred in a YouTube clip called "Chris Webber Clowns Incompetent GM David Kahn"; he whiffed on Steph Curry and DeMarcus Cousins in back-to-back drafts; and he hired and fired a head coach. Other than that, things went pretty well.2
7:45 -- Kudos to Kahn for not overthinking things and grabbing Williams, who just inspired Wildes, Jacoby and me to figure out the hierarchy of congratulatory hugs right after someone gets picked. We think it goes …
Mom (if she's there)
Dad (if he's there)
Girlfriend (if she's there)
Brother (who's usually there)
Agent (always there)
Future head entourage member/weed mule (if he's there)
Extended family member (if they're there)
And finally …
Hat Guy (the guy who hands them the team's hat who just picked them)
If somebody hits all eight, that will be the Draft Cycle. Williams just went Mom-Girlfriend-Agent-Entourage-Family-Hat Guy. He fell two short. Although Stern just hugged him and may have just whispered, "Don't worry, Kahn will be gone soon …"
7:46 -- Bilas on Williams: "He's 6-foot-8, but he's got a wing span of 7-foot-1 … so bottoms up everybody!"3 From there, we get a replay shot of Kahn and everyone else in the Minnesota war room awkwardly applauding their pick. Has an NBA war room ever NOT awkwardly applauded a pick? Does that footage exist?
7:50 -- Stern waves as he's getting booed. "He loves the hate!" Jacoby says. "It fuels the fire for him!" Stern and Vince McMahon could switch jobs for a year pretty seamlessly. At the very least, Stern should have his own entrance music for the beginning of the draft. I've been saying this for years.
7:51 -- Utah takes Turkish banger Enes Kanter, a dead ringer from the one-armed man from The Fugitive. That pick was a big hit in our room, and not just because (a) Kanter scored 34 points at the 2010 Nike Hoop Summit, (b) he wants to be a WWE wrestler after he retires, and (c) we liked his interview with Mark Jones. I have a good feeling about that guy. Right team, right fit. Somehow this leads us to start talking about whether it's an easy transition to go from Turkey (a religious place with good-looking women) to Salt Lake City (a religious place with good-looking women). "Turkey is a little more open-minded about religion," Wildes decides. "Could be a tougher adjustment." These are the things you talk about during the NBA draft.
7:55 -- Bilas mentions that Fran Fraschilla has likened Jonas Valanciunas to a "poor man's Pau Gasol" and adds, "That's pretty high praise." It is? Since when is calling someone a "poor man's" anything praise? And isn't that insulting to Marc Gasol, the original Poor Man's Pau Gasol? Or did he vacate that title after his sterling 2010 playoffs?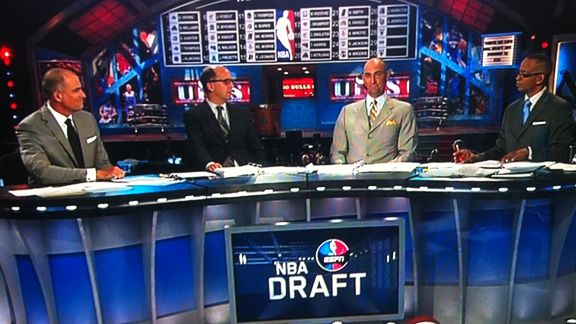 7:56 -- A funny Van Gundy riff about not being able to pronounce foreign names ends abruptly when Barry jokes, "Thanks Johnny Most," followed by Van Gundy freezing on a comeback and two seconds of silence before Stu throws it to the next pick. "They need a laugh track," Jacoby decides.
7:56 -- Curveball from the Cavs at no. 4: They take Tristan Thompson, the Texas forward who's also (a) the highest Canadian-born pick ever, (b) someone who likes to tweet Confuscius-like messages like ""One man trash is another man treasure. So you better know what you got, before it's gone," and (c) the No. 1 Draft Pick for this year's Lindsey Hunter All-Stars (for athletes whose names make them sound like supermodels). "He just needs to learn how to play and how to score," Bilas says. I think I need more from my fourth pick than that sentence. Weird choice. Or, this draft is horrible. One or the other.
7:58 -- Stu tells us that Thompson is our third active NBA player born in Canada, joining Joel Anthony and Jamaal Magloire. We need a name for these awkwardly enlightening Stu facts when he's trying to spruce up a throw to commercial. I say we call them "Stidbits." Regardless, I'm writing each one down in case there's a quiz later.
8:00 -- "We could have had it allllllllllllllllllllllllllllllllllllllllllllllllllllll."
8:02 -- Toronto takes the poor man's Pau (Valanciunas), getting one step closer to Bryan Colangelo's goal to have a 12-man roster of dudes from different countries who will score 110 points a game and finish 26-56. You can't say Colangelo blew the pick because Valanciunas isn't playing in the NBA for at least a year. That's right out of the Kahn playbook: I'm not doing a bad job, I drafted a guy playing overseas who's going to be incredible! You can't fire me yet!
8:04 -- The Valanciunas highlights were pretty uninspiring (semicontested layups and tip-ins), but his interview made up for it: Mark Jones asked him why he thought his game was like Chris Bosh's game, then Valanciunas stammered, "I don't know … I have … not so strong body." High comedy. Poor Bosh can't even make it through a draft that doesn't involve him getting insulted. Wildes thought Valanciunas was right on the Interpreter Cusp — he knew just enough English that he didn't need one, but he probably should have gotten one, anyway.
"The interpreter never hurts," Wildes says sagely. "You're always gonna sound smart talking in your own language." Unless you're Brett Favre.
8:06 -- High drama for Cousin Sal and I: We need the Wizards to take Vesely to win our "Vesely will be a top-6 pick" bet. And …
8:07 -- Yes! The Dunking Ninja is going to Washington! He starts his career with a memorable highlight: Right after the pick, he just about open-mouth kisses his smoking hot European girlfriend as the crowd cheers lustily. That leads to this exchange:
Wildes: "I hope that's not his sister."
Me: "No, that was his girlfriend, there was practically tongue."
Jacoby: "Yeah, I think she was marking her territory. Like a dog marking a tree!"
(The NBA draft everybody!)
8:08 -- Highlights from the past 2 minutes: Fraschilla gushing during the Vesely highlight reel, "He's a FREAK athlete!" … ESPN smartly replaying the Vesely kiss (that will have 10 million YouTube hits by Friday night) … Jones saying, "He's wearing a big smile right now" (because he got drafted, or because of his girlfriend?) … Jones saying Vesely was the European Blake Griffin, then Vesely joking awkwardly, "I think he's the American Jan Vesely" … the thought of Blake hearing this, then vowing to go out of his way to dunk violently on Vesely next season.
(Put it this way: If Jan Vesely does for the Wizards what he just did for this draft, they're going to be the most exciting team next season. You know, if we have a season.)
8:09 -- Was just thinking of something: When you're ESPN's foreign draft expert during a first round with two Lithuanian guys, a Turkish guy, a Congolese guy, a Serbian guy, a Czech guy, a Latvian guy and a Croatian guy, the world is your oyster, right? Fraschilla's agent should have told him to hold out for more money on the morning of the draft. We're going to need an extra $200,000 in unmarked bills or Fran is going to come down with a migraine tonight. ESPN pays that Fransom. There's no question.4
8:10 -- Stu breaks down today's confusing trade between Sacramento, Milwaukee and Charlotte, a small-market menage a trois that basically flipped some draft spots, changed addresses for three vaguely similar veteran swingmen (John Salmons, Corey Maggette and Stephen Jackson) and featured cameos from Beno Udrih and Shaun Livingston. The most shocking part: Charlotte landed the ninth pick just for downgrading from Jackson to Maggette (not even that much of a downgrade), which means … that's right … Michael Jordan finally won a trade! I knew it would happen in my lifetime!
8:12 -- With the seventh pick, Charlotte takes … Bismack Biyombo!!! (FYI: I'm adding three exclamation points to Bismack Biyambo's full name for the foreseeable future. I want to scream his name every time I read it or hear it.) We're all fired up for this pick: Biyombo is like Serge Ibaka after 10 cups of coffee, only if he spoke one extra language (Ibaka only speaks five), only if he didn't have a jump shot and you had no idea how old he was.5 Clearly, his career WILL be memorable in some way. But which way?
8:13 -- Fraschilla on Biyombo: "The problem … he cannot score. You cannot run any plays for him." Big laugh from the room on that one. Don't pass him the ball! Don't even think about it! NO! NO PASS TO BIYOMBO! Later, Fraschilla adds, "High risk, high reward … but he is an unbelievable athlete for a guy who's allegedly 18 years old." Even Fran can't resist bringing up the age rumor. I think Fran just made history: In the span of a minute, he raved about a prospect and destroyed him at the same time.
8:13 -- Random gripe: We're upset the NBA won't change the rules that, even if we know a draftee is getting traded, they still have to wear the wrong team's hat for the handshakes/pictures/interviews until the trade is "official." They can't bend that one? What about a hat with a question mark? It's confusing enough to keep track of this draft without dudes wearing the wrong hats.
8:13 -- That reminds me … our past five picks were Enes, Tristan, Jonas, Jan and Bismack. What the hell is happening right now?