Renée Richards Wants to be Left Alone
Sitting down with the transgender icon and onetime most controversial woman in sports
By Michael Weinreb on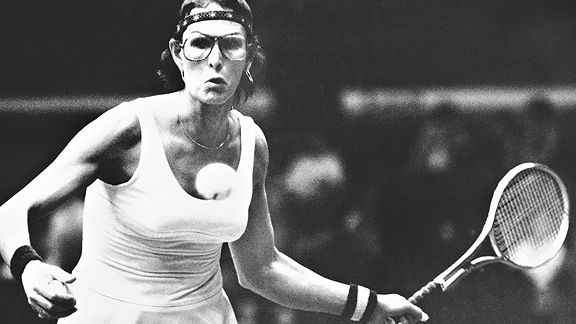 The doctor practices on Madison Avenue, five blocks from Grand Central Station, in a narrow little office set amid a frenetic corner of Manhattan. Every day, hordes of commuters bustle past this particular ophthalmology clinic without really seeing it, let alone registering the mellifluous name on the sign, let alone, after so many years, recognizing that this name ever meant anything beyond the practice of ocular medicine. Fame is fleeting, and such, but she is still here, a 6-foot, 2-inch redhead hiding in plain sight, wearing a wide-brimmed hat and ducking under an umbrella amid an early spring rain, almost daring you to ignore her.
The doctor, in her role as a medical professional, has already made it clear to me that she is eminently concerned with maintaining propriety. When I first contacted her, she informed me that she wasn't interested in recounting any of the extraordinary events of in the life of Renée Richards, for fear that yet another telling, in the midst of the impending release of a new documentary (that follows two autobiographies and a television movie starring Vanessa Redgrave and dozens of magazine-length profiles and tabloid exposes over the course of three decades), would reduce her to the status of "blubbering idiot." As an alternative, she invited me to an informal lunch, along with the documentary's director, Eric Drath, and a friend of hers, a fellow eye surgeon.
This was in March, and we discussed the movie's upcoming premiere at the Tribeca Film Festival. We talked about what Richards planned to wear. We talked about her Jewish upbringing, and she mentioned a short story she had written based on a summer camp she'd attended as a child. She had, she wrote me in her initial e-mail, stopped giving interviews about her life "for her own sanity," but we made tentative plans to meet at her house in upstate New York, and then a couple of days later she wrote me back and told me she "didn't want to spend an afternoon on this." And this is how we wound up here, at her office after a day of patient visits, with Drath serving as a chaperone, with Richards commanding the conversation, selectively analyzing her past and occasionally contradicting her own statements while patients roamed the halls and her partners peeked their heads in the door to distract her from herself.
If you to speak to Renée Richards for any length of time, you will stumble across one of the central conundrums of her personality: There are two Renées, an old friend told Drath on camera, and despite the fact that Richards has long been publicly defined by gender, the Renées this friend is referring to are not defined by gender at all. There is the Renée who regards herself as an introvert, who will inform you that she voraciously guards her self-image and will speak about how fearful she is of being reduced to a cultural circus act; and there is Renée the exhibitionist, who has written a pair of starkly personal memoirs, who, at the height of her fame, did thousands of interviews, who allowed Drath to intimately chronicle her fraught relationship with her own son — the Renée who relishes the attention that comes with being a public figure, a herald of a movement that she personally has little do with these days.
"No, no, no, no," she says now, at age 76, sitting in her cozy examining room. Her voice is a rasp; her sweater is pink. She is surrounded by autographed photos of Martina Navratilova and Virginia Wade. "That was not my intention. It's not so much the idea that I wanted to be a pioneer and a standard-bearer. It was a much more selfish reason. I'd gone through such an upheaval in my life, and they're telling me I can't play tennis? Suddenly I said to myself, 'I can do anything any other woman is entitled to do. How dare they?'
"I was a quiet person. I mean, I'm not a shrinking violet, but I was a very private person. I was very well-liked, and I was very well-respected. And a lot of that was thrown away because I became a caricature, a public notorious figure. I was undressed in front of the world."
It is true that she has always ventured out in public with a degree of caution: In terms of rudimentary self-preservation, how could she not? For half her life, no one but the doctor and her therapist knew of her unquenchable conviction that she was actually a woman. In the 1940s, in the Sunnyside section of Queens, she was a he and he was a boy named Dick Raskind, who would outfit himself in his sister's clothing and steal out into the streets on a somber winter's night. On the Upper East Side in the late 1960s, Richard Raskind, M.D., would costume himself in a fashionable fall plaid and high heels and take his dog for a walk in the very neighborhood where he practiced eye surgery. Fortunately this is New York, and minding one's business is an art form, and even as he sought out psychiatric advice and wrestled with self-denial, the she lurked quietly in the evening shadows.1 So many years spent concealing his core identity from the world at large … and then, over the course of a few short days, amid an era when our nation itself, post-Vietnam, seemed to be wrestling with its own torment, the doctor's life turned completely. In that moment, she was recast as Renée Richards — Renée meaning, in French, "reborn" — and this became the pivot point of her existence.
That was 35 years ago, in 1976, at a tennis club in southern California named after John Wayne, which is where the doctor had gone to break away from her old self, from a life as Dick Raskind. When a television reporter dragged her into public view, she made a choice, and that choice has affected her existence to this day. And that choice does not directly correlate with the gender-reassignment surgery she underwent the year before, because for as long as she could conceive of such things, she'd always identified as a woman: It merely took her four decades to build up the courage and the knowledge and the confidence to make it official.
But as for what happened after the surgery? As for Renée Richards becoming one of the most well-known professional women's tennis players of her era? As for Renée Richards becoming a transgender2 icon, one of the first of her kind to embrace the spotlight rather than fold into the anonymous embrace of a new life? This is where the word "regret" arises, and this is where motives again become conflated, because when Renée Richards says she "regrets," many people immediately presume she is referencing her decision to have surgery,3 and then she becomes a cudgel for those who still live in denial about the confounding nature of human desire: If one of the most famous transsexuals of all time regrets her surgery, then why should anyone have this surgery?
"People get confused," she says, "but the regrets that Renée Richards had were regrets at taking the path of trying to play in the U.S. Open, rather than going back and reconstructing some semblance of a private life as Renée in Newport Beach."
And yet, moments later, she strikes a note of defiance, and it is as if I am merely a spectator while the doctor refutes herself.
"I was the first one who stood up for the rights of transsexuals," she says. "I was the first one who came out in the public as a defender, or a pioneer for their rights. Because I insisted on my rights as a woman to do something that was so momentous."
Donna (nee David) Rose, wrestler/linebacker at Kenmore West High School, Buffalo, N.Y., 1976 (now a transgender activist):
I found her autobiography, and I bought it immediately. I'd never read a book about a transsexual before. Back then, each of us was left to our own devices. I kept it in my locker. I read it surreptitiously. I'd only had experiences with media depictions and other unflattering portrayals. But here was someone healthy, someone multidimensional, and all she wanted to do was compete. When you're the first of anything, you inherently rock the boat. The problem of being public the way she was and others have been is that you lose control of how you're perceived.
The philosophical quandaries that Renée Richards raised — about the very meaning of gender and sex and human identity — are timeless, the subject of Greek tragedy and Shakespearean farce and Marilyn Monroe films set on long-distance trains. But the actual science of rendering a male into a female is still rather new, pioneered in Europe less than a century ago, and perfected for only a few short decades. In 1952, a former G.I. named George William Jorgensen went to Copenhagen to have surgery and came back as Christine Jorgensen, a glamorous and alluring figure who would act in films and sing in nightclubs and embrace her role as a national curiosity: The first public transsexual in America. By the 1960s, a New York doctor, Harry Benjamin, argued that transsexualism4 was an immutable state, that "if we cannot alter the conviction to fit the body, should we not, in certain circumstances, alter the body to fit the conviction?"
And even as this became the prevailing psychological viewpoint, and even as the sexual revolution blossomed, even as David Bowie embraced androgyny on stage, even as John Waters drowned traditional gender definitions in a variety of bodily fluids, Christine Jorgensen largely stood alone. Most others preferred to "woodwork," as they called it, to burrow into lives of peace and privacy, so that there were no other role models.
Such was the world into which Renée Richards was born, at age 41. The plan was to woodwork herself, to move to Orange County and begin a new life, to allow Dick Raskind and his once-promising amateur tennis career to sink quietly into obsolescence. She began playing tennis for leisure at a local club under the name Renée Clark; her friends advised her to maintain a low profile, but Richards, lulled into a sense of security, entered a tournament in La Jolla. Tipped off by someone in the crowd, a San Diego television reporter looked into Richards' past, outed her, and the story went national: WOMEN'S WINNER WAS A MAN. And it might have ended there if she let it go, if only the doctor had not been so enraged by the United States Tennis Association's declaration that, if she ever deigned to play in the U.S. Open, she was not welcome. Until that moment, she had no intention of playing in the U.S. Open. Until that moment, Richards, already a well-respected eye surgeon, insists she had never really dreamed of a professional tennis career.
Richards ignored the advice of her father and most of her close friends — Walk away, they said — and turned to a law firm headed by Roy Cohn (a closeted gay man who would later die of AIDS) to take her case. Her private life was no more; now she was on television with Howard Cosell, wearing tennis whites and detailing her moral outrage. Soon she would sign to write an autobiography, entitled Second Serve, in which she described in intimate detail her lifelong struggle to repress her femininity.
So what was it that led her to embrace a public life? Might it have been what transsexuals now refer to as the "pink cloud," the euphoric state that often overcomes patients after surgery? (In the second of her two autobiographies, Richards likened herself to a rebellious teenager: "My fight for recognition and much of Renée's tennis career can be seen as her adolescence, full of the risk-taking and extravagant behavior that youngsters often exhibit.") Or might it have been the doctor's own stubbornness and arrogance, having grown up a privileged white male in an America that had really never denied her of anything before? (I've gone to too much trouble for them to say that I can't play tennis, she remembers thinking.)
Of all the peculiarities inherent within her case, this may be the most jarring: Four years earlier, Title IX had passed, and three years earlier, Billie Jean King had throttled Bobby Riggs. Women's tennis was just beginning to find a footing in America, to secure sponsorship, to establish itself as a legitimate spectator sport. The Women's Tennis Association (founded by King in 1973) was expanding the boundaries; some of its members had fought their entire lives to get here, to a time when women could finally compete with seriousness and a sense of purpose, with the opportunity to make a real living in their sport. And now here was Richards, who had lived a life as a man, prepared to battle a group of women for her rights to compete as a woman. How was it that they suddenly became portrayed as the exclusionary ones?
"There was such a great disparity in athletics between women and men pre-Title IX," says Trish Bostrom, who sued the University of Washington in 1972, seeking the establishment of a women's tennis team and the right to try out for the men's team until that happened. "She had all those advantages as a boy. I would have died to play on a high school tennis team. Those were things that, as a man, she was able to take advantage of. It's not the person — it's more the great disparity of opportunities."
That's what makes this such a confounding historical intersection: The opportunities that Bostrom speaks of, the ones that she felt Richards trivialized, are the very opportunities that Richards felt deprived of in that moment. At some level, both sides were pushing for the same thing. Even if Richards' actions were based in self-interest, they spoke directly to the feminist mantra that "the personal is the political," that identity did not preclude opportunity, as evidenced by the hundreds of letters she received from woodworked transsexuals and drag queens and others who felt repressed by societal norms. "I was going to stand up for my rights, not so much the rights of everybody else," she says. "They could come along with me if they wish."
And yet: How could she be entirely oblivious to those voices?5 How could she not at least take into account the words of a black Filipino woman named Virginia Glass, a longtime tennis official who spent three years in a Japanese concentration camp during World War II? Glass knew Renée Richards when she was Dick Raskind, when Raskind was one of the few members of an overwhelmingly white and Jewish Long Island tennis club regularly willing to play against her sons. Upon officiating that tournament in La Jolla, Glass immediately recognized Renée as Dick — that lithe physique, that powerful left-handed serve — and when Richards considered withdrawing as she was on the verge of being unmasked, Virginia Glass recalls speaking directly to her.
You are who you are, she said. It's your privilege to be who you are.
It was, Richards later said, one of the first times she'd seen the issue framed as something more than a self-centered struggle to maintain her dignity. It was one of the first times she'd considered the 40 years she'd spent sneaking about town, and decided she'd grown weary of hiding.