The Movie Star
Perceived success is the name of the game in Hollywood
By Bill Simmons on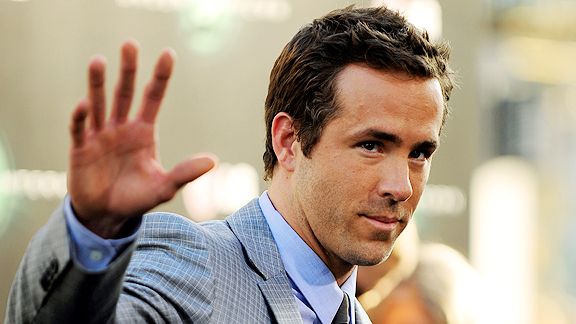 Every NBA team starts a home game the same way: by announcing the visiting team's starting lineup, then turning out the lights and cranking a song that's either hip-hop happy or gratuitously goose-bumpish (like Phil Collins' "In the Air Tonight"). Within seconds, a JumboTron highlight-video launches with a dopey slogan like "Our Time Is Now" or "Rise Up." It's crammed with awkward close-ups, dunks and alley-oops, as well as players muttering things like, "This is our city" and "Let's do this." The video almost always ends with the team's best player staring into the camera and screaming, "AHHHHHHHHHHH!" or "LEMME HEAR IT!!!!!!!!" Then, the lights turn back on and they introduce their starting five.
How did this become the blueprint for starting an NBA game? I have no idea. But any franchise lacking a good-enough "LEMME HEAR IT!!!!!!!!" guy needs to decide something: Should it finish the video with a barrage of dunks, or with its by-default best player screaming as the closer even though he's not really a star? Deep down, the team knows this decision symbolizes everything. You can't win without a legitimate "LEMME HEAR IT!!!!!!!!" guy; pointing this out in the opening video is almost counterproductive. That's what made it so interesting when, on Opening Night against the Celtics last October, the Cavaliers embraced their LeBron-less plight. Their video ended with Mo Williams screaming incoherently and turning into a fireball. The subtext?
This is our best player. It's Mo Williams. We just wanted to prepare you guys now.1
In Hollywood, that Mo Williams dilemma hangs over everything. They make too many movies and don't have nearly enough stars. That's a problem. Their solution is to "create" stars, leading to a bigger problem: They're effectively forcing actors like Chris Evans and Ryan Reynolds down our throats like big clumps of broccoli. Why not worry about finding quality scripts and making quality movies instead? That would require real work and real ingenuity. It's much easier to make superhero movies, sequels, anything with aliens, anything with the world about to blow up, and anything that could carry "3D" in the title. That's how we arrived to a point in which the following two facts are indisputable.
Fact: People believe Will Smith is the world's biggest movie star (even though he doesn't make great movies).
Fact: People believe Ryan Reynolds is a movie star (even though he isn't).
That's all you need to know about Hollywood right now. Everyone is complaining about the quality of this summer's movies (probably the worst ever), this year's Oscar race (potentially the most ghastly in years) and a general lack of imagination by the studios (it honestly feels like they gave up), but really, everything comes back to Will Smith and Ryan Reynolds.
Let's tackle Reynolds first. When Green Lantern badly underperformed last weekend, it shouldn't have been surprising, because Reynolds isn't a movie star (despite Hollywood's best efforts to convince us otherwise). You know how I know this? We just spent the past 10 years compiling evidence that said, emphatically, "Ryan Reynolds can't carry a bad movie." Or, really, any movie.
Don't worry, this won't turn into an "I hate Ryan Reynolds" rant.2 I actually like Ryan Reynolds. This isn't his fault. Other than his dreadful "Amityville Horror" remake, I can't remember watching a Reynolds movie and thinking it failed specifically because of him (you know, the opposite of how I feel during every Luke Wilson movie). Compared to his peers in the secretly valuable Matthew McConaughey All-Stars — a.k.a. guys who star in movies that are guaranteed to end up showing on an airplane, whether it's a generic action romp, a gross-out comedy that's neither gross nor funny, or any type of romantic comedy involving a career-driven woman who lies to everyone around her to find herself a man —I would take Reynolds over Ashton Kutcher, Patrick Dempsey and Aaron Eckhart.3 He's the most versatile half-decent actor out there, and I swear that wasn't a backhanded compliment.
A case could be made that Reynolds simply had bad luck, a bad agent, or both. Switch him with Cooper in The Hangover and what happens? It's the exact same movie, only with Reynolds getting the subsequent career bump instead of Cooper. His best performance happened as part of an ensemble cast in 2009's Adventureland, a quality dramedy that tanked despite excellent reviews. His most successful movie was 2009's The Proposal, a Sandra Bullock vehicle from beginning to end (and the one that established her as the Nolan Ryan of rom-coms). He's never carried a quality movie that succeeded unless you want to count the aptly named Definitely, Maybe, which was well-received but made barely enough money to cover its budget.
Reynolds has three things going for him: he's likable and handsome; he dated and married Scarlett Johansson at the peak of her buxom powers (getting a nice Us Weekly career boost out of it); and he works in an industry that doesn't have nearly enough leading men. The third point matters the most. I'd compare the "leading man" position to the NFL's quarterback position — we need 32 starting QBs every year regardless of whether we actually have 32 good ones, just like we need 40 to 45 leading men every year regardless of whether we have 40 to 45 good ones. That makes Reynolds someone like Alex Smith: He's a no. 1 draft pick, he has all the tools, you can easily talk yourself into him being good … and then, six games into the season, you realize that you're not making the Super Bowl with Alex Smith.
Here's where sports and Hollywood diverge: In sports, we're constantly assessing everything from both a small-picture and big-picture standpoint.4 Success is measured through wins and losses, playoff games, conventional statistics and advanced metrics that become more complicated every month. If you believe Jose Bautista is having a better 2011 season than Adrian Gonzalez, and I believe the opposite, there's a really good chance we can figure out an answer. In Hollywood, success is defined by awards shows, box office grosses, word of mouth and the fee for your next movie. That's it. You can't assess Reynolds by saying, "Wow, look at his OPS, it's a shit show!" or "Do you realize that Reynolds has been in the league for 12 years and he's NEVER made the playoffs?" Those measures aren't in place. We only have IMDb and Rotten Tomatoes, yet there's no real impetus to visit those sites unless you're a movie junkie or you're figuring out who just got naked in True Blood.
And then there's this …
Any sports fan knows he or she will be in situations (at a wedding, at a bar, at work, wherever) in which they'll get into friendly arguments about things like "The Lakers should trade everyone but Kobe for Dwight Howard" and they'll sound like a fool if they're not prepared. That's the real reason we suffer through talking-head shows, sports radio and all the crap online — not just because we're addicted to being sports fans, but because we're trying to learn material to use later for our own benefit. Being a movie fan doesn't work that way. For example, I had an argument recently with my friend Lewis about whether Jim Carrey was still a movie star. Lewis said, adamantly, no effing way. I disagreed.
"You're wrong," Lewis said. "Look up his IMDb."
Uh-oh. Jim Carrey's past five movies were Fun With Dick & Jane, The Number 23, Yes Man, I Love You Philip Morris and this summer's Mr. Popper's Penguins. That's a six-year stretch of forgettability. I'm not less of a movie fan because it never dawned on me that Carrey had stopped being a movie star; by contrast, I WOULD be less of a baseball fan if I didn't realize that Derek Jeter had stopped being a baseball star. Not knowing about Jeter's struggles would embarrass me in any sports conversation, which can't happen, because dammit, that's how men communicate. Not knowing the ins and outs of Carrey's IMDb page? Who cares? When would that ever come back to haunt me?
Hollywood knows we're not paying attention, so they try to manipulate us into thinking Carrey is still a movie star by inundating us with billboards and commercials featuring his mug. After all, he still looks like Jim Carrey, right? Even if we reject the assault by skipping the movie in droves, the movie would have to bomb more brutally than the Situation at the Trump Roast for the star's career to be threatened. (A good example: Mike Myers after The Love Guru.) The truth is, most people don't know how to define a "movie star." Take Tobey Maguire: Unless his next movie has "Spider-Man" in the title, are people going out of their way to see it? Of course not. That means he's not a movie star. Jamie Foxx won an Oscar for Ray, but that didn't make him a movie star; he's just a famous person who acts and sings. Bruce Willis can't be a movie star anymore unless the words "Die" and "Hard" are involved. And yet, if you asked the average person if Carrey, Maguire, Foxx and Willis were movie stars, they would invariably say yes.
A good way to think about it: You know how 24 players make the NBA All-Star game every year? Those are the stars for that season. Just because Richard Hamilton made the 2008 All-Star team doesn't make him an All-Star in 2011. Things change. Careers go up. Careers go down. You pick another All-Star team. It's really that simple.
Of course, Hollywood can be confusing because someone can feel like an All-Star without ever having a good "season." Reynolds is the best example. His movie career started in 2001 with Finder's Fee, a straight-to-DVD thriller5 he made while starring in Two Guys, a Girl and a Pizza Place on ABC … a show that was more successful than you remember, staying on the air even after they jettisoned the pizza place and renamed it Two Guys and a Girl.6 In 2002, he landed his first starring role, in National Lampoon's Van Wilder. The good news: It made money, earned decent Rotten Tomatoes audience reviews (78 percent!)7 and spawned an eventual sequel that nobody saw. The bad news: It wasn't that funny and ended up being sentenced to a lifetime of heavy edits on Comedy Central.
Our next five Reynolds movies: a supporting role in 2003's The In-Laws (a remake of the Alan Arkin/Peter Falk classic that never should have happened); a starring role in 2003's Foolproof (key words: "Canadian" and "straight to DVD"); a charming cameo in 2004's Harold & Kumar Go to White Castle (overshadowed by Neil Patrick Harris's career-rejuvenating cameo); a supporting role in Blade: Trinity (the last time anyone's seen Wesley Snipes in public); and then a starring role in a 2005 TV movie called School of Life (created to fool anyone flipping channels into thinking it was School of Rock).
By 2005, Hollywood liked Reynolds just enough that it gave him not one, not two, but THREE starring roles: the Amityville Horror remake (21 percent approval rating from the Rotten Tomatoes top critics); Waiting, an ensemble comedy about twentysomething waiters that desperately wanted to be a Dazed and Confused–like cult movie but never made it (24 percent); and Just Friends, which was basically Fat Harry Meets Sally (37 percent) and featured Reynolds wearing a fat suit on the poster.
To recap: Reynolds's "breakout" year featured him playing an obese guy, a waiter and a possessed husband. Jeez, how did that not work out? The big mistake was The Amityville Horror, which made money because it came out during the horror boom … but still, explain to me how it's a good career move for The Likable And Handsome Ryan Reynolds to become possessed by a satanic house? That same role submarined James Brolin's career! Brolin ended up starring on Hotel and becoming Mr. Barbra Streisand because nobody could see him without thinking about him staring into a fire and fighting off the urge to chop up his family with an ax. And Reynolds's agent thought it was a GOOD idea to remake that movie?
Things didn't improve for Reynolds with 2006's release of Smoking Aces, a failed attempt to headline a Tarantino-like action movie featuring a cadre of name actors who thought they had signed up for that decade's Reservoir Dogs (and never saw the mushroom cloud coming). His next three movies grossed a combined $300,000 in America: The Nines ($63k), Chaos Theory ($237k) and Fireflies in the Garden (straight to DVD).8 Yikes.
Just when Reynolds's return to TV in Two Guys, a Girl and a Baby seemed imminent, his relationship with Scarlett heated up and reignited the whole "Ryan Reynolds is a movie star" story line,9 because if he's appearing in Us Weekly every other week, then dammit, that means he's a star.10 He quickly rolled off the best stretch of his career: Definitely, Maybe (a decently reviewed rom-com), Adventureland (his only movie that ever topped 70 percent with Rotten Tomatoes' top critics), X-Men Origins: Wolverine (made $179 million, although he was the fifth lead and critics savaged the film), an indie bomb called Paper Man (let's move on) and The Proposal (a smash hit for a rom-com). Again, that was the best stretch of his career.
Now, you're sitting there saying, "Wait a second, there has to be more. That couldn't have been the entire list of Ryan Reynolds movies." And you'd be right: In 2010, he released a movie about a truck driver being trapped in a coffin in Iraq called Buried. (It became a Sundance hit, but that's it.)11 That was followed by the Green Lantern Stinkbomb, with one more summer flick coming: The Change-Up, in which Reynolds and Jason Bateman switch bodies, with Bateman becoming a ladies' man and Reynolds becoming a family man, only both of them realize they had it better the old way, and Good God Almighty, I can't believe they're still making body-switch movies.
All in all, Reynolds starred in 20 movies over the past 10 years. Four went straight to DVD or premiered on TV. Another four made little to no money whatsoever. Of his 16 movies that were eligible for a "top critics" approval rating on Rotten Tomatoes, nine dipped lower than 30 percent; only three rose above 50 percent; and his average score was 36.3. These are the best "advanced metrics" we have for Hollywood, and really, we didn't need them to bang home the point that Ryan Reynolds isn't actually a movie star.
In his defense, you could say that about practically anyone. I believe there are 24 male movie stars right now, a funny number since that takes the NBA All-Star analogy full circle. But here's the list: Smith and Leo; Depp and Cruise; Clooney, Damon and Pitt; Downey and Bale; Hanks and Denzel; Stiller and Sandler; Crowe and Bridges; Carell, Rogen, Ferrell and Galifianakis; Wahlberg and Affleck; Gyllenhaal (it kills me to put him on here, but there's just no way to avoid it); Justin Timberlake (who became a movie star simply by being so famous that he brainwashed us); and amazingly, Kevin James.12 All of them can open any movie in their wheelhouse that's half-decent; if it's a well-reviewed movie, even better.
Look, I like Jeremy Renner, Josh Brolin, James Franco and Jesse Eisenberg. I really like Paul Rudd. None of them are movie stars … at least not yet. And neither is Ryan Reynolds. But you knew that already.