Occasional Dispatches from the Republic of Anhedonia: Part 2
The second in an ongoing series from the World Series of Poker. Read the first installment here.
By Colson Whitehead on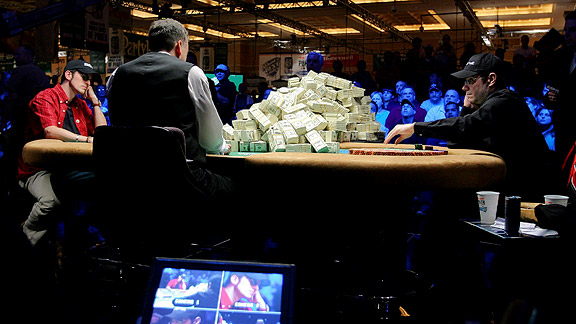 I threw myself into my training. It was nice to have a diversion from how I usually spent my days, which was basically me attempting to quantify, to the highest degree of accuracy, the true magnitude of my failures — their mass, volume, and specific gravity. It passed the time in the absence of hobbies. Sure, I worked on my nagging sense of incompleteness a lot, when I had a spare moment, but that was more of a calling than a hobby.
The World Series of Poker was my intro to the world of mano-a-mano competition. I'd never been much of an athlete. Perhaps if there had been a sport centered around lying on your couch in a neurotic stupor all day, I'd have taken an interest. I attacked my training on three fronts:
MENTAL
PHYSICAL
EXISTENTIAL
MENTAL: Obviously, I had to improve my game. Like all wretches suddenly called up to the Big Time, I needed a Burgess Meredith, but good. One who wouldn't scoff at the five-dollar buy-in of my usual game.
I was fortunate to find my sensei in novelist Helen Ellis, who half-scoffed at my usual stakes with a raised eyebrow but nonetheless agreed to give me some crucial pointers. When asked at the poker table about her occupation, she says "housewife" for cover, but she's published two novels (Eating the Cheshire Cat, The Turning) and has been on the professional poker circuit for the past few years. Last year, she had a nice run in the WSOP No Limit Hold 'Em Six Handed event. "Sometimes you just run a table," Helen told me over lunch one day, "and I was running every table I was at." There's a picture of her playing against poker superstars Phil Ivey and James Akenhead, whom she knocked out of the game. Which is pretty cool.
Helen started playing in casinos on her 21st birthday. Her father met her in Vegas. Around midnight he took her to the front of Caesar's, with its soaring plaster temples and gigantic toga'd figures, den of Roman kitsch. Up and down Las Vegas Boulevard, the huge casinos beckoned. "Sit down and look around," he said. "This is the Center of the Universe." Now, father and daughter meet on the circuit, playing eight tournaments a year. Husband Lex comes, too. He plays a tight game, apparently.
Helen was the perfect teacher, hipping me to the right books (Harrington and Gordon), dispensing the Poker Truths so that they finally penetrated my brain ("This is your mantra: Patience and Position") and sharing basic tips about daily life in tourneyland ("Stay on the Ipanema side — the rooms are better"). Those first weeks, when I was trying to soup up my game, she told me about where to play in AC, and more important, kept me from freaking out at the enormity of the task ahead.
"I'm terrible at the final table when it's heads up," I complained to Helen. Dealing one-on-one with another person, in primal communication, it fed my psychological defects. My shrink thought this was a suitable line of inquiry, and perhaps we'd get to it once we dealt with all that other crap.
"You won't be playing heads up," Helen said. When people get knocked out, the guys on the floor fill the seats with other players, and once the Main Event finally gets down to nine guys, they adjourn until November, to maximize TV ratings. In the unlikely event Al-Qaeda gunned down everyone in the tournament except for me and a Robotron, I'd have plenty of time to learn about proper heads up play.
The study problems in Gordon were giving me grief, I told her. "Phil Gordon's always like, 'I was at this table playing 8-6 off suit' — "
"Forget that. You're too you to play that way. Play your game."
I was too me. Precisely.
---
EXERCISE: Get a Poker Handle. The Old Masters of poker, they had truly awe-inspiring nicknames: Amarillo Slim, Sailor Roberts, Pippi Longstocking. So I got to brainstorming. The Slouch: I slouched. Rocket Racer: After the Spider-Man nemesis/ally from the '70s, a black guy on a rocket-powered skateboard. It was a multivalent moniker, alluding to my melanin count, my transportation issues, and "rocket" was slang for pocket Aces. A pair of aces, you better get ready to race if you want to take the pot from me. Five Dollar Colson: Referring, for once, not to my home-game buy-in, but what'd charge for most acts if I ever started hooking. I sell myself short a lot. Finally, I went with The Unsubscribe Kid. I liked the implied negation of things other "humans" might enjoy. Now all I had to do was get someone to ask me what my poker nickname was.
EXERCISE: Sunglasses. Like most people, I'd spent my whole life looking for a socially acceptable situation in which I could wear sunglasses indoors, and here it was. They made for good TV, most definitely, the sunglasses guys and their imposing, unreadable faces, the lenses reflecting back your own dumb face. Mirrored, wrap-around, robin's egg tinted. Sunglass Hut did not stock what I required. I needed the exactly just-so pair, some sort of Vulcan smithy-god to forge them in the very bowels of the Earth, a set of glowing, molten intimidation shades in a scene drawn by Walt Simonson. Well, I tried, but despite my efforts I couldn't bring myself to wear sunglasses during my practice runs. The social taboos were too strong, or my inner douchebag monitor set too high, I dunno. I'd have to make do with my naturally half-dead mug.
---
I was playing in AC tournaments and my game was improving. On to the second area of training, PHYSICAL:
The vessel of my body — this fragile sack of blood, "essence" (see below), and melancholy humors — had to get up to competition-grade performance. Throughout the ages, much has been written about the interrelatedness of the mind and the body. Suburban moms who lift Volkswagens off pinned toddlers, for example. I'd be a fool to ignore the holistic reality. In Vegas, I'd be lifting metaphorical Kias and Hyundais left and right.
Like writing, poker involved a lot of sitting on your ass, but that didn't mean you weren't burning fuel. "Lex and I lost five pounds!" Helen informed me, referring to their last trip. The Main Event at the World Series of Poker ran seven days, each one a 12-hour series of jungle skirmishes with predators who wanted to rip your bones out of your skin. You had to be vigilant. You grab a bite when you can, the caloric intake going to power your game, your all-important table image, the mask of your poker identity: alternately representing strength and weakness, riding herd over tells, manufacturing ersatz tells, placing bait for traps, stealing and thieving blinds. Picking up chips. Putting down chips. It adds up.
I was put in contact with Kim Albano, a licensed physical trainer and patient soul. In the business for more than a decade, she specialized in posture and core strengthening, Vinyasa yoga with a little Iyengar thrown in, Alexander Technique. I had been given yoga mats over the years as gifts, but the phrase "loose-fitting clothing" had always confounded me, conjuring visions of tunics or otherwise Jawa-type vestments, neither of which I owned. Opting for cargo shorts — whose multiple pockets I increasingly relied on to spare me the indignity of carrying a fanny-pack or man-bag — I met Kim at a space she sometimes used on Fourth Ave in Brooklyn. I described my assignment before we met, and she was amenable.
"I have to become a Living Poker Weapon in six weeks," I said.
"You mentioned 'Rocky-style' in your e-mail," she said.
"This might be a bit conceptual."
Kim did my intake, quizzing me about my exercise history (mere vapor), ailments (psychosomatic in the main), and hydration regimen ("You have to keep drinking water"). Was I under stress? I had just finished a book, I explained, so I was less stressed than I had been. Any injuries she should be aware of? The only big thing was this formidable crick in my neck, which had only lately disappeared. My magnificent ergonomic chair, the steadfast galleon I had sailed through books and books, had finally sprung a leak. After 10 years, the webbing of the seat had given way, so I stuffed a throw pillow in there when I had to work, and I sat in there half-sunk, arms grotesquely angled, and over the weeks a stupendous crick took up residence around my left shoulder blade. The pain was exacerbated by my habit of crawling to the living room couch when I had insomnia. The 5 a.m. traffic reports on the bleary, early-bird news shows often returned me to sleep — in my aforementioned license-less state, the reports of blocked interstates and impenetrable bridges were a lulling white noise to me, abstractions stripped of meaning. I was sleeping on the couch so much it was as if I were married again. "But it's mostly gone away," I told Kim.
I described the average day at the tournament, the importance of keeping your shit together as you trudged through bad beats and dead cards, resisting the lure of going "on tilt" — a species of berserker rage that destroyed one's gameplay. She taught me how to sit. She taught me how to breathe according to the basic principles of 19th century health guru F.M. Alexander, and reintroduced me to my neglected spine, which I had long treated as a kind of hat-rack for my sundry, shabby articles of self. We ran through elementary yoga poses — Cat, Cow, Downward Dog. I mentioned that we got 20 minute breaks every two hours — what could I do to stay loose and limber? She said, Cat, Cow, Downward Dog. I said, "I can't do that in a casino." My table image would suffer. We proceeded. I liked the sitting and the breathing, the glancing moments of proprioception.
"Bring it into you," she said, "make it yours, and then you can bring it into your poker." As I walked out into the glare and early summer heat of Fourth Avenue, I felt a peculiar sense of well-being, which I quickly banished by sheer force of will, as I didn't want to ruin my streak. Assimilating this knowledge would take time, but I felt that soon I would be a lean, mean, sitting machine.
---
EXERCISE: Manage tells. Table image is the one-man show you tour through town after town. Every poker player has a shtick, Hal is Holbrook doing "Mark Twain" across Podunks. You have heard of the famous "tells" — the behavioral clues that put you on to someone's hand, such as squeezing out armpit farts or crooning "Touch Me in the Morning" when you hit your gut-shot straight. I didn't have time to become a master reader of tells — between keeping track of inflection points, calculating rough pot odds, and riffling through my mental catalogue new poker knowledge, I already had too much on my mind. But I could manage my own tells, come up with some fake ones to psyche people out. If I shared them here, you'd know my secrets, but here's a freebie: reenacting the chest-buster scene in Alien means I'm on a draw.
EXERCISE: Preserve my "essence." Like heavyweights who refrain from sexual activity prior to a big bout in order to channel and convert that energy into violence, I, too, would safeguard my "essence." (The mind-body harmony thing again.) Then it was brought to my attention that preserving one's "essence" meant no self-abuse. Once again, I had failed myself without even knowing it. Just as I had made a judgment call that I didn't have time to become a maestro in playing suited connectors in middle position, I'd have to forego this segment of my training. You have to pick your battles.
EXERCISE: Purify the spirit. I had to improve my diet in Vegas, start eating a proper breakfast in order to make it through each day's marathon. "Do you eat meat?" Helen asked. I did. "Good." It was long time to the dinner break, and that's when some players start drinking, and drinking led to errors. I could no longer ruin my body with noxious substances, poison my mind with various toxins. I was doing well with the cigarettes, had been off them for nine months, although it helped that the disappointment of not having a post-dinner cigarette, or a just-stepped-outside cigarette, or a just-woke-up cigarette was dwarfed by the newer, state-of-the-art disappointments the world threw my way. I was saved by scale. Why stop with cigarettes? I could renounce more things, like (1) cut back on my microbrews, and (2) most reality television. Get behind me, master brewers of Brooklyn, Portland, and Chapel Hill, you hipster hopsters and your new-fangled brands of incipient, yuppified alcoholism. My reality TV purge meant everything save the competitive weight-loss shows, whose contestants, I recognized, were on a parallel journey to my own. The World's Biggest Loser: exactly so. My failures possessed a weight, I carried them around, and before poker I sought the proper instrument of their measure. These reality TV pilgrims had already learned how to calculate their weakness, for its substance possessed an actual mass determinable before a live TV audience. Those shows made me more teary than Pixar movies, the unalloyed pleasure these guys and gals displayed over their new mastery of self, the erasure of decades of daily, mounting mistakes. Just look at the pants they used to wear. This one guy lost 150 pounds and said, "I was carrying another man around." They had found themselves: It had been hiding in their skins all this time, waiting. That better, biding self. I could do it. More fiber, for starters.
---
Two weeks before the Main Event, I met with Helen again. She'd already been out to the WSOP, which lasts for weeks and features dozens of tournaments. Omaha High Low, HORSE, Six Handed. I asked her how it was.
"It was Heaven. Heaven!" Pure joy in her voice at the thought of it. Although Helen cashed deep in the $1,500 No Limit event, she didn't win enough to pay her way into the Big Game. Since she'd returned east, she'd avoided WSOP news. I tried to give her an update, what I gleaned from her Twitter list of players to follow, but I was pretty useless.
Helen gave me another poker seminar, and I scribbled bullet points in my marble notebook. She briefed me on some new moves she hadn't seen before — people in Vegas were breaking out their next-level shit all over the place. I wrote it down, feeling like a jerk. I was being staked to play in the Main Event, and here I was picking the brain of someone who was so obviously in love with the game — the rushes, the science, the sheer dynamism of it — and she wasn't going to be there. I was playing for Methy Mike and Big Mitch and the other home-game slobs, but of course I was also playing for Helen now. I recorded her wisdom and resolved to play according to the teachings of my sensei, and try not to fuck it up too much.
---
"Get into your spine," Kim said. "Get into your body." I was getting into my spine, I was getting into my body. Per instructions, I imagined a string that traveled through my head into my spinal column, and that the rest of my body dangled off it: The Marionette, they called it. "I want you to feel supported, and unsupported." It was easy to relate to being a puppet, under the sway of some malevolent and capricious puppet master: This was already a close approximation of my relationship with my deity. In Kim's studio — as the fan almost covered the noise from the playground across the street and the ambulance hustling by — I pictured myself floating through the Rio Casino in Las Vegas, past the rows and rows of the barking slots and the creatures who clawed their hands through big, white chum buckets of coins, deep breath in, past the crowd huddled around the craps table as they cheered on some lucky devil's rush, deep breath out, past the cheapo blackjack tables and the high-stakes blackjack tables and the cordoned-off rooms of the super-high-rollers, which were always empty save for the eerily patient dealer, and into the Pavilion, the chamber as large as a football field where the tournament unfolded, the numbers and color codes hanging from the ceiling on wires, where my first seat of the tourney awaited my rebuilt posture. Shuffle up and deal.
"Did you get what you wanted out of it?" Kim asked. It was our last training session. Yes, I had. I could use this.
"I bet you have a good poker face," she said. "You're hard to read. Most people, you can tell if they're having an easy time or if something is painful. With you, you can't really tell —"
"My blank face —"
"It's hard to tell."
There it was again. For years and years, people had informed me I had a good poker face, when I told them I was going to play at a friend's on Friday night, or ran into them on the subway while carrying my suitcase of monogrammed chips, which was a gift from a college buddy after I was a groomsman in his wedding: "I bet you have a good poker face." They don't know a set of trips from a royal flush, but they know this fact. What they're really saying is, you are a soulless monster whose fright mask is incapable of capturing normal human expressions. You are a throwback to a Neanderthal state of uncomplicated emotions, or a harbinger of our cold, passionless future, but either way, I don't know what's going on in your head.
Perhaps I am projecting.
Nonetheless, we have now definitely waded into the waters of training area numero three: EXISTENTIAL. I can't help it if I understand everything tends to ruin. Over our heads, Skylab is eternally falling down, I can see it all, the debris raining without cessation. I was a skinny guy, but I was morbidly obese with doom. By disposition, I was keyed into the entropic part of gambling, which says that eventually, you will lose it all. The house always wins. Even for the most talented players, the cards fail for weeks or months or years, the beats are the baddest of the bad, you are blinded out of existence. Remember how I mentioned the blinds? They escalate at intervals, and if you don't keep ahead of them by doubling up your stack, they'll eliminate you. They are a Wave of Mutilation. You survive one Wave of a big blind, then the half-size one of the small blind, diminished, and then the next Wave starts gathering force down-table.
I was in tune with decay, I had it down. What I needed to do was get in touch with decay's opposing force, whatever that thing is that gets us out of bed each day and keeps us a few steps ahead of the Wave: the hope of some good cards next hand.
For the citizens of the Republic of Anhedonia, luck is merely the temporary state of outrunning your impending disasters. But sometimes my countrymen and I have to look beyond our native truths and pray. Even a temporary respite from the usual level of soul-snuffing drudgery is a blessing. Luck would have to do. You need skill in poker, but you also need the puppet master to be in a good mood every once in a while. I didn't have much skill, but I'd prepared the best I could. I suppose I could have run simulations of previous World Series on the holodeck, but I didn't have a holodeck. They haven't even been invented yet. Luck would have to carry me where my training failed.
On the morning of Friday, July 8, I hopped a plane to Vegas to play in the Main Event. Like one of my beautiful losers, I would step on the scale before a live studio audience and we'd all see how much bad stuff I had shed.
In the next episode: White 63, Seat 9. Down the Amazon. The M-theory of Life.
Colson Whitehead's new novel Zone One will be published in October by Doubleday. You can follow him on Twitter here.